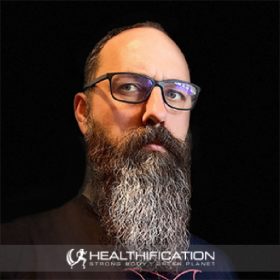 Podcast: Play in new window | Download
Subscribe: RSS
Sun Sachs is the CEO and Co-founder of Rewire Fitness, the first mental fitness platform that helps athletes reach their full potential and avoid burnout by providing tools that improve mindset, readiness and resilience.  
Sun is also a vegan athlete who has successfully turned his traumatic childhood into a strength.
This conversation is all about optimizing health for longevity and performance… in sport and in life.
We discuss why the traditional – beat your body up – way of building mental resilience is flawed.
Also, how to embrace brain endurance training instead. 
As Sun says: "What if we could practice for those most difficult moments that we'll face in competition. For those moments when your mind begins to unravel and self-doubt starts to creep in. How could this type of practice change our lives, not only for sports but for anything that requires mental toughness?"
Friends, as we fly or crawl to the end of year, maximising our mental fitness and minimising our chances of succumbing to burnout is vital. This was certainly a timely conversation for me!
Please enjoy, How To Create Mental Fitness and Avoid Burnout with Rewire's Sun Sachs…
In this conversation we discuss:
Sun's early childhood and how trauma shaped the man he is today.
Sun retired as an athlete at 26 due to burn out and injury. What was he doing differently then?
Tools to prevent athlete burnout.
Sun's journey as a vegan athlete and why he founded Rewire.
How Sun use's the Rewire app on a daily basis.
Sun talks us through the "mindset recovery" component of the app.
What is mental fitness and why is it important.
Why the traditional way of building mental resilience is flawed.
Sun is a plant-based culinary chef graduate and former instructor from Matthew Kenny Cuisine.
I think it's so important to spread awareness surrounding when a specific approach to a vegan lifestyle does not work and what to do instead so that the lifestyle does work, sustainably, enjoyably and healthily.
As passionate vegans and animal rights activists we can be very hesitant to admit, to ourselves and certainly to others that everything isn't perfect. 
This hesitation bumps up HARD against societies eagerness to blame anything and everything a vegan might experience on their "restrictive approach to eating."
Of course it is NOT the animal flesh and secretions we are declining to consume that is holding us back.
It might be over training. Inadequate sleep. Poor nutrient absorption. A low calorie raw food diet. Unmanaged stress. Any number of other variable and limitless combinations of variables.
I believe with 100% certainly that each of us can make a vegan lifestyle work for us if it is important enough. However equally, some of us, at some point in our lives might not be able to do it without reaching out for the help of experts we trust.
I guess that's why my podcast conversations with plant based doctors are by far the most downloaded. I'll link to some of then in the show notes for today.
To connect with Rewire and Sun PLUS check out an abundance of episodes with some of the vegan doctors I most respect just cruise to strongbodygreenplanet.com and search 798.
Learn more about and download the Rewire app via the website: (there's a high value Free version)
Check out the Rewire Fitness podcast:
Connect with Rewire and Sun across the socials: Facebook | Instagram | YouTube | Twitter.
That's it for this week in Healthification. If you're yet to rate, review and subscribe please do! It counts big time in letting this little show – and the amazing guests I get to chat with achieve some visibility among the millions of podcasts out there.
Big thanks to YOU for sharing this week with me.
The Healthification podcast is proudly bought to you by my FREE 'Easy Vegan' plan. It took me 25 years to transition from a meat eater to a happy, healthy Vegan! You can do it in just 3 days with my simplified 'easy vegan' plan!  Get the fit, strong, and healthy plant based body you deserve… while avoiding ALL the mistakes I made along the way!
To learn more check out: strongbodygreenplanet.com
Till next time, remember Creating a body and life you love is Freedom. (If this ex-refined-carb queen, non genetically gifted, naturally uncoordinated vegan chick can do it – so can YOU!!!)
If you liked "How To Create Mental Fitness and Avoid Burnout with Rewire's Sun Sachs." you'll also like How To Fix Digestion, Eliminate Gas and Bloating and Enjoy AWESOME Health with Wade Lightheart.
If you liked "How To Create Mental Fitness and Avoid Burnout with Rewire's Sun Sachs." you'll also like E581: 5 Health Mistakes To Avoid As A New (or old!) Vegan.
If you liked "How To Create Mental Fitness and Avoid Burnout with Rewire's Sun Sachs." you'll also like Healing Ulcerative Colitis Through A Plant Based Diet with Shamiz Kachwalla from High Carb Health.
Podcast conversations with some of the plant-based doctors I most respect: