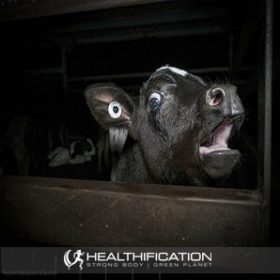 Podcast: Play in new window | Download
Subscribe: RSS
Although the pregnancy wasn't something she'd chosen, over 9 months – 283 days – she'd developed incredibly strong feelings for the baby growing inside her. The trauma of inception was day by day diminishing as her natural anticipation to meet her child strengthened. 
The birth went smoothly like the birth the year before. And like the birth the year before that.
Her third child was taken from her a few hours after birth. This frightened and bewildered little boy would never meet the brother before him or the sister before that. He'd never see his mother again. In fact he'd only see another handful of cruel days.
Not because he was born sick or weak or unwanted by his mum.
In fact his mum desperately chased after him as he was dragged from her side and cried forlornly for him for 30 hours.
Thrown callously from a wheelbarrow into a small, cold, holding crate the baby struggles to stand on uncertain legs. Instead of suckling from his mum he tries to suckle the iron bars of his crate. He is alone and he is scared. He does not know what he has done wrong.
I don't know what he has done wrong either.
He was just unlucky enough to be born to an Aussie mum enslaved on a dairy farm. As such he's deemed a waste product. He can't become a milk making machine like his sister or his mother. His flesh is not the quality of those babies selectively breed to become top notch steak and burgers. He'll become veal in as little as one week or as much as 24 weeks.
He'll hear and smell and see the babies before him die. He'll know exactly what is coming and he'll try to escape however the best he can hope for is an effective bolt gun strike to his little head before a blade slices across his neck and thrashing he's strung up by one leg to be "processed."
Dear podcast listeners this is the start of an open letter I sent this week to Australia's largest women's media brand. It's the first in a new format of solo podcast show that I'm aiming to produce once a month. Ideally I'll hear back from someone at this brand and I'll share their response with you. However if I don't I'm hopeful that the information I share in each open letter is of value to you. If you agree with my sentiments and want to help strengthen this message then please head to the show notes and send a 'tweetable' quote directly to the brand. I've done all the work it's just a simple click of a button to add your support.
[The letter continues] I'm writing this to you as I know you are strong advocates of women's rights and the equality of the sexes.
I have so much respect the work you do to make the world a better place for women and girls. I'm a fan of several of your podcasts and that, in fact is how I came to learn that one of your sponsors is Dairy Australia.
I'm not here to convince, convert or judge. I don't want to impose my beliefs on you. Rather I respectfully ask you each as individuals and collectively as Australia's largest women's media brand to please consider a few questions before deciding what feels right to YOU. What aligns with your beliefs and values?
Can only human mothers experience a deep maternal connection to their babies? At this point I'd like to share a story that is not my own.
It's the experience of Robin Birdsong and the reason she started Enchanted Farm Sanctuary:
"In May of 2007, my 2 month old son Danny Tristan passed away from SIDS. When he died, I died too. Mine was an internal, emotional death. I was an empty shell and what little remained of me spiraled out of control and I sunk into the darkest realms of grief and depression. I was suicidal and had no desire to continue on without him.
Until one day I decided to pull myself up off the floor and look for help. On that day, I googled two words that changed my life forever. Those two words were "bereaved mother." I was not expecting what I found.
I clicked on a link that took me to a video of a dairy farm. The bereaved mother in this video was a cow. A man was stealing her baby boy from her. He was ripping the baby away as she tried to stop him and she was wailing at the top of her lungs while her baby cried out for her. As the man slammed the gate behind him she ran back and forth in a panic until finally collapsing in the mud and letting out a wail I will never forget.
It was a sound I knew all too well. It was the same agonizing scream that I let out after I too collapsed in the mud in my yard the rainy day they carried my baby boy's body away.
We not only had our sons stolen from us but we had our motherhood ripped from us as well. The only difference between me and that mother cow is that humans added insult to injury by hooking her up to a painful machine and stealing her breast milk to sell. It's monstrous and we do it to them by the billions!" (link to quote)
Is there a humane way to kill someone who does not want to die? At 1 week old? Or even at 5 years old? Which is the age most dairy mums become less efficient or "spent" and are slaughtered for low grade meat.
I understand the dairy industry has been incredibly effective at propagating the myth that "we do it humanely here in Australia." I used to believe that. In fact my grandparents were crop and sheep farmers and my great grandfather was a dairy farmer. I have a lot of respect for the work ethic needed to run a farm. I know it's not easy. I saw the struggles, the sacrifices, the massive uncertainty my grandparents endured.
Although if humane means "to show compassion or benevolence" how can you possibly kill someone who does not want to die with compassion or benevolence? I used to think "But surely there are strict industry standards?" Here are some of those standards:
"The industry deems it acceptable to withhold food (milk) from five-day-old calves for up to 30 hours before they are slaughtered. This means that calves can be fed in the morning, than transported (legally for up to 12 hours) and kept at the abattoir overnight without any food before being killed the next day." (quote from animalsaustralia.org fact sheet)
Calving induction. "If a calf is due to be born outside the desired time for calving, the mother will be induced. This means the calf will be born prematurely, risking the health of the mother and baby." (RSPCA.org)
Female calves destined for the milking herd will usually undergo 'disbudding' at less than 6 months old with zero pain relief. This is usually done by "applying heat cauterization to the horn buds, or by using a knife or scoop tool to remove all the horn growth tissues in the horn bud." (quote from animalsaustralia.org fact sheet)
Live export of dairy cows (heifers). Each year Australia exports tens of thousands of dairy cattle overseas for breeding. "Export standards allow pregnant animals to travel on these stressful journeys. Heifers may be sent to countries where poor animal handling, transport and slaughter are routine practice and where they are susceptible to diseases against which they have not been vaccinated." (RSPCA.org)
That's put incredible mildly. We've all seen the conditions animals endure during live export. There are no laws to protect these animals once they leave Australia.
Do feminist values only apply to human females? Can rape only describe acts inflicted on human females? 
Dairy cows are forcibly impregnated "This involves a person inserting his arm far into the cow's rectum in order to position the uterus, and then forcing an instrument into her vagina. The restraining apparatus used is commonly called a rape rack." (humanemyth.org)
This 5 minute video with over 5 million views show exactly what dairy mums endure from forced impregnation, to having their babies stolen hours after birth, to painful mastitis and eventually to being too physically and emotionally exhausted to carry on… at which point she collapses and is retired. Actually NO, she is never retired. After being keep pregnant from 1 year old to 4, 5, or possibly even 6 years old (instead of her natural lifespan of 20-25 years) the exhausted dairy mum is dragged out by whatever means to be killed for beef.
The dairy industry is the meat industry.
Does it really make sense for humans to drink the milk intended for another mothers child? Milk designed to grow a calf from 65 pounds to 500 pounds in just 12 months.
Regarding the health considerations / benefits of a whole food plant based diet Dr Michael Gregor and his team of researchers at nutritionfacts.org provide an incredibly valuable resource. From plant vs cow calcium to calcium absorption (in) soy milk vs cow milk to the question: Is milk good for our bones? There's so much more to the discussion of health and the optimal diet/s for humans however my intention with this letter is to keep to the matter of Feminism, The Dairy Industry and Separating Mums From Their Babies.
Accordingly I'm not going to go deep down the rabbit hole of "What about farmers jobs" aside from to say I eagerly support farmers who grow plant crops at every single delicious meal. For the other farmers? The shift to veganism will not happen over night. Farmers will have time to prepare and capitalize on the huge growth industries associated with the expansion of plant products and veganism as the fastest growing social justice movement globally. If they need government support to make the switch from animal to plant agriculture then it's money well spent.
In this I'll reference an article published by tendaily.com.au (August 2018) titled: Experts Agree Our Farmers Need To Get Out Instead Of Being Bailed Out. 
The consensus of the economist, the scientist and the agriculturist featured? Taxpayer dollars would be better spent helping farmers leave the industry. To quote from the article: "Up until the 1950's farming accounted for around 90 percent of our exports, but today it sits closer to 15 percent and approximately 3 percent of our GDP."
The economist, Saul Eslake states: "We can't just keep throwing cash and drought assistance, given some farmers are farming in areas that are more often in drought than not."
And finally,
Do you value taste or life?
A client recently asked me "Do you think it's right for children to be vegan?" I've spent countless hours researching all the evidence to support the safety and in fact health benefits of a whole foods plant based (vegan) diet for anyone, including pregnant women and children.
Both the The American Dietetic and the British Dietetic Associations which are the largest bodies of diet and nutrition professionals in both countries have categorically stated that: "A vegan, plant based diet is nutritionally adequate, healthy and safe at all stages of life including pregnancy."
The UN has just this month warned we have 12 years to limit a climate change catastrophe and has long recommended: "A global shift towards a vegan diet is vital to save the world from hunger, fuel poverty and the worst impacts of climate change."
Despite all that, my gut reaction was: "Yes, of course I think it's important to teach kids compassion from the youngest age."
Surely a better world for women and girls is a world where compassion for ALL living beings is encouraged, nurtured and seen as a strength rather than a weakness?
Yours passionately and compassionately,
Kate Galli.
Is there a humane way to kill someone who does not want to die? At 1 week old? Or even at 5 years old? Which is the age most #dairy mums become less efficient and are slaughtered for low grade meat. #thehealthificationpodcast #animalrights
Click To Tweet
Does it really make sense for humans to drink the milk intended for another mothers child? Milk designed to grow a calf from 65 pounds to 500 pounds in just 12 months. #dairyfree #animalrights #thehealthificationpodcast
Click To Tweet
That's it for today in Healthification. Huge thanks to YOU for sharing today with me. I appreciate it with all my heart.
If you've enjoyed this show and gotten value out of it I'd super appreciate it if you pop over to iTunes and leave me a review. It helps other people find Healthification and it really does inspire me to power on with the weekly and sometimes twice weekly episodes.
The Healthification podcast is proudly bought to you by my FREE 'Easy Vegan' plan. It took me 25 years to transition from a meat eater to a happy, healthy Vegan! You can do it in just 3 days with  my simplified 'easy vegan' plan!  Get the fit, strong, and healthy plant based body you deserve… while avoiding ALL the mistakes I made along the way!
To learn more check out: strongbodygreenplanet.com or search strongbodygreenplanet on Facebook and Insta.
Till next time, remember Creating a body and life you love is Freedom. (If this ex-carb queen, NON-genetically gifted, naturally uncoordinated VEGAN-chick can do it – so can YOU!!!)
If you liked "The Dairy Industry and Separating Mums From Their Babies" you'll also like: How To Eat Less Dairy Without Sacrificing Protein or Calcium (I've changed my mind on soy however the tips still apply!)
If you're yet to share the Healthification love – just click here to zip over to iTunes and leave an honest rating and review. It'd help me out big time. With gratitude, Kate.