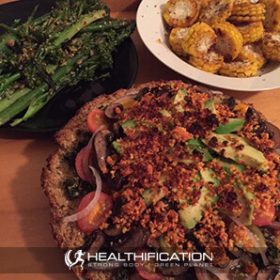 Podcast: Play in new window | Download
Subscribe: RSS
If I had to start again so far as my vegan journey the thing I'd evict first from my eating, my home and my life – is dairy!
From an ethics, an environmental and indeed a personal health point of view Dairy is indeed Scary. I've covered why and how in previous shows so for today I'll just link to those in the show notes and focus purely on some healthy plant based substitutes to embrace in place of dairy.
I'm actually inspired in part by the amazing upgrades I noticed in my mum and dads fridge when I stayed with them for 12 weeks in the height of Covid lockdown earlier this year. Let's get rolling with 4 steps:
How To Give Your Fridge A Dairy Free Makeover.
One: The Obvious Easy Wins.
Plant Milks and Plant based Butter spring to mind here.
There's really nothing simpler than adding almond milk to your coffee or oats instead of cows milk. For a creamer option try oat milk or for the most protein stick with soy milk. I really don't struggle to find enough #plantstrong protein so I'm a fan of calcium fortified almond milk and on occasion the more indulgent Barrister blends that are now readily available.
The important consideration here is to hunt around for a brand and a flavour that you enjoy. Also be reassured that your tastebuds crave what you consume and will change with time as you consume less animal products. I remember when I first moved to Sydney over 20 years ago I use to guzzle an entire 600 ml skim milk straight from the carton. I thought it was healthy and delicious. I feel queasy as I recount this now.
I don't tend to have butter substitutes at home however my dear mum who works miracles in veganising almost any recipe is a fan of Nutellex and to his credit vehemently NON-vegan-dad is now using this plant butter too. I'd call that a HUGE win! If you're struggling to convert a loved one to ditch the dairy butter I think mum's amazing Anzac biscuits, banana bread and carrot cake – all veganised, planted some big (delicious) seeds in dad's journey.
Talking of which I'm going to get actionable through-out this show so: What is the "The Obvious Easy Win" you can try this week as you give your fridge a dairy free makeover? Although I'm focusing mainly on working towards dairy free today – starting with an easy win is a winning strategy when looking to make any dietary or lifestyle upgrade.
It's an early reference point for success.
Two: The Infrequent Indulgent Treats 
aka Dr Greger's Yellow Light Foods.
Cheese, mayonnaise are a couple of high caloric density (traditionally low value) items that I acknowledge easily jazz up a potentially boring meal. Or as I've heard many times: "Cheese just makes everything better!" That's because cheese is one of the most addictive foods ever created.
It has been manufactured to have the perfect balance of fat and salt that makes it hugely more'ish. In fact the casein in cheese (which is a protein present in all milk products) releases opiates during digestion that stimulate your dopamine receptors and are linked to addiction.
I couple of Go2 vegan options that "just make everything better" are Nutritional yeast (enough said I hope) and Veganaise. To be fair Veganaise is low to no nutritional value however it tastes amazing and I use it in small doses with HUGE amounts of high value foods. Which brings me to Dr Michael Greger's traffic light food system.
In Dr Greger's book How Not To Die, Green means GO. Yellow means caution. Red means STOP (at least stop and think before consuming however the less red light foods the better). Here's the break down according to Dr Gregor:
GREEN light foods = Unprocessed Plant Foods.
YELLOW light foods = Processed Plant Foods and Unprocessed Animal Foods. (I strongly advocate ZERO animal foods, because it's not just about your health it's about the animals life)
RED light foods = Ultra-processed Plant Foods and Processed Animal Foods. (again ZERO room for those animal foods that kill the animals, the planet and you.)
To keep it simple let's go with the Drs description that, unprocessed = nothing bad added AND nothing good taken away.
The advice I give my clients is that yellow (or occasionally red) light food should be eaten to promote consumption of green light foods. Here are some examples:
Veganaise and avocado mixed as a dairy and egg free creamy coleslaw dressing and made into a complete meal when served with a couple of black bean and beetroot burgers.
Dairy free feta in your #plantstrong corn and zucchini fritters.
A sprinkle of dairy free mozzarella or cheddar sprinkled over your veggie laden pizza or kale crisp and cos leaf nachos.
If you're not yet sold on the plant based cheese substitutes, please consider trying more options! Our options really have expanded and some are amazing. Clients will often hesitantly ask me "but what's vegan cheese made of?" and the answer varies. From soy to nuts and seeds – the thing is, like dairy cheese a vegan cheese is going to be fairly processed and fairly high fat. Hence me including it as an Indulgent Treat rather than recommending it's inclusion at every meal.
The biggest selling point is what it does not include: animal cruelty and huge amounts of saturated fat.
To get actionable so far as "The Infrequent Indulgent Treat" the obvious suggestion is to buy a plant based cheese you like the look of. Here in Aus I like the Bio Cheese Feta and globally Miyoko's dairy free cheese has a well-deserved amazing reputation. However, I'd recommend instead solidifying Why you're committed to cutting dairy by checking out any of the resources I'm going to link to in the show notes via strongbodygreenplanet.com.
E555: Feminism, The Dairy Industry and Separating Mums From Their Babies (An open letter)
Dairy Is Scary (5 minute video with over 6 million views)
What the Dairy Industry Doesn't Want You to Know – Neal Barnard MD.
Also, check out my previous interview with Dr Barnard here:
We started with an easy win / reference point for success. For long term sustainability, especially with any actions that take a little more effort than just a simple swap, the groundwork and mindset work is vital. Before you think, "Gosh well that sounds like too much time and effort!" please consider: How much time and effort have you spent in the past thinking about a lifestyle or health upgrade that you didn't make? Or trying half-heartedly and frustratingly not seeing any benefits?
If you're aware of an upgrade, you'd benefit from making then the time and effort will be spent either way. Lock and loading your Why and the emotional fuel behind your Why is a much more beneficial use of your energy than procrastinating and reasoning yourself right out of results.
How To Give Your Fridge A Dairy Free Makeover #Three: The Home Made Healthy Staples.
This category are all foods you can buy however it's much cheaper and healthier to make your own. One of the fabulous things about these homemade healthy staples is you're likely replacing a really low value fuel with a really high value fuel. For example:
Dairy free pesto. I make mine with a variety of raw nuts though pecans are my current fav plus kale, basil, broccoli and then some avocado oil, salt, garlic and of course nutritional yeast. It's both delicious and nutritious enough to warrant a huge, indulgent serve every single day.
Cashew based parmesan.
Macadamia cheese.
For the sweet tooth: Dark chocolate covered dates or bliss balls.
Your personal Home Made Healthy Staples will take a little bit of effort up front to find the recipes you love – on that note my Go2 online sources for both healthy and delicious are pickuplimes.com and minimalistbaker.com while for slightly more indulgent I recommend Hot For Food, Wicked Healthy, BoshTV and The Happy Pear – however once you find a few staples they are often much quicker to throw together with the stuff you keep in your pantry than popping down to the shops to buy some overpriced, salt and oil laden substitute.
To get actionable with "Home Made Healthy Staples" I challenge you to try either a pesto or if it's more your style a bliss ball and see just how much amazing high value, one ingredient plant based diversity you can squeeze into that delicious little morsel! 
The important thing here is you're focusing on abundance and what you're giving your body. Your dairy free fridge makeover is not about restriction, deprivation or missing out. It's all about finding the delicious alternatives that you love and will want to enjoy long term.
Four: The "You're Better Off Without It!" Tempting Trigger Foods!
While we're talking, dairy free makeovers it could also be a super opportune time to rid yourself of a few of those foods that have been known to send you into an emotional eating spiral.
Speaking from experience a couple of tempting trigger foods I really don't miss are: yoghurt and ice cream. Perhaps cheese is more a trigger for you? The main point is there are some foods that past experience demonstrates we are really better off without. Food that even though there may be delicious vegan substitutes for, they are better placed to be enjoyed perhaps as a treat when you're eating out or entertaining and bought in quantities where you can be sure there won't be lethal leftovers!
The energy I no longer have to waste in self-negotiation: "Should I finish the yoghurt?" and "Can I get away with some ice cream?" even "Surely double today equals out if I just skip breakfast tomorrow?" 
You've been there right? I'd genuinely rather not put myself through the torture. If a food is something I know I'm better off without (and we all know!) or something so triggering I always eat enough to feel guilty then that food does not get to live in my fridge… or freezer!
Talking of something that does get to live in my freezer… It'd be remiss of me not to give banana nice cream a shout out here. It's not a regular in my eating routine however on occasion it certainly goes down a treat and is a great way to make sure you never waste your over ripe bananas.
Simply freeze very ripe bananas and then blend them with a dash of plant milk and whatever other flavours you love. Perhaps some berries or mango. Nut butter or cacao. Even plant based protein powder. Your delicious options are limitless.
I've even made my own home made yoghurt from coconut milk and probiotic capsules (that's it – none of the other unnecessary nasties!) and it was surprisingly easy. I'll link to the recipe I followed from minimalist baker in the show notes.
To get actionable with "Tempting Trigger Foods" there are some foods that deserve to be evicted from your home right? 
A little bit of ditching discipline up front saves you a whole lot of discipline in the future when you're tired, hangry, sad or procrastinating and trying to steer clear of tempting trigger foods. I promise setting up your surroundings for your future ongoing success is something your self to come will thank you for.
Let's round out todays show with a recaps of those 4 Steps To Give Your Fridge A Dairy Free Makeover:
Start with an Easy early reference point for success.
Next solidify Why you're committed to cutting dairy.
Focus on abundance and what you're Giving your body.
Refine your approach by saying goodbye to Tempting Trigger Foods!
For further information regarding how to build delicious vegan meals I'm going to link to some of my more popular posts / podcasts in the show notes including, E547: The Ultimate Vegan Food Pyramid For Getting and Staying Lean and my 7 DAY EASY VEGAN PLAN mega post!
That's it for today and this week in Healthification. No interview this week however I have many in the works so I'm sure we'll be back on track with a guest next week. Big thanks to YOU for sharing this week with me. You rock and I appreciate your support!
The Healthification podcast is proudly bought to you by my FREE 'Easy Vegan' plan. It took me 25 years to transition from a meat eater to a happy, healthy Vegan! You can do it in just 3 days with my simplified 'easy vegan' plan!  Get the fit, strong, and healthy plant based body you deserve… while avoiding ALL the mistakes I made along the way!
Till next time, remember Creating a body and life you love is Freedom. (If this ex-carb queen, non genetically gifted, naturally uncoordinated vegan chick can do it – so can YOU!!!)
If you liked "How To Give Your Fridge A Dairy Free Makeover." you'll also like 441: Easy Cheese Substitutes.
If you liked "How To Give Your Fridge A Dairy Free Makeover." you'll also like 516: Easy Vegan Calcium Sources: Leave Cows Milk For The Calves!
If you liked "How To Give Your Fridge A Dairy Free Makeover." you'll also like E578: No Fuss Vegan / The Advice I'm Giving My Mum!