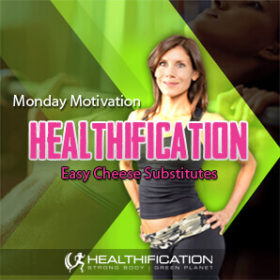 Podcast: Play in new window | Download
Subscribe: RSS
This weekend I had a cooking win!
If you've been listening to the Healthification podcast for any period of time you'll know I'm a fussy eater and a lazy cook. Not the best combo. I'm hopeful that as I get older perhaps I'll acquire some of my mums legendary kitchen prowess…!
I'll share the win soon. It's one of several alternatives that you may like to check out if you're keen to eliminate or even just minimize cheese.
Today,
Easy Cheese Substitutes.
To my non plant based friends you may be thinking: "Now why would I ever even consider cutting back cheese?"
Or perhaps, you're very clear on the WHY however the HOW seems incredibly challenging because cheese is one of the most addictive foods created. 
To back track just a little that is one of the WHY's to consider cutting back cheese:
Cheese has been manufactured to have the perfect balance of fat and salt that makes it hugely more'ish.In fact the casein in cheese (which is a protein present in all milk products) releases opiates during digestion that stimulate your dopamine receptors and are linked to addiction.
A study published in the U.S. National Library Of Medicine identified the most addictive foods from people who completed the Yale Food Addiction Scale. At the top of the list? Pizza. And what's Pizza without cheese right? Actually Pizza without cheese can be pretty SUPER delicious.
Especially my Portobello Cap Pizza's with 3 Cheese Substitutes! Recipe soon (!) let's first cover the other WHY's to consider cutting back cheese…
Cheese has a very high caloric density.It actually sits right behind pure oil as the food least likely to activate your stomachs stretch receptors that give your brain the feedback you are full.
So you can easily demolish say, 500 calories of cheese without feeling full where as 500 calories of veggies is a completely different matter. I'll link to an article from forksoverknifes.com that digs a little deeper with the term volumetric's and also explores animal protein and weight gain: 
Eliminating cheese is a very useful positive constraint.Think of positive constraints as useful little self imposed rules that make the decision making process easier.
So perhaps there's pizza on offer. Say it's a lovely long weekend – a footy grand final – and you're cruising to a friends place for pizza and drinks. Perhaps it's even make your own pizza. Avoiding the processed meat might be an option. You could make a vego pizza. However that low protein carb fest meal is not really aligned with your goals. It's not even close. If you don't eat meat or cheese you're just going to come up with an easy, delicious alternative. A substitute that let you skip greasy-fatty-meaty-cheese'y high caloric density pizza.
Finally my personal most important reason…
Cheese is undeniably part of the inhumane crate to plate process that I refuse to contribute to.It may not necessitate killing the cow straight away however on analysis of the life lived by the majority of dairy cows… if I were a dairy cow I'd prefer to just not be born.
Now let's get cooking with that recipe win! My Portobello Cap Pizza's with 3 Cheese Substitutes:
I made a big batch to serve 2-4 people. You'll need:
8 Portobello's (or large mushrooms of choice)
Hemp seeds (around 1/2 tablespoon per mushroom)
Vegan pesto (around 1-1 1/2 teaspoons per mushroom)
Nutritional yeast (2 heaped tablespoons for the cashew cheese PLUS an extra 1/2 teaspoon per mushroom)
1 cup raw cashews (soaked for a couple of hours or covered in boiling water for a couple of minutes)
1/4 cup sun-dried tomatoes (I put them in boiling water with the cashews for a couple of minutes)
1 tablespoon of garlic powder.
1 tablespoon of onion powder.
1 teaspoon of chili flakes.
1 teaspoon of sea salt.
Veggies of choice. I used: 1 large red capsicum char grilled then skin removed and sliced. 3 lengthwise slices of a large eggplant baked with a little coconut oil, chili, onion powder and mixed herbs then sliced. 1 small zucchini in peels. Several thin slices of red onion. 1/4 of a green capsicum sliced. 1/2 a small jar of marinated artichokes sliced.
To make the cashew cheese:
Drain the cashews and sun-dried tomatoes. Use food processor to blend both with 2 heaped tablespoons nutritional yeast and also the garlic powder, onion powder, chill flakes and sea salt.
Cook the Portobello's (heat does not matter I went with around 200 degrees) in a tray (or 2) on baking paper with a sprinkle each of extra garlic powder, onion powder, chill flakes. Plus in each cap 1 teaspoon of vegan pesto and a sprinkle of thinly sliced of red onion. Time is dependant on size, I cooked them for around 5 minutes then added the rest of the veg and also the 1/2 tablespoon hemp seeds per mushroom. I finished with the zucchini strips (3 strips per mushroom crossed over the top of the caps to try and hold everything in a bit. I then added another 1/2 teaspoon of vegan pesto in and a 1/2 teaspoon of nutritional yeast to each cap. Cook for a further 5-10 minutes and for the last few minutes add a tablespoons of cashew cheese to each cap.
Although messy to eat this pizza's were super delicious. Luckily watching the footy means finger food!
If you wanted to be quicker you could buy the vegan cheese instead of making your own and even buy grilled capsicum and eggplant. I'll link to my dairy free pesto recipe in the show notes or again you can buy it.
In case you're wondering about those 3 Easy Cheese Substitutes?
Cashew cheese.You can experiment with your fav nuts. The options are limitless. I'm also a fan of nut cheese on: Kale Crisp Nacho's, Zucchini Pasta, Eggplant Cannelloni AND you can find the recipes for each in my FREE eBook 15 Easy, Lean, Clean LOW CARB VEGO Switches:
Nutritional yeast.The easy, high protein, vitamin B12 pimped option! Try nutritional yeast on: Kale Crisps, Cauli-rice Sushi, Kale Cauli Tabouli. Again you'll find the recipes for each in 15 Easy, Lean, Clean LOW CARB VEGO Switches:
Hemp seeds.Ok, it's not cheesy but it's easy! And chocka full of protein plus omega 3's. Sprinkle hemp seeds in: Smoothies, Salads, Curry. Basically anywhere that needs a little extra no fuss – no refrigeration – protein.
To get actionable today, have you been considering cutting back cheese? If you've been stalling because well cheese is delicious, then I highly recommend you give this recipe a whirl. Or if you've had some recent cheese eliminating success – perhaps a recipe win (!) – I'd love to hear from you.
If you liked Easy Cheese Substitutes, you'll also like: 5 Healthy Substitutes.
If you're yet to share the Healthification love – just click here to zip over to iTunes and leave an honest rating and review. It'd help me out big time. With gratitude, Kate.