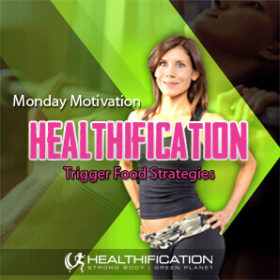 Podcast: Play in new window | Download
Subscribe: RSS
How apt that as I plan todays show I'm devouring my #1 most tempting trigger food… delicious roasted cashews.
It's all good though. I have the strategy to most of the time keep my cashew guzzling under control. Today I'm sharing 3:
Trigger Food Strategies.
Before we get rolling let's define trigger food.
It's the food – and you (like me!) likely have a few – that you'll eat above and beyond one measly portion. Your self control seems to exit the building around this food! When left to your own devices once you start it's impossible to stop. You'll generally eat until it's all gone. You'll feel Glutinous and Guilty.
Can you relate?
The goal is to first understand and then out plan trigger food demolishing.
Rather than mindlessly devour and then be reliant on will power!
Accordingly, it's been my experience that the person who claims to have less will power is more likely to succeed at consistently eating the food that is best for their body and not letting their results be affected by detrimental trigger food demolishing.
It's one of those situations where you're always going to be better off admitting and out planning your weakness's rather than pretending they don't exist or kidding yourself you'll: "Do better / be stronger next time."
In the interest of glorious guilt free not over the top guzzling here are my top 3: Trigger Food Strategies.
One: Type.
Put simply, the less detrimental the better.
To get a little more specific the best type is not going to be all processed and fake. It won't have a super high caloric density. Hopefully it will have some nutritional value. Those micronutrients will even help curb your eating as they satisfy your cravings. Generally cravings are the result of a vital micronutrient your body is missing out on rather than a legitimate need for chips, chocolate or ice-cream! 
The number of times I've demolished non detrimental foods above and beyond one measly portion…
I'll eat ALL of the Kale Crisps. And that's ok!
Or I'll eat double the serve of my home made hummus. And again that's ok as it has zero of the processed nasties and a lots less calories than that store bought stuff can have. In addition I've pimped it with extra protein and micronutrients so it's giving my body value not just calories.
Occasionally I'll even try the better bad. So perhaps a raw vegan dessert – shared between two – that has some good fats like nuts, coconut and avocado that are also a lot more satisfying than empty worthless white sugar.
Two: Timing.
In a word, Scheduled.
Twice a week I'll eat a generous amount of my #2 trigger food: bread… beautiful bread! Scheduling is a great way to work in those triggers foods you can't imagine living without and yet you:
A) Couldn't get away with eating a generous serve every day and,
B) Couldn't handle enforcing a restrictive serve every day.
Beyond just the supreme emotional joy of indulging in generous quantities of a trigger food you love it's also important to let your body deal with a scheduled calorie surplus every once in a while. Too much restriction and your mind and body with both go into lock down.
It's often referred to as the starvation response. Where your body will slow your metabolism to account for diminished caloric intake. More than a 500 calorie a day deficit is the figure often bandied around. The non-negotiable key to success with this strategy is the scheduled component.
It's 100% something you choose with volition. Rather than something you fall in to due to convenience, social pressure, laziness or just poor planning.
When you lock in a time each week to enjoy your trigger food/s of choice you then get to look forward to it. To count on it. It makes great food decisions during the rest of the week that much easier.
Three: Tally.
Keep a running tally. 
This is the strategy to deploy with those high caloric density trigger foods. Like Chocolate. Chips. Even high value foods like nuts, nut butter and avocado.
The running tally is a casual yet important awareness you have of what you generally eat in a day. Extended out to what you generally eat in a week that you continually check in with. It's not as hard or restricting as it might sound.
In contrast it's actually freeing because with practice you know what you can "Get away with" so eating decisions are easy, guilt free and without consequences. The running tally operates in the background without pen or paper it's as simple as "I had unintended avocado with breakfast this morning so I'll skip it at lunch" Or, "I had extra cashews this morning so they come out of tomorrows quota."
If you're heard me talk about: Borrowing From Tomorrow you may well be thinking: "That's rubbish!"
Perhaps you're in the habit of promising to make up for an excess today with a deficit tomorrow? Maybe you know exactly how tough that can be? I'm with you! I could absolutely fall into the trap of 100 grams of cashews today becomes 100 grams tomorrow becomes a daily 100 gram habit.
The way to make your running tally work is to extend the daily tally out to a weekly tally and buy your food in accordance with the weekly requirements.
That's why when a gent at work recently asked if I wanted to jump on his order of organic produce in bulk I politely declined. 5 kilo bags of cashews are not something I want to be dealing with! Your solution is to first understand how much of a food item you want to consume in a week and then buy that quantity and only that quantity. 
To get actionable today, do you have a trigger food situation that could be resolved with one or a combination of these 3 Trigger Food Strategies?
To recap:
Trigger Food Strategies #One: Type.
Trigger Food Strategies #Two: Timing.
Trigger Food Strategies #Three: Tally.
If you liked Trigger Food Strategies, you'll also like: How To Prevent Weight Gain Over Christmas and New Year (6 step survival blueprint).
If you're yet to share the Healthification love – just click here to zip over to iTunes and leave an honest rating and review. It'd help me out big time. With gratitude, Kate.