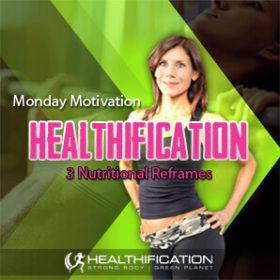 Podcast: Play in new window | Download
Subscribe: RSS
There's a incorrect observation I'm on the receiving end of not infrequently that I find particularly bemusing.
It's that old: "But you're lucky you must not be so into food."
Or something along those lines.
Some likely well intentioned yet utterly misguided judgement that gives the observer an excuse for their foodie excess's.
The person who assumes I'm "not so into food" has almost certainly never eaten with me. They've certainly never been on the receiving end of my cookery. They have zero idea of just how much I adore and am obsessed with food glorious food.
In todays show I'm sharing:
3 Nutritional Reframes.
3 nutritional reframes to help you escape a constant, exhausting battle against food notorious food and instead enjoy focusing on food glorious food!
Let's get rolling…
One: Focus On NUTRIENTS Rather Than Calories.
This reframe changes your focus from restriction and deprivation to instead an awareness of everything good that you're giving your body.
It'll also save you a lot of time scrutinizing the small print in those tiny and deceptive nutritional panels!
While the nutrients, value and portion size in a box of cereal or carton of yoghurt may vary wildly dependant on whether you're going for gluten-free-protein-clusters-fibre-plus-iron-fortified or whatever (!) an apple is an apple as broccoli is broccoli and cashews are cashews!
For my plant based friends to get a little more specific so far as nutrients:
=> Focus first on your macronutrients like carbs in the form of fibrous veg, muscle building protein and satisfying good fat.
To get a lot more specific so far as vital micronutrients that can often be lacking in a vego or plant based diet like Iron | B12 | Zinc | Calcium | Omega 3's I have you covered in show #339 on: Healthy Vegetarian Eating.
These are just a few of the nutrients I focus on adding to my daily meals:
=> For IRON (I'm aiming for 18 milligrams of Iron a day)
Raw Spinach or Swiss chard or Collard Greens | Spirulina | Dulse Flakes | Cashews 
=> For B12 (I'm aiming for 4-7 MICRO-grams of Vitamin B12 a day)
Nutritional Yeast | Kale | Broccoli | Almond milk | Tahini 
=> For ZINC (I'm aiming for 8 milligrams of Zinc a day)
Cashews | Sunflower seeds | Lentils | Broccoli | Mushrooms
=> For CALCIUM (I'm aiming for 1,000 milligrams of Calcium a day)
Collard Greens or Kale | Broccoli | Almond milk | Tahini 
=> For OMEGA 3's (I'm aiming for 500 – 1000 milligrams of Omega 3 a day)
Hemp seeds | Chia seeds | Flaxseeds | Walnuts
Two: Plan REAL MEALS Rather Than Constant Grazing.
My mum was right! Now although what constitutes a real meal has certainly changed for me it's absolutely about planning, building and eating a meal chocka full of those nutrients we covered in reframe one.
The constant grazers in nature eat grass. Leaves. Super low caloric foods that by necessity need to be consumed for hours on end to provide enough fuel.
In contrast nibbling away on snack foods constantly is almost always going to lead to over eating. Although generally I'm not huge on measuring and portion control it has it's roll to play. I train a dear lady who has become pretty good at making real meals on mass. Now this is fantastic. She'll whip up a huge batch of curry or soup or salad. However she's missing one vital step in the meals on mass equation. Dividing that big pot of goodness into meals.
To my utter frustration she'll graze away all day at a weeks worth of food and wonder why she's not up for a real meal for dinner. Or losing weight.
If you're like to up your real meals on mass game then I have you covered in show #132 on: Turn 3 Mass Cook-ups into 9 Different Meals.
Please prioritize the portion control step though!
Three: Think "How Will I Feel AFTER?" Rather Than ""How Will I Feel During?" Or Worse "I Deserve…!"
This reframe utilizes the ability to delay gratification rather than cave in to immediate cravings or reward eating. It took me years to cultivate however like anything the more you work the delayed gratification muscle the stronger it gets.
I'll often walk through the demolishing process in my mind in advance. So those delicious, extra crispy hot chips? Once I've devoured the entire plate (because let's be honest "just a couple" never pans out) at that point how do I / how do YOU feel?
If your answer is Guilty. Weak. Utterly frustrated at you and completely outta control off the rails… then surely it's not worth those few minutes of food bliss?
In general the "How Will I Feel AFTER?" question is a good way to run your day. With exercise it'll make you more inclined to take that first step or do that first rep.
Way back in show #041 I covered: Delayed Gratification and shared 3 steps to help you build your ability to focus on the long term benefit and take the less fun actions now that deliver the superior result in the future. Here's the super-brief-recap:
Get clear on exactly what's in it for you when you get great at delayed gratification.Often the ingrained habit kicks in before you're even aware of the actions you're taking. Instead STOP and ask yourself: "What do I stand to gain?"
Plan some easy win Delayed Gratification habits.Make them part of your routine. Perhaps:
=> Complete your hardest yet most vital daily task first.
=> Power through your toughest workout on Monday.
=> Save the yummiest part of your meal to last!
Commit to a reliable Instant Gratification every week.So YES you're for-filling your need for instant gratification however YOU are in control and setting the schedule. For me this is cheat meal and rest day Sunday.
To get actionable today, would your eating routine benefit from one of these 3 Nutritional Reframes?
To recap,
3 Nutritional Reframes #One: Focus On NUTRIENTS Rather Than Calories.
3 Nutritional Reframes #Two: Plan REAL MEALS Rather Than Constant Grazing.
3 Nutritional Reframes #Three: Think "How Will I Feel AFTER?" Rather Than ""How Will I Feel During?" Or Worse "I Deserve…!"
If you liked 3 Nutritional Reframes, you'll also like: Fat Loss Mindset For Vegetarians (Part 1)
If you're yet to share the Healthification love – just click here to zip over to iTunes and leave an honest rating and review. It'd help me out big time. With gratitude, Kate.