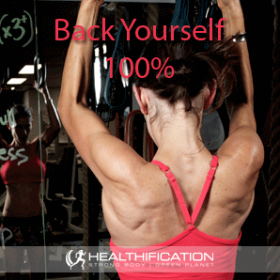 Podcast: Play in new window | Download
Subscribe: RSS
Fad or Fab?
This diet gets 5 No's and 2 Yes's from me!
You've likely heard of The 5-2 Diet.
Perhaps you've even given it a go.  Maybe you're a raving fan after seeing some impressive results.
My hope is that you've approached (or will now approach!) the 5-2 diet in a healthy way that means your results are both impressive and sustainable.
After spending some time in the 5-2 forum my gut feeling that healthy and sustainable is often not the case – was confirmed.
"I've noticed that I've been REALLY craving carbs since I started this diet. So, on my feast days, I'm eating lots of croissants, fresh bread and butter, biscuits and the like. Sometimes on top of, but often in place of, normal meals. Weird eh? Is anyone else getting cravings like this? It doesn't seem to be affecting my weight though (touch wood!) as I've still managed to lose just over 5lbs in 4 weeks. Hurrah for 5:2!"
Seriously?
Hurrah for feeding your body crap-o-la instead of real food and hoping the pounds continue to fall off …I'm sitting here Cheers'ing my Starbucks grande caramel frappuccino.
What are we looking at?
Straight from the website: "The 5:2 diet is a flexible approach to healthy eating that involves restricting your calorie consumption to 25% of your energy needs, two days a week, and eating normally the rest of the time".
Ok, so what level restriction exactly?
The average would be 500 calories for women or 600 for men.
Personally that doesn't sound like a lot of fun to me.
However the fact is it does work for a lot of people.  Weight loss at it's most basic level is energy in v. energy out and if you're able to slash your energy intake to a mere 500 cal a day twice a week that means you're cutting 2-3,000 calories a week.  Often a whole lot more.
My belief is that sustainable weight loss and sustainable health involves more than the basic energy in v. energy out ratio.
You can slash your calories for a while, and reap some quick rewards, however here are 5 key considerations to account for if you'd like to keep that rocking new body.
These considerations apply to any approach to eating:
Weighing in at with a resounding NO for 5-2:
1. Quality Of Food.
5-2 suggests you can eat whatever you like as long as it stays under the calorie limit.
Ready made processed meals or tinned dishes feature heavily on fast days.
Like this example that immediately jumped out at me from the forum…
Second fast day where I have not eaten until tea time. I find it so much easier this way! I've had:
Admirals pie – 330 cals
Dairy milk thin bar – 110 cals
I googled the pie and here are the wholesome ingredients in this fish pie with 14% fish.
Partially Reconstituted Dried Potato (45%), Water, Alaska Pollock (14%), Vegetable Oil, Cheddar Cheese (2%) (contains Natural Colour: Annatto), Butter (2%), Milk Proteins, Cornflour, Wheat Flour, Seasoning (contains Flavourings, Soya, Wheat, Yeast), Salt, Dextrose, Skimmed Milk Powder, Parsley, Potato Starch, Flavouring, Curcumin, Colours: Paprika Extract, Curcumin.
That's horrific.
=> Luckily it is 100% absolutely possible to create your own meals based around lean protein and fibrous veg.  
2.  Focus on what you've giving your body rather than restriction.
5-2 requires calorie counting.  This can lead to feelings of restriction.  Also to the "I deserve" binge mentality on your non-fasting days. The toughest way to lose weight is through severe calorie restriction of craving causing fake processed foods.
=> The much more enjoyable and sustainable solution is to focus instead on all the nutritious one ingredient foods you're giving your body.  Foods that you can eat in unlimited amounts.
3. Routine.
Now some of us crave routine more than others.  However time and time again I hear that people who get in great shape and keep in great shape have a routine with their food as well as with their exercise.  My routine is likely on the more regimented side however that is absolutely by choice.
I don't want to waste energy thinking "What do I eat now?" or "Can I get away with this?" or "What do I have to do with the rest of my food today if I demolish this now?"
My routine is easy and it works… the individual ingredients will vary from day to day however generally it looks like this:
Veg omelette for breakfast.
Nuts and Protein shake for morning tea.
Massive salad and protein pancakes for lunch.
Fish and Veg for dinner.
Protein pancakes after diner.
I've heard from clients, friends and my dear mum that 5-2 is totally doable in theory – you schedule your low cal days for the quieter days of the week… however it starts to fall apart when life just happens as it does.  Perhaps you have friends pop over for a vino – on your 5-2 day, how inconvenient!  Or a birthday, or other celebration happens to fall on that good old 500 cal day.  Of course you can swap your days to other days however that is where the wheels start to roll off the 5-2 ride because your routine has gone to rubbish.  You're reliant on discipline alone now, not a momentum building routine and circumstances will always trump discipline alone.
Ok, I'm sounding fairly hateful on 5-2 right? …so here's a look at the positives.
On the YES side of the 5-2 fence:
4. Forum Support.
There is an active supportive community and that counts for something… as long as you focus on the support, the suggestions and the potential role models that advocate sustainable practices – home cooking, one ingredient whole foods, meal planning AND filter out the posts from people initially shedding pounds by filling their 500 calories with processed, nutritionally void crap.
5. Flexibility.
It really is a diet that works around you, rather than you having to fit in with strict rules. Any healthy approach to eating should be flexible enough to work for you regardless of whether you choose to travel frequently or eat out or even for the person who likes to make all your own meals.  It should work for a vegetarian diet or gluten free or paleo if you so choose.
The ideal approach to eating can account for all of these factors – without eating up countless hours of your time or vast sums of your cash-o-la… and it can do so without leaving you feeling restricted or deprived or just plain unhappy.
I won't sit on the fence with this one.
In my mind the one ingredient approach to eating is a far superior approach to 5-2.
However, if 5-2 works for you, more power to you, the important thing is to find the approach that supports your unique lifestyle, likes, dislikes and goal.
Todays action step: is to define your ideal eating routine.  How does your best eating day look?
You're not tied to it, however it's a great guide to have on hand.  It could be based on 5-2 or one ingredient foods or whatever approach you'd like to take for a spin.  The idea here is not to decide the very-best-most-perfect-eating-appraoch… as that will evolve and change and that's ok. I'm looking to get the power of a routine working for you
I'd love to hear your thoughts on this one. Is 5-2 Fab or a Fad?
You can let me know via the show notes below.
That's it for today, I hope you can join me for the Training show tomorrow… where I share my absolute my fav body part to train… yep, tomorrow we're talkin Booty Love
If you liked this you'll also like: Work Smarter NOT Harder… to make weight loss easier on yourself.
If you're yet to share the Healthification love – just click here to zip over to iTunes and leave an honest rating and review. It'd help me out big time. With gratitude, Kate.