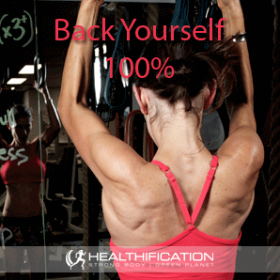 Podcast: Play in new window | Download
Subscribe: RSS
As appealing as it can sound needing to eat every 2-3 hours it's actually a real hassle. It's also embarrassing when your stomach rumbles constantly in a Uni lecture… This used to be how it was for me back in my fat-o-phobe days.
One of the many things I've changed my mind on regarding getting lean is the importance of good fats in your daily eating routine.
In those years avoiding fat, I had a skinny-fat body. Yes, I could fit into small sizes but I looked weak and soft not fit.  Even worse I felt weak… I was always hungry and because of that I was very often moody. I thought about food all the time – and although food is pretty fun, I really don't want to be thinking about my next meal All. The. Time.
I now believe fake will make you fat, not fat!
AND, you can actually use fat to melt fat. That's the subject for today's tucker show and here's how:
1. Fat is satisfying. So you can actually stop at a good, healthy serve and not be drawn back again and again for more'ish yet unsatieting low-fat carbs.
=> back in my zero fat days I'd demolish an entire loaf of French stick in a sitting… Or 6 bread rolls with raw 2minute noodles as filling – for afternoon tea.  Adding some avocado to your wrap at lunch or even better to your huge lunch salad will leave you energized and satisfied yet not all lethargic and clogged up.
2. Fat slows down the rate at which the carbs you consume are broken down and released into the bloodstream. So you get to avoid those annoying blood sugar spikes and plummets.
I could easily power through a 500gm tub of low-fat-high-sugar yoghurt… and feel not so much full, moreso just guilty. The alternative is to add some nuts to 100-150gm of full fat Greek Yoghurt and notice your energy levels behaving a lot more consistently.
3. On an emotional level, Fat is fun.  I'm serious, this counts. Eating foods that you LOVE is vital to ensure you are not feeling deprived, hard done by and likely to go over-indulge in some crazy-low-fat-yet-high-volume-UNsatisfying-binge-fest.
Adding some roasted nuts to your noodle free stir-fry or a touch of Parmesan to your julliened zucunni pasta or some nut butter to your protein shake just makes for a more fun meal or snack.
Now as much as I'm a fan of ditching your measuring devices and embracing one ingredient goodness… When it comes to fats a little portion control is required.  No extreme craziness however a general awareness or as I call it 'The Running Tally' method is a good way to go.
The running tally is simply a consciousness and volition you apply to your eating.
Rather than an extreme obsession with measuring and calorie counting OR a complete disregard for/happy ignorance of what you shovel down your throat – the running tally means you have a general awareness of your normal daily food intake and make adjustments accordingly.
So, if you find yourself hovering by the open fridge sneaking almond-cashew-brazil-butter from the jar with a fork – as I used to when I let that nut-butter-deliciouness live at my house – YOU;
A) Admit that just because your implement of choice is a fork, it still counts!
B) Recognize that this is unplanned extra fat in your day and make up for it by skipping the avocado on your salad tonight.
As a super general guideline a serve of good fat at 3-4 meals/snacks a day is a good target.  
I'm not going to be exact as every body and goal is unique however for me this might look like 2 egg yolks at breakie, 50-100gms cashews at morning tea, 1/4 of an avocado at lunch and a teaspoon of olive oil + the fat left on my fish at dinner… as well as some coconut oil sprayed through the day as well (generally in the vicinity of protein pancakes or brussel crisps!)
In todays action step: I'd like you to identify 3 times in your week where you can upgrade your choice of fat.  
Perhaps swapping margarine or butter for avocado as a spread?
Maybe ditching processed chips/crisps for Kale chips shaken in a teaspoon of olive oil or brussel crisps baked in a spray of coconut oil?
Maybe farewelling the after dinner chocolate in favour of some roasted nuts?
If you liked this you'll also like: Smart Simple Weight Loss: Eliminate Limiting Beliefs.
If you're yet to share the Healthification love – just click here to zip over to iTunes and leave an honest rating and review. It'd help me out big time. With gratitude, Kate.