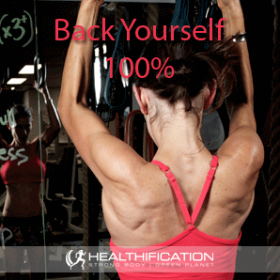 Podcast: Play in new window | Download
Subscribe: RSS
One of the unexpected highlights of the lovely long weekend I just enjoyed with my fam in stunning Noosa was when dad asked me to go with him to the gym.
Not because I can't stay away from the gym over a long weekend – actually that had been my intention – rather, because for years I've been gently asserting that my father who suffers from many aches and pains that gradually get worse the more sedentary he becomes should join a gym.
It's tough to see someone you love not help themselves and endure the debilitating consequences.
However as I'll cover soon in point 1, nagging is never going to be the winning strategy in this scenario.
In today's training show I'm covering: New To the Gym? (7 Considerations).
If you're new to the gym, or as with dad, perhaps it's been a good 15 years since you got your gym on then this show is for you.
Here are those 7 considerations:
Whether its gym or tennis or any new exercise routine, do it for YOU at the right time for you. Creating a new exercising habit is going to take work. The last thing you need is another reference point of when you tried to start and didn't stick it out. That's why you need to choose to commit for yourself, not to please someone else.
Find the space that can work conveniently into your routine.Again, this is a long term lifestyle choice, so getting to the gym needs to be as easy as possible. Like the perfect eating plan you can't stick to, the amazing gym you don't get to is of zero value. Before joining, imagine where in your daily routine gym timefits?
Don't assume you have to lock inand be willing to ask for what you really want. Lots of things are negotiable with gyms now. Too many people got burned by excessive joining fees… Lock-ins… Impossible to cancel direct debits. Most gyms are now a lot more flexible – they have to be to survive so like the adjustment you politely request at the restaurant, it's worth asking at the gym too.
Make the most of your complimentary personal training session. Each gym will have some sort of free offer to get you settled in. To make the most of it, know exactly what you'd most love to achieve in your first couple of months.
Check out the trainer profile boards and if you like the look-experience-specialty of someone other than the trainer you are assigned then speak up and request a change.
It's not personal, it's business – and it's your health – AND in a very competitive and very visual profession those of us who love what we do know it's our job to ensure you want to train with us more than anyone else. 
Start with the weekly routine that is currently achievable for you. Again sustainability is key. Start with totally doable and know that you can build on it once you've got your routine locked and loaded. Aim for small wins.
Be weary of trying some of those crazy exercises you will see happening around you. I saw a few as I took dad through his new gym. There are limitless whacky things you can manage on a bit of gym equipment. As you gain confidence my general rule before trying something I've picked up from another gym member is: Does that person have the results I'm seeking?
Finally and perhaps most importantly, as covered for in show #039 6 Reasons To Not Be Scared Of The Weights Floor…
Please don't feel awkward or out of place to too big, unfit, uncoordinated, weak or anything except for super welcome. If you're new to the gym than Go YOU!
Everyone has situations in which we feel a little – or  A LOT – out of our depth. If the gym is that place for you then know you have my support and also my respect for willing to get out of your comfort zone and make a change.
So that brings us to the time of the actionable. This one applies to you if you're new to the gym and also if you're not.
The next time you're at the gym this week then your actions step is to:
A) If you're on the newer side of the fence, please give yourself a massive virtual-high-five-GO-ME whatever it is that causes you to feel proud and like you're making progress because you absolutely are.
B) If you're more on the gym junkie side of the fence, please remember how you feel when you're rockin (or dragging!) your feet into that situation YOU find daunting– perhaps a networking event, a job interview, a first date, exam, dancing class or whatever it is that causes you to feel anxious AND give that next new to the gym person you encounter your friendliest-genuine-NON-SLEAZY-!-smile-and-Hello.
That's it for me today, big thanks to you for spending this time with me and I hope you can join me tomorrow for the FAQ show where I cover, How To Stop Supermarket Sabotage.
If you liked this you'll also like: Debilitating shyness, big butt serenades, gym floor humiliation and the biz from hell… 4 weight loss lessons.
If you're yet to share the Healthification love – just click here to zip over to iTunes and leave an honest rating and review. It'd help me out big time. With gratitude, Kate.