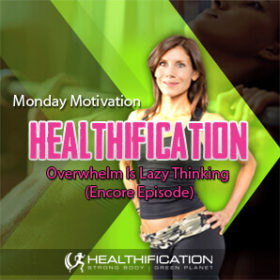 Podcast: Play in new window | Download
Subscribe: RSS
Before we get rolling with todays encore episode on Overwhelm Is Lazy Thinking, 
I want to say a huge Thank You for hanging on in there with me while I'm taking a little break from fresh content. I guess I'm taking my own advice. Focusing only on what is the number one next most important step.
Right now that is completing the rebranding of everything in relation to my online presence to align with my focus on a Plant Strong approach to creating a body and life you love.
Here are 9 Overwhelm Overcoming tactics (acronym style) I'm reminding myself of regularly:
O.nly focus on what you can control.
V.alue your daily progress and small wins.
E.liminate unnecessary inputs.
R.espect structure is freedom.
W.illingness to constantly upgrade the (freedom creating!) structure and routines you design for yourself.
H.ave the sensory acuity to know when your focus is scattered or has slipped to that which you can't control. And drag it back!
E.scape to nature at least weekly.
L.ock and Load the big rocks that keep you happy and healthy. Like exercise. Meal planning. And time with those you love.
M.editate.
Now lets power onwards with,
Overwhelm Is Lazy Thinking:
Here are the show notes for the original episode: Overwhelm Is Lazy Thinking.
The Healthification podcast is proudly bought to you by my online community for Vego's and Vegans who want to create a strong, healthy body and also help eradicate inhumane and unsustainable animal agriculture.
You can learn more here:
If you liked this you'll also like: My best Fuel, Move, Life advice for out-smarting weight loss overwhelm.
If you're yet to share the Healthification love – just click here to zip over to iTunes and leave an honest rating and review. It'd help me out big time. With gratitude, Kate.