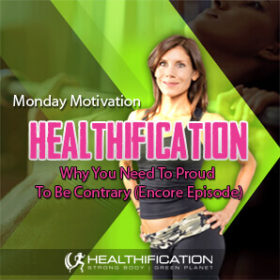 Podcast: Play in new window | Download
Subscribe: RSS
In todays Why You Need To Proud To Be Contrary encore episode I'm getting my acronym on (!) with 8 simple actions to make C.O.N.T.R.A.R.Y. work for you. 
My fav is #8. It's a shout out to the oxygen mask principal. The idea that you're no good to anyone else if you don't first look after yourself. So far as prioritizing my food and exercise the oxygen mask principal comes perhaps disturbingly easy to me! However I have plenty of dear clients who find it a struggle.
If YOU can relate… perhaps you're beautifully caring and generous and that's awesome. However if often it's also to your detriment here are a couple of tips to test out:
First: Consider the model you're being to those you love most.
The example you're setting. If you have kids (or grandkids) are you teaching them the healthy habits you want them to carry into their future? Do you want them to follow your example? Is it important that they prioritize the things that'll keep them happy and healthy? Or in contrast do you want them to always put others first?
Second: Routine is freedom.
Too often I see people relegate important yet seemingly not urgent actions – like exercising and meal planning – to those left over parts of the week that may or may not eventuate. When instead they deserve to be non-negotiable appointments with yourself. Blocks of time that you commit to and that those you love also respect.
The thing is: You teach others how to treat you. So if you demonstrate a wishy-washy-non-commitment to your health and repeatedly sacrifice the healthy habits you say are important… canceling your training session to babysit or cooking the meals not aligned with your goals then they'll come to expect exactly that behavior.
So with that said, Cheers to Contrary (!) and lets power onwards with,
Why You Need To Proud To Be Contrary:
Here are the show notes for the original episode: Why You Need To Proud To Be Contrary.
The Healthification podcast is proudly bought to you by my online community for Vego's and Vegans who want to create a strong, healthy body and also help eradicate inhumane and unsustainable animal agriculture.
Learn more here:
If you liked this you'll also like: The Art Of Selfish:
If you're yet to share the Healthification love – just click here to zip over to iTunes and leave an honest rating and review. It'd help me out big time. With gratitude, Kate.