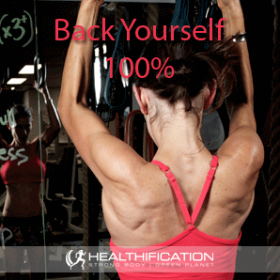 Podcast: Play in new window | Download
Subscribe: RSS
Have you ever felt like your current reality is just one setback after the next?
Just when you think "It couldn't possibly get any worse" – it's as if the universe interprets that as a challenge and it dishes up… a whole lot worse!
I know it's not the most motivating start to the Monday show, and thankfully I'm not speaking from current personal experience however very much I am speaking form past personal experience.
In today's show I'm covering: Overcoming Setbacks.
I have 4 steps for you today and although my examples are more business related I'm also going to make them applicable to body gain. Ok let's get rolling…
Step one: Accept That Setbacks WILL Happen.
Once you acknowledge that setbacks are an unavoidable part of life you then must also acknowledge that finding a way to deal with them is also a part of life.
The attitude to cultivate: I have to learn to deal effectively with setbacks rather than I have to avoid setbacks.
It's a simple yet powerful switch that lets you channel your energy towards a proactive solution based response. Rather than being ill prepared, perhaps stunned into utter inaction because you were kidding yourself that it'd all be smooth sailing.
I think I did a little bit of kidding myself that if I worked hard enough it'd all be smooth enough sailing in my first business.
Stupid in hindsight however maybe it's not dissimilar to thinking: if you exercise hard enough and eat well enough then your body gain success will go smoothly?
Reality for me kicked in a few months after buying my first business.
It was a personal training franchise and I inherited an established team of 4. All good people. A couple were even great trainers. However the team culture was not what my business partner and I needed it to be… and team culture is challenging to change once it's ingrained. After too long of me digging in my heels to "stick with the team" the tough decision was made to let 2/4 go. Another resigned… and then the new trainer I'd been training to jump on board – to save the day (again Stupid-Kate strikes!) got drunk, fell down a set of stairs and broke his arm the Saturday night before his first week!
Setbacks WILL Happen.
Step two: Understand That Success and Failure Are On The Same Path.
This is the realisation that allows you to keep pushing once you encounter that initial setback. Sure it's frustrating. It may even look like a failure at a glance… however further down that same path you're traveling success does lie.
It's not like you took a wrong turn and now you're lost for ever. All it means is that you're going to have to put in a little (or even a lot!) more effort to push past, through or over this setback and reach success.
The attitude to cultivate: Encountering a setback means I'm taking risks and the payoff will be worth it rather than I have to play it safe. 
As I put in te huge hours covering one on one clients and managing the business I consoled myself that success was ahead. Thankfully I didn't know HOW FAR ahead (!) that would have been super disheartening however it's like when you have a couple of bad weigh-ins or even an injury: it's only failure it you give up and don't ever start again. If you decide to play it safe and live stuck in a body you're not happy with. If instead you keep taking the right actions and keep refining those actions you'll get to success.
Success and Failure Are On The Same Path.
Step three: Appreciate The Effort Rather Than The Result.
It's tough though right? You've been slogging away consistently with your exercise and diligently with your eating and the results for all your sweat and sacrifice are painfully slow.
If all you focus on is the result – and it's slow to show – then it becomes incredibly hard to stay motivated. The only thing you can really 100% control is the effort you put in.
That's why the attitude to cultivate is to: Celebrate and appreciate the effort you make rather than just what you get to see for your effort.
Skip forward a couple of money-hemorrhaging-stress-filled-years I remember a period of months while I was waiting for the sale to go through and I was just existing for my dream of what the future would be like when I was free of that business. Free of impending financial doom. Free of unsustainable work hours. Free of a really unhealthy business partnership. Free of ZERO freedom.
And then I realised that I didn't have control over when the sale would happen. All I had control over was the effort I put in to make it happen. So I was hanging my happiness on something beyond my control and that's never a good strategy!
I decided to make some adjustments to allow me to enjoy the journey a little bit more and also to appreciate the effort and even the learnings that came as a result of the effort. Maybe you're not going to enjoy every single aspect of your body gain journey however you can: keep trying new forms of exercise until you find the one that is the most likeable. You can also get creative and make the nutritious meals that taste great. You can even focus on every thing there is to love about the journey rather than let your thoughts be consumed by all that is hard, unfair or just UN-fun.
Step four: Never Draw Debilitating Generalisations About Individual Setbacks.
Be ruthless here. Just because you encountered a setback don't inflate it's impact on the rest of your life and your belief in your ability to succeed.
In the same way that I could have defined a business failure as a personal failure you could also let previous unsuccessful body gain attempts limit your future chances of succeeding.
There's zero value in that though.
The VITAL attitude to cultivate: This setback exists in isolation. Its sole purpose is to learn and come back wisely with an even greater fuel to succeed rather than drawing debilitating generalisations AND EXCUSES so far as your future ability,
To get actionable today, let's go with step three, thats where you: Appreciate The Effort Rather Than The Result.
Is there an aspect of your approach to achieving your body gain gain where actually when you think about it: You're doing pretty damn AWESOME? If you're honest, compared to this time last year you've made big progress.
Perhaps the results aren't showing yet however you've created a really great habit. Or maybe the way you think – even your self-talk has just changed for the better?
Todays action step is simply to throw a little more energy and focus the way of that progress you've made. Appreciate and acknowledge that effort daily. I guarantee the results will follow.
Todays quote is short and sweet, curtesy of Robert Kiyosaki: "Losers quit when they fail. Winners fail until they succeed." 
I LOVE that.
In the Wednesday show I'm Weighing-in on: Are The People Around You Holding You Back? I hope you can join me.
If you liked this you'll also like: Overcoming Excuses: Don't wish it was easier, get better.
If you're yet to share the Healthification love – just click here to zip over to iTunes and leave an honest rating and review. It'd help me out big time. With gratitude, Kate.