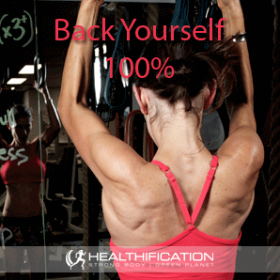 Podcast: Play in new window | Download
Subscribe: RSS
Have you ever recognised that something you're doing is harmful to you and continued right on doing it anyway?
Whether we're talking those surface level actions like shovelling chocolate after deliciously-devine-and-decandent-chocolate down your throat even beyond the point where they become more-than-slightly-sickly-sweet or perhaps at a deeper level the self sabotage that kicks in – almost like clock-work – at the point where you start to see some success with your body gain… or business or anything goal?
Me too.
Today I'm talking Secondary Gain which is a benefit you get (often unconsciously) from continuing a course of action or non-action.

As hard to fathom as it can sometimes seem, without exception everything we do works for us on some level.
Have a think about what you're doing (or not doing!) in relation to your health and fitness goal. 
On some level it does something for you, gets you something you wouldn't necessarily get or prevents you from having to deal with something that you would have had to deal with.
Here are 3 steps to avoid self sabotaging your body gain results via secondary gain:
1. Awareness is half the battle.
So you regularly skip your exercise sessions or indulge in foods that increase your cravings?
It seems simple however often we continue with an ineffective course of action without really even questioning what we're doing.
From awareness comes an understanding of what the way that it is gives you.
At face value you're getting to avoid the perceived discomfort or boredom of exercise and enjoying the short term satisfaction of sugary fatty foods.
That's the obvious assumption with secondary gain… that it happens simply out of laziness or the pleasure of instant gratification… however, there's likely more to it…
Perhaps you're Procrastinating. 
Eating, or losing hours to Facebook or whatever… could be allowing you to avoid dealing with something right?
Very often the secondary gain (beyond the 30 second joy of the chocolate or pleasure of rolling back over in bed at 'stupid-o'clock' in the morning!) is:
A fear of going outside your comfort zone. 
An aversion to change or to accepting responsibility.
Potentially embracing safety and avoiding something you may perceive you've failed at in the past. 
If you have a strong grip on the need for safety I need to let you know the more uncertainty and variety you can stand in your life = the more success you'll experience.
The desire for certainty will lead to failure or at the very least a boring life of status quo. Apply this to the areas of your life where you currently enjoy the most success and I'm certain that you do not stay stuck in safety/comfort zone in these areas.
Maybe your secondary gain strategy is Over-committing. 
This is when you fill your time, your energy, your life with so much that you can't possibly fit in those things you claim are important – perhaps exercise and meal planning. It's consciously setting yourself up to fail before you start.
Is it safer to know you didn't give it 100%, to keep that "I could try harder" card up your sleeve than risk trying and failing?
Once you're aware of the way that it is AND of what the way that it is gives you or lets you avoid… the next step;
2. Identify what continuing to stay like this will cost you and those you care about.
As I mentioned earlier it's super easy to continue mindlessly on auto-pilot with an ineffective course of action.
Instead STOP and ask yourself;
If I continue to hold onto secondary gain – to skip exercise sessions and overeat sugary food – how will my life look in 3 months time?  
Its useful to get all your sense involved at this point – to build some emotional intensity and get some pain-inducing-action-producing leverage on yourself… Consider, What will I be seeing, feeling, hearing – what will I be telling myself?
Let's take this future – the future where you continue with your most ineffective secondary gain induced habits for a spin a little further… ask yourself;
How will my life look in 6 months time?
How will my life look in 12 months time?
How will my life look in 3 years time?
It's not such a pretty picture right… 3 years down the track and at best you've got the same disappointing results or more likely – it's gotten a lot worse. At this point you may be thinking WOW Kate, isn't this meant to be the Monday Motivation show?! That's ok because it's time for step 3;
3. Now you're in a position to find a more resourceful alternative. The way to meet that intention, to get the thing, fill the need or to deal with that fear that supports your body gain goal.
It's important to consider a vacuum will always be filled… you cannot take something away without replacing it with a positive alternative.
Your resourceful alternative may require a multi-faceted approach.
So let's take the exercise avoidance example…. where exercise is hard and boring, and staying in bed is cosy and warm AND you'd rather not risk the failure of giving it your best shot and not seeing the results you want.
Perhaps reframing what exercise means to you such as;
=> A tool to create the body you feel confident & energised in that gets easier every single time you do it. 
Maybe staying in bed becomes a much more impactful decision like;
=> The daily resignation to entrench a disappointing habit OR the daily opportunity to create a hugely effective habit that lets you power into your day positively & proactively. 
While also reprogramming your interpretation of failure to merely;
=> Valuable feedback that brings you one step closer to the approach that will work best for you.
In this short podcast I've barely scrapped the surface on secondary gain.
I'd as always love to make today actionable though.
What is one action you repeatedly do – or don't do – that disappoints you. 
I'd love you to bring your awareness that everything you do GIVES YOU SOMETHING to this action and to work out what you're getting.
The only way you'll change that action you want to change is to first understand what it currently GIVES you.
I feel like I've been talking about interval training a lot recently however, I want to share that I absolutely struggle with secondary gain too. Beyond avoiding my perceived pain of intervals and embracing my love of lifting weights I also got an extra little secret benefit.
That's another way to think of secondary gain: that secret little hidden, less obvious benefit…
=> I liked that I had the answer up my sleeve to get in better shape without changing my food or alcohol if I needed it… my Wild Card I guess.
I'm going to end today with a quote from Abraham Lincoln: "You cannot escape the responsibility of tomorrow by evading it today".
Ignorance is bliss right… however once you have the awareness that something you're doing is keeping you stuck that's when responsibility jumps in – the responsibility to put the thought time (as it might not come easily) into coming up with a better action.
That brings us to the end of Healthification #081. I'll be back tomorrow with the Tuesday Tucker show and: 3 Diet Rules To Break.
If you liked this you'll also like: Smart Simple Weight Loss: Most Effective Strategies
If you're yet to share the Healthification love – just click here to zip over to iTunes and leave an honest rating and review. It'd help me out big time. With gratitude, Kate.