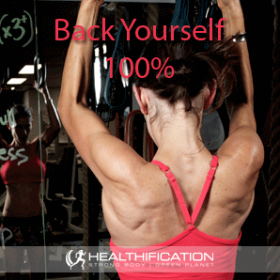 Podcast: Play in new window | Download
Subscribe: RSS
Isn't it true that the more rules there are the more you want to break them?
As much as some rules in life are necessary… and the rules you create for yourself so far as your nutrition can actually be freeing because they save you from wasting energy thinking "Is this ok?" and "Can I get away with this?" …it's also nice to be able to break the rules from time to time.
Here are 3 occasions I recommend breaking 'the rules' to accelerate your fat loss.
1. Eat Everything In Moderation.
This ridiculous rule was likely first fabricated by and is certainly thrown around by the producers of rubbish food. The big food companies that deliberately manufacture their products to be as addictive and craving inducing as possible and then claim: "it's ok, everything in moderation".
Firstly, just how easy is it to enforce moderation on yourself when consuming the refined and fake foods you find most irresistible?
Second, do you really believe that your body deserves to be fuelled with the type of zero value fuel that you'd be horrified to see at any stage of it's production beyond when it's all dressed up in deceptive packaging hanging on the supermarket shelves or served to you at your fav take-out?
I believe some food just doesn't deserve an 'in moderation' classification.
=> if the scrap meat in your burger needs to be soaked in ammonium-hydroxide before it can be classified as fit for human consumption then it's got to be a zero occurrence food right?
It's your call on what you think warrants something becoming a zero occurrence food however here are a couple more of mine:
=> food that contains artificial or manufactured Trans Fats. Trans fats will increase your chance of heart disease by both increasing bad LDL cholesterol and decreasing good HDL cholesterol.  Likely culprits are, many deep-fried and baked foods… like dough-nuts and store bought biscuits.
=> food that contains High Fructose Corn Syrup. HFCS is appealing to manufacturers as it's as sweet as regular sugar, blends well with other ingredients, helps foods maintain a longer shelf life and is cheap.
The jury is out on whether HFCS is any worse than other sugars for your body however the very nature by which it is used means you're never going to find it in a food that has nutritional value for your body. Likely culprits are, soft drinks, salads dressings and sauces.
The guideline I keep in mind with the food I'm NOT ok with even in moderation is would I be ok with the whole consuming process if I got to see all the ingredients lined up next to each other?
Would I even recognise or be able to pronounce all those ingredients?
This next rule is about introducing rather than avoiding…
2. Have A Cheat Meal Once A Week.  
When you decrease your calorie intake it mess's with an important fat-burning hormone called leptin. After around a week of moderate dieting leptin levels drop off significantly.
Low Leptin = Stalled Fat Burning. 
The answer is to strategically introduce a day of cheating to reset your metabolism.
We covered the glorious cheat day in show #047 so I'll keep it brief here. Hormones aside the super valuable thing about the cheat day is it lets you feel like you're breaking the rules.  Because you are. You're indulging and you're doing it guilt-free.
It's reliable, which means you can stick to your best eating 90% of the time and know you've never too far away from the glorious cheat meal. Anything goes, except of zero occurrence food – your body deserves better than that right?
Talking quality rule #3…
3. Go Full Fat quality over quantity.  
Food has to be made up of something so chances are less fat = more carbs and/or artificial sweetener.
Fat is also satisfying so you'll end up eating smaller quantities of higher quality, natural food and feeling fuller for longer.
Unsatisfying nutritionally void 'diet' / 'low fat' foods cater to our habit of the ACT of eating – as in we want to do a lot of it… to mindlessly consume big quantities.
Conversely, natural nutrient dense foods cater to the JOY of eating… to mindfully enjoy high quality.
As with anything, you can take it to the detrimental extreme.
Eating chunks of butter like cheese is just stupid. And an entire weekend of cheat meals is going to derail all the progress you've made this week.
Time to make today actionable.
I'm going to go with rule #3 choose full fat quality over quantity… what is the obvious upgrade you can make with this one? Mine is 'skinny hummus'. I still eat it and I feel like a bit of a fraud. I know I'd hate to see how it's produced… how they add the '3' thickeners, '2' food acids and '2' preservatives… so I'm going to ditch it.
I think that means I need to get my cook on… I'll let you know how I go!
That's it for me today.
In Wednesday Weigh-in tomorrow I'm covering: The Dangers Of Yo-Yo Dieting.
If you liked this you'll also like: Deliberately Addictive Craving Causing Foods (3 Myths)
If you're yet to share the Healthification love – just click here to zip over to iTunes and leave an honest rating and review. It'd help me out big time. With gratitude, Kate.