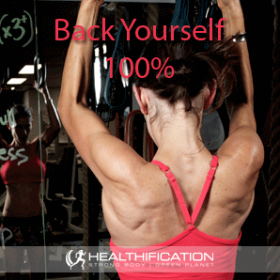 Podcast: Play in new window | Download
Subscribe: RSS
There's a gentleman at my gym who has lost 100's of pounds in his life which is pretty amazing. The catch is that it's always been temporary.
He's lost 20 or 30 pounds and found it again… almost yearly for most of his adult life.
In todays show I'm Weighing-in on: The Dangers Of Yo-Yo Dieting.
If you've spent any time stuck on the roller-coaster-ride of yo-yo dieting you'll know that each time you find your weight again you tend to also find a little extra.
AND each time you knuckle down to lose weight again you tend to have to work A LOT harder.
This cruel twist is explained by Danger of Yo-yo Dieting #1…
1. Muscle Wastage.
The number one thing you never want to do if staying in great shape is important to you, is to lose muscle.
Muscle EQUALS Metabolism.
However, extreme calorie restriction – as commonly enforced by a frustrated yo-yo dieter impatient for results yesterday – is an approach that will prompt your body to cannibalise it's metabolically active tissue.
As we've covered in earlier shows fat is lazy – it just sits there looking ugly – muscle however is metabolically active tissue and therefore is number one on your bodies hit list of things to get rid of if calorie intake is slashed.
Your body just wants to keep you alive – it's on your side – however if your want it to hold on to your lean muscle and sacrifice your fat instead you're going to have to be a little more patient and…
2. Increased Levels of Stress Hormone Cortisol.
Right up there so far as what NOT to do if you want to get in great shape is stuff with Cortisol.
Known as the stress hormone – and also the belly fat hormone – cortisol levels can also increase under severe yo-yo diet style calorie restriction. Cortisol is a fat storing hormone, specifically it's game is to direct fat straight to your abdominal area for storage.
Beyond body composition…
Having cortisol present for extended periods of time can increase your risk of developing heart disease, cancer and diabetes.
3. Decreased Energy Levels.
When your body doesn't have sufficient calories to function it make adjustments beyond cannibalising your sexy lean muscle and increasing belly fat storing hormone cortisol… adjustments that result in limited brain function, irritability and fatigue.
How efficient and happy are you when you're starving?
I know the boys at work joke "Don't ever get in Kate's way when she's hungry"… and its kind of amusing that the only injury I've had at work (because I didn't injury myself when I fell off the treadmill my second week as a trainer or when I got stuck under the squat rack soon after that!)… was when I fell over and sprained my ankle whilst flying madly down the stairs to grab coffee and food on a short break between clients…
Back on point, you're not going to function well when you're punishing your body with severe calorie restriction.
Work, life and FUN aside, your training is going to be mediocre and if you can't push yourself in your training it's going to show in your results… or lack of results.
4. All or Nothing Attitude Supports Program Abandonment.
You've been there too right?
You're at war with fat – zero tolerance for anything less than perfect – it's an all out assult on the habits that have kept you stuck.
However this level of discipline and restriction is actually really stressful… and food, can be something to turn to in times of stress. The overly severe approach will feel like you've blown it the second you make a little slip up.
Rather than seek out a sustainable approach you give up completely… and confirm it with cake.
The additional drawback to the all or nothing approach is that each time you give up on it you erode a little more of your self belief in your ability to ever stick with it and ever create the body and the health you want.
You're eating away at your most vital asset and that's your ability to back yourself 100%.
To make today actionable let's focus on 2 things to do instead of the yo-yo approach:
One: FOCUS on positive ACTIONS rather than the numbers on the scales… it's about building consistent habits gradually, such as:
=> getting to bed half an hour earlier and getting up half an hour earlier.
=> the great meals you plan and eat.
=> the work-outs you complete.
=> the better choices you make eating out.
=> the extra incidental exercise you work into your day.
Two: DO IT FOR YOU rather than to fit in with societies ideal… I totally get that's easier said than done, however the pressure of trying to attain an ideal that is not aligned with your unique values and beliefs is just going to make you more inclined to turn to a quick-fix-extreme-NON-solution.
Back to that action step I wasn't so clear on (!) if you've struggled with extreme yo-yo dieting in the past what is the one meal that you'd like to have locked and loaded as an awesome reference point for fuelling your body  great food?
One meal you can rely on is a great start. A meal to help support your lean muscle growth, keep cortisol levels in check, leave you energised and that you know will be sustainable.
I'd love to hear your meal.
Mine is my morning omelette: 2 free range eggs, some mushroom, red onion, cauliflower, spinach, chilli and coriander cooked with coconut oil.
That's it for me, thanks so much for sharing the Healthification love with me today. I'll be back tomorrow with Thursday Training and… 6 Primal Movements.
If you liked this you'll also like: How To Cut Carbs To Lose Weight
If you're yet to share the Healthification love – just click here to zip over to iTunes and leave an honest rating and review. It'd help me out big time. With gratitude, Kate.