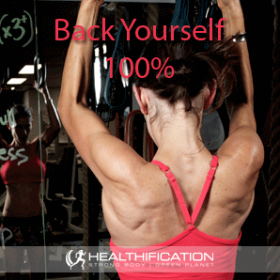 Podcast: Play in new window | Download
Subscribe: RSS
I'm cheating a little today as this is thankfully NOT a FAQ although a couple of weeks ago one of my dear clients asked me: "How does someone as focused as you gain 3 kilo's?"
We'd been discussing how we'd both gotten a little complacent – although is complacent the word to use when you do it with volition? – as that was my situation… anyway, excuses aside I chucked on some weight recently.
In todays show I'm sharing: Why I GAINED Almost 3 Kilo's.
My caveat here is that the amount of weight I'm referring to is not the point… possibly it sounds like a noticeable amount to you or it may sound insignificant. Either way it was enough to cause me pain.
Like serious, make a change pain.
Onwards with why it happened and more importantly how you can avoid it!
So here's the thing, I don't really believe in BALANCE. Hello to any of my friends and clients listening to this – I know you're chuckling as you absolutely know this to be 100% accurate.
I more-so believe in cycles and in priorities and I guess most importantly living to both be happy in the moment AND also excited by the future your current actions – aligned with your current priorities – are creating.
So this may actually cycle between, Work is the number 1 priority and I really want to be head down tail up for a bit and to do that I'm going to ease up a tad on social and on exercise.
It doesn't mean eliminate social and exercise, it just means work is number one right now.
So that was my focus for the past couple of months. I knew reducing my exercise was likely to have an effect on my body and I was willing to roll with that until I hit MY level of make a change pain.
That's 3 kilos for me.
That's where I rain myself in and decide that a little more time needs to be given back to exercise again.
=> I'd cut a long walk out of my week (that's 90 minutes gone).
=> I'd ditched my '2' 5-15 minute interval training session each week.
=> I'd starting rushing my 4-5 weights sessions a week so they tended to be 30-40 minutes instead of 45-60 minutes.
As well as being stuck with some extra fat – I was feeling anxious and like I was always desperate to maximise my time. Being effective and efficient with your use of time rocks… however I'd taken it too far.
I admitted that:
A) My level of make a change pain was overflowing.
B) I wasn't always happy in the moment… and it can't just be about the future goals you're working towards.
C) It was time to take my own advice (!) and see exercise once again as precious, self indulgent ME time.
Bringing it back to YOU:
Your success in the body gain game will be guided by the standard you set for yourself so far as how far away from your most comfortable and confident body you'll willing to get before you rain it in.
For my mum its 10 kilos. She always looks great, however she will fluctuate by that 10 kilo amount.
For some people it's 20 plus kilos. There's no right or wrong HOWEVER the further you get from your ideal the tougher it's going to be to drag yourself back.
The further you get from YOUR ideal the more sacrifices you're going to have to make. That's one of the many reason why I like to reel it in early.
=> I don't have to give up alcohol or cheat day or filling full to get back to ideal. However if I let it go too far I probably would.
If you're a little or a lot over your ideal body right now here are 3 actions I implemented to get myself on track:
1. My IDEAL (not the bare arse minimum) training plan is back to a rock solid non-negotiable in my week.
2. I'm measuring the high caloric density foods I consume each day. These are mostly the fats as I don't eat refined carbs and fibrous veg are FREE and I'm down with being generous with my protein.
So the things I'm measuring that you may want to measure are: nuts, avocado, pesto, hummus and oil.
3. I'm focusing on everything I do right and speaking to myself and my body in only the most supportive and positive manner.  
Please know that number 3 is just as important as the other actions. Your focus and self talk are powerful. So powerful I'm going to make it our action step for today.
That actions step is to observe – today – your self talk. 
Are you building yourself up or putting yourself down? My challenge to you is to make a conscious effort each day to set the standard so far as how you deserve to be spoken to.
That's it for another week in Healthification. I'm off for that 90 minute non-negotiable walk. It's been my pleasure and privilege spending this time with you.
If you liked this you'll also like: How To Dump Measuring To Naturally Lose Weight:
If you're yet to share the Healthification love – just click here to zip over to iTunes and leave an honest rating and review. It'd help me out big time. With gratitude, Kate.