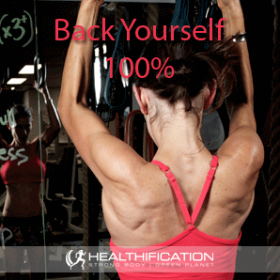 Podcast: Play in new window | Download
Subscribe: RSS
One of the unexpected benefits I've experienced as a result of becoming an EX-CARB-QUEEN (!) is I really don't get to deal with Hangry any more. Well, very rarely.
I'm sure you've experienced Hangry before – either personally, or perhaps you a friend or family member who can get so super-crazy-irrationally-hungry they are angry.
Todays show is a response to the "How do I avoid getting so starving I demolish everything in sight?" question.
I'm going to cover, Avoiding HANGRY. 3 Common Misconceptions and 5 HANGRY BUSTING What To Do's Instead:
Misconception #1: It's just the way I am!
Several years ago I believed I was just a person with a fast metabolism who got HANGRY easily and regularly.
I thought it was something I needed to out plan by always having food available.
I snacked every 3 hours and it was ultra tedious.
When I gradually began to upgrade my food and steer clear of low-fat-carbie-fake-foods it became even harder. As a vego I've eliminated a lot of great food options. I used to get around that with excessive amounts of low carb protein bars however that was expensive, and after a while I also started to feel like a hypocrite. On the one hand I was all about ONE INGREDIENT FOODS and then I needed to supplement those awesome foods with processed-if-high-protein-low-carb-crap.
The solution?
Whether you're vego or a meat eater if you think "It's just the way I am!" I can assure you it's not. It's just the way you've trained your body. And you can retrain it.
Eating larger more satisfying meals less frequently will work for you too.
It's just a matter of building a proper meal. None of the snacky-crappy stuff. Start with a very generous serve of a rainbow of filling fibrous veg. Add lean protein. Finish with good fat.
Misconception #2: I need carbs to feel full.
Now I LOVE carbs as much as anyone I know. However I've noticed that the more I have the more I want. They aren't satisfying – even when I've demolished enough to feel guilty, I still want more.
I used to be stuck on the refined carb craving cycle and it's pretty UN-fun.
The thing is when I relegated carbs (and for the purpose of todays show and always please know if I'm talking about carbs to cut I always mean processed carbs and also often starchy carbs and I NEVER mean fibrous carbs)… anyway when I relegated processed carbs to the weekend I had to find some alternatives to fill their place.
That's your solution too.
If you think "I need carbs to feel full" then I'm pretty sure you've been trying to replace your carbs with something too light-weight. When you're ditching a carb choose something more substantial than lettuce, tomato, cucumber or spinach.
Ideally start with more heavy hitting fibrous veg like broccoli, mushrooms, capsicum and brussels. So far as lean protein, if you've been hungry with 50-100grams of protein in your salad then up the anti to 100-150grams. Your good fat to finish might be 1/4-1/2 an avocado or 50 grams of nuts/seeds.
Misconception #3: It's ok that I do the Hangry-Demolish because I skipped breakfast.
So here's the thing: When YOU Hangry-Demolish is it the type of food that you'd normally eat in a well planned meal?
I'm guessing you might not Hangry-Demolish a big green smoothie because you skipped breakfast?
The whole danger of the Hangry-Demolish is that it's emotional eating. It's beyond your control. It's absolutely not the time when you make your best food decisions. If you've skipped breakfast, you're not saving yourself calories rather you're depriving your body of nutritionally high value food and inviting the outta-control-Hangry-Demolish of nutritionally void food.
The solution?
First admit that meal skipping is not a solution and then out plan your tendency to skip meals. 
To make that easier I have 5 HANGRY BUSTING options for you. These are add ons to any light-weight meal that leaves you hangry and vulnerable to an attack of the I-Must-Demolish.
One: Add a hard boiled egg or two.
=> For time effectiveness you can do these in one big batch on the weekend.
=> To jazz it up if you have more time make a mini omelette. I'll often top a salad or stir fry with this high protein combo.
Anything goes however I like 1-2 eggs plus 1-2 extra whites and then some chilli, smoked paprika, and coriander cooked in coconut oil and sliced in wedges to top a light weight meal.
Two: Add a high protein dip like my fav zucchini hummus.
=> I make a big batch of this dip once a week and use it to top my salads.
The protein comes from tahini and also hemp seeds. Here's a link to the full recipe.
Three: Add a high protein nut and/or seed mix.
=> Again this is something to make on mass. Even once a month.
Experiment to find your fav combo however the team at youngandraw.com have a pretty awesome protein packed salad booster mix to sprinkle over your salads. It combines hemp hearts, chia seeds, pumpkin seeds, spirulina and pink Himalayan salt. Here's a link to the recipe and the great post it's part of.
Four: Follow with protein pancakes.  
=> My most common strategy to amp up the protein and satisfaction in my meals.
Made simply with egg whites, vegan protein powder and Natvia this post lunch and post dinner dessert is delicious.
Here's the recipe:
4 Egg Whites
1 heaped serve your fav Protein Powder (I like SunWarrior Chocolate) 
1/2-1 sachet of Natvia
Coconut Oil to cook.
Coat a pan with 1/2 teaspoon of coconut oil and place on medium heat to preheat pan. Whisk the egg whites till super stiff. Add protein powder and Natvia and whisk again until well-blended.
Wipe off excess oil with kitchen tissue and then pour 1/2 mixture into the pan, gently spreading it to a pancake shape. Cook on one side until bottom is golden. Using a spatula, carefully flip over and cook for a little less time.
Trust me these things are addictive – finding a protein powder you love is vital though – they go all fluffy and AMAZING!
Five: Amp up your lean protein. 
=> This is the obvious one… and my least common option as a vego. When I'm eating fish and right now that's rare generally I'll amp up my fibrous veg instead of fish.
I might have 100-150grams of fish for 1/3 of a large plate and then 2/3's of the plate overflowing with veg like zucchini, mushies and onion cooked with pesto. Plus some grilled asparagus and broccoli. Maybe some veg baked on mass. And also half a bunch of kale or half a bag of frozen brussels made into crisps… which needs another bowl of it's own.
That's me though. I'm certainly a veg girl… now. The quickest, easiest and certainly effective option for you may simply be to add more protein.
Basically it's going to be a matter of finding which HANGRY BUSTING options work for you, your tastes and your lifestyle.
To get actionable today: I'd love you to think of that last light-weight or skipped meal that induced HANGRY in you?
And also to decide on a HANGRY BUSTING option to try next time.
That's it for me today. I'm off to make a HUGE vege omelette (tonight's mix is red and brown onion, mushies, spinach, capsicum, zucchini, chill, coriander, paprika, garlic powder and dried mixed herbs barely held together by two extra large organic free range eggs) to be served with a half a bunch of organic kale made into cheesy crisps (flavored with nutritional yeast, sea salt and olive oil) and followed by a couple of chocolate protein pancakes!
I hope you can join me for the Friday FAQ show where I cover: Meal Prep Hacks.
If you liked this you'll also like: Weight Loss System: Save Yourself Stress, Time, Energy and Money.
If you're yet to share the Healthification love – just click here to zip over to iTunes and leave an honest rating and review. It'd help me out big time. With gratitude, Kate.