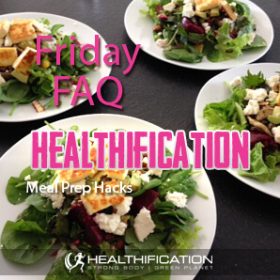 Podcast: Play in new window | Download
Subscribe: RSS
As with most things body gain, when it comes to meal preparation there is best case scenario and then there is achievable.
Todays show is all about achievable. Sustainable. Today, I'm covering: Meal Prep Hacks.
Ways to get your best body gain results without sacrificing hours in the kitchen. If you're bit of a lazy cook (like me) or perhaps if you enjoy kitchen time for those special meals yet constantly find yourself struggling to priorities the day to day basics… if that's you, then all good I've got you covered.
Let's look it from the angle of: Breakfast Prep Hacks, Lunch Prep Hacks and Dinner Prep Hacks.
One: Breakfast Prep Hacks.
Recently I've decided that I spend too much time washing green leafy veg. I used to get the premixed, washed green leaves but since I've moved to organic I'm starting from scratch with my leaves for smoothies, salads and omelettes.
It just got too much. So here's your hack. If you're into a green smoothie to start your day how about trying frozen greens?
I now prepare my smoothie mixes for the week on a Sunday afternoon. I'll generally prepare fresh greens for Monday and Tuesday and then 4 little freezer bags for Wed-Sat.
=> Each bag has a couple of cubes of frozen kale, a couple of cubes of frozen spinach, some fresh cucumber and 100 grams or so of frozen berries. In the morning I only need to add 1/2 teaspoon of spirulina, one scoop of choc protein powder and water.
Having those little bags ready to go in the freezer is calming.
It also means you can stock up on frozen greens and berries whenever you see them on special – so you save time and money.
If you're not a smoothie fan?
How about making a huge frittata/omelette on Sunday to use up roast veg from the weekend and set you up for a week of delicious easy breakfasts? My mum did this while I was staying with them recently.
=> She used left over pumpkin and parsnip from a roast. To which she added red capsicum, cauliflower, zucchini, mushrooms fresh herbs and eggs. It was delicious. I gladly devoured it for breakfast 3 mornings in a row.
Two: Lunch Prep Hacks.
Ideally, best case scenario I'm going to make a HUGE salad for lunch. Actually I'll make 3 salad bases and then add fresh baked veg each day as – well like I said, I find the kitchen UN-fun… however, I'm guessing prepping your lunch from the luxury of your home kitchen might not always be achievable? Let alone sustainable.
If that's the case here's your hack. Source the cafe near work (or home) that does a good substantial salad you love. Wait there's more – I get that that's expensive and it's often a little light on the protein and fibrous veg…
=> First source your easy go to salad then pimp it with that cost effective supermarket bought bag of premixed, washed green leaves PLUS some extra lean protein. Maybe that's the extra meat you cooked last night for this very purpose. Or a can of tuna or salmon. Possibly, if you're location lucky as I am it's the fresh grilled fish you can custom pick and get cooked while you wait for the price of 1.5 coffees!
Or if you're vego may it's a couple of hard boiled eggs made on mass at the weekend or even the super easy option of 2 tablespoons of hemp seeds sprinkled over your bought salad.
If you're not a salad fan? Well I reckon you haven't met the right salad! Please check out show #237: 3 High Protein Vego Salads however beyond that it's a matter of doubling up on dinners.
=> Make extra dinner and take it for lunch the next day. This has got to be the simplest, most cost effective approach.
To be brutally honest it blows my mind that someone will tell me "Oh, I couldn't eat cold frittata for lunch." or "I don't want to eat the same thing that I had for dinner last night." And yet, the same person will eat nutritionally-void-craving-causing-CRAP-O-LA Fast Food.
Or fuel their body with a cup of tea and a couple of nutritionally-void-craving-causing-CRAP-O-LA Biscuits.
One of the less talked about hacks to SUSTAINABLE healthy eating is that people who succeed often – not always but very often – tend to find a few meals that work well and proceed to eat slight variations of those Go2Meals.
It's absolutely not a matter of "What am I craving right now?" more-so a commitment to "What is the meal that is both enjoyable and great for my body?"
Three: Dinner Prep Hacks.
In my mind the best body gain meal has 3 parts. Fibrous veg. Lean Protein. Good Fat. However that doesn't mean you need to prepare all 3 at every meal.
Whatever it is that you finding tedious or time-consuming outsource it!
I've learnt this lesson from some of my super-successful-ultra-busy clients. They work long hours and don't get much pleasure from the kitchen. Now I'm not talking about complete prepared meals – of course that is an EXPENSIVE optionhowever…
=> How about buying the lean protein such as cooked chicken or fish?
Or, if you're good on the barbie and find veg a bore then buy the salad or resort to those steamer bags of frozen veg which are actually just fine and hugely preferable to skipping any green love altogether. 🙂
If you're not up for outsourcing your food prep?
=> It comes down to meals on mass. 
In show #132 I share how to: Turn 3 Mass Cook-ups into 9 Different Meals. It's one of my all time fav Tuesday Tucker shows.
If you're new'ish to Healthification for the first 52 weeks I also did a Tuesday Tucker and a Thursday Training show… anyway #132 is certainly worth checking out if you struggle with meal prep.
In show #132 I share my vego chili mince recipe because…
Meal on mass two is: Chilli Mince.
This beautiful base will live well in the fridge for several days or in the freezer for yonks! Here are 3 ways to transform it:
Nacho's: Use kale crisps instead of corn nacho's, add your chilli mince and then fresh guacamole plus your extras of choice like, olives, spring onion, fresh corn and cashewor regular
Cottage pie: Pop a couple of cups of your mince in an oven proof bowl, stir in a handful of something green like beans or spinach and cover with creamy cauli-mash made with: cauli, garlic powder, rosemary and some coconut milk.
Spicy Baked Eggs: Throw your mince in a frypan to heat. Make a couple of dips in the sauce, crack an egg into each and cook covered for 6-8 minutes till the eggs are done to your liking.
To get actionable today I'd love you to choose just one meal that needs some hacking.
Perhaps, whatever you're doing right now is either best-case-scenario-yet-UN-SUSTAINABLE or maybe, it's quick-and-easy-yet-UN-BODYGAINABLE.
That's it for me today and also for this week in Healthification.
Is there anything you'd love me to cover in an up coming show? Please let me know. I'd love to hear from you via the show notes or even better via an iTunes review. Those little reviews absolutely 100% make my day.
If you liked this you'll also like: What to eat when out and about:
If you're yet to share the Healthification love – just click here to zip over to iTunes and leave an honest rating and review. It'd help me out big time. With gratitude, Kate.