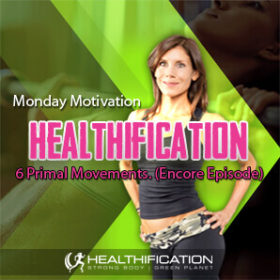 Podcast: Play in new window | Download
Subscribe: RSS
In todays 6 Primal Movements encore episode I discuss some of my favourite things.
Not just Squats, Lunges and the like also Values, Beliefs and need for flexibility of both body and mind.
I face/shoulder planted an unexpected lesson in the potential of beliefs to both keep you on track and cause unnecessary pain this past week.
Yes, face/shoulder planted is the correct term.
You see it was the end of an evening that involved a fair few bicep curls of vino glass to mouth. A group of us were at a dear friends house and it seemed like the perfect time for a few push up variations. Surprisingly this was not my suggestion. Now you can likely see where we're heading though unfortunately I didn't! Needless to say I didn't expect the wooden floor to have a thorough coating of cat hair and zero grip… my one legged bodyweight deadlift into push up started solid and ended slippery.
All self inflicted. The end result was an injured shoulder and as I mentioned a chance to check in with just how firmly – perhaps debilitatingly so – I hold tight to my personal identity beliefs.  
This is where we make this intro applicable to you and your body gain goal.
For better or worse you will want to live up to your personal identity beliefs. If you believe: "I'm strong, healthy and always prioritize my health…" you'll find it easy to take the actions that maintain this belief.
Conversely, if you believe: "I'm not a natural exerciser. I have a slow metabolism. I'm built for comfort and my body is destined to always have a little extra padding…" you'll find it easy to take the actions that maintain this belief.
So my struggle-street this week was that I didn't feel so strong and healthy. I felt injured. However the upside of that pain (physically and emotionally) was that I found it easy to do whatever it took to get back to strong and healthy asap. That meant still training every day while staying off the shoulder. There's no such thing as too many lovely lunges right? 😃
The lesson? Are your beliefs surrounding food and exercise and especially your personal identity beliefs supportive and propelling you towards the attainment of your body gain goal?
Now lets power onwards with, 6 Primal Movements:
Here are the show notes for the original episode: 6 Primal Movements.
The Healthification podcast is proudly bought to you by my online community for Vego's and Vegans who want to create a strong, healthy body and also help eradicate inhumane and unsustainable animal agriculture.
Learn more here:
If you liked this you'll also like: Bullet-proof Your Motivation To Exercise.
If you're yet to share the Healthification love – just click here to zip over to iTunes and leave an honest rating and review. It'd help me out big time. With gratitude, Kate.