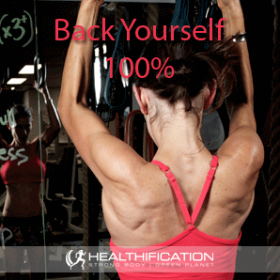 Podcast: Play in new window | Download
Subscribe: RSS
One on the fat loss myths I subscribed to for years was not to eat carbs at night. Its still super rare that I'd ever eat a regular old pizza or pasta for dinner… or that I'd reach for the late night fix of lollies or chocolate.
The reason that doesn't happen though has nothing to do with TIMING and everything to do with QUALITY.
I'm not going to eat pizza for breakfast or lunch either… or mindlessly munch Maltesers at morning tea.
If you haven't heard of Maltesers they are a pretty stunningly-gorgeous-choc-malt-treat… There's no special cut-off point as to when it's ok to eat something and when it'll magically go straight to your thighs, belly and butt.
I do believe late night snacking can derail your diet… however it's due to the quality and quantity of what you consume rather than the timing.
In todays tucker show I'm sharing 4 tactics so that you: Don't Let Late Night Snacking Derail Your Diet.
So the all incompassing consideration to begin with is that poor quality food will derail your diet at any time of the day.
Moving beyond that here are 4 tactics to out-smart late night snacking:
One: Cure Cravings with Colour.
As intense as they are, those cravings for salty, greasy chips or rich, indulgent chocolate are much more likely your body crying out for vital micro-nutrients it may be missing. The type of micro-nutrients you'll get eating a variety of quality colourful veg.
I guess my mum is onto something even more important than making the plate look pretty when she insists of having a colourful meal.
With veg colours the old adage less is more does not apply. Each and every meal is an opportunity to get your rainbow on! Perhaps:
=> Spinach, red capsicum and mushrooms in your omelette.
=> Kale, carrot and red cabbage in your salad.
=> Brussels, yellow squash and red onion with your steak.
Two: Defence by Distraction.
Very often a late night snacking session is fuelled by a psychological rather than physical need. So the double whammy of UNgoodness with trying to blank out a psychological need with a physical reward is you can eat poor quality fuel, to an excessive quality and STILL not feel satisfied.
If you want to avoid finding yourself halfway through a packet of Crunchy-Nut-Cornflakes before you even realise how UNhungry you were anyway then it's important to plan your Go2Distraction defence in advance. Anything to distract you for a short period and move you beyond that initial urge to snack. Perhaps:
=> Brush your teeth or have a bath.
=> Clean out a draw or do the ironing… this one totally wouldn't work for me though I know people it does work for!
=> Listen to some music or read from a book you love.
Three: Pump-up the Protein.
If your late night snacking is in fact fuelled by hunger chances are you've gone a little or a lot under on your protein during the day. Protein is satisfying and substantial. The low-fat-no-protein-breakie and light-weight-low-value-salad-lunch will leave you hungry. Perhaps not straight away while you're too busy to mindlessly munch or maybe not even in a couple of hours while you've still got some daily discipline quota left to play with… more likely you'll end up super-crazy-IRRATIONALLY-starving after your light-weight-low-value-dinner.
And that's when – after a day of good eating (can you get SUPER inverted comma's, cos that's what I'm using for good!) you'll very likely fall victim to whatever snacky-type-high-caloric-density-rubbish is within reach at home.
To pump up your protein through-out the day add:
=> A couple of extra whites to your 2 whole eggs and veggie scramble.
=> Some pumpkin and/or hemp seeds to your chicken salad.
=> A protein shake after dinner.
Four: Have your snack inducing Habits Hit-the-road!
How easy is it to pick up a bad habit? The nibbles you have while watching your fav T.V show. The hot drinks or sugar you consume to keep you going as you work late into the night. Perhaps, just watching a cooking show makes you want to raid the fridge as it does with me!
It's not only the easy to create bad habit to be aware of – there is also the fact that if you're staying up later – and getting less sleep, you'll be more inclined to over eat. As covered in show #067 a Lack of Sleep affects both the hormone Ghrelin which stimulates appetite and also Leptin whose vital job is to send a signal to your brain when you are full.
Some late night habit overhauls:
=> Find the snack that isn't detrimental to your body gain goal. Like my personal fav: protein pancakes. There are limitless variations however my simple version is to beat 3-6 egg whites till super stiff like meringue. Add 1/2-1 sachet of Natvia (natural low carb sweetener) and 1-2 heaped scoops of your fav low carb protein powder. Re-beat to mix thoroughly. Spray a pan with coconut oil. Makes 2-4 yummy-fluffy-guilt-free pancakes.
=> If a night owl habit leads you to late night poor quality snacking trade it in for an early bird routine that starts with your best quality breakie.
In case you missed it I covered How To Become A Morning Person in the #110 show.
=> Switch the food inducing habit, like Masterchef or Pinterest for a habit that is less likely to send you to the fridge or cupboard. Perhaps an after dinner walk or work-out.
If you're a late night snacker… to get actionable today I'd love you to pick the tactic that most resonates with you and take it for a spin.
To recap those 4 tactics to out-smart late night snacking are:
One: Cure Cravings with Colour.
Two: Defence by Distraction.
Three: Pump-up the Protein.
Four: Have your snack inducing Habits Hit-the-road!
That's it for today. Thanks so very much for taking the time to join me, I'll be back tomorrow with the Wednesday Weigh-in show where I chat: Expectations.
If you liked this you'll also like:  A Day of Health Hacks to Help With Fat Loss.
If you're yet to share the Healthification love – just click here to zip over to iTunes and leave an honest rating and review. It'd help me out big time. With gratitude, Kate.