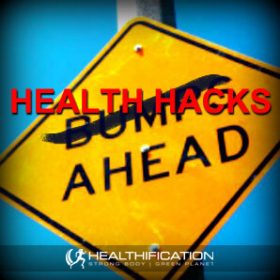 The path of least resistance is our natural inclination. 
Rather than fighting it, let's use it to your advantage by ensuring the decisions that will guide you towards your best body and best health are as friction free as possible… so the most beneficial choice is also the path of least resistance.
Of course there's some set up involved – laying the groundwork – an ideal way to power through this set up is: A Day Of Health Hacks.
A day committed solely to removing those annoying little stumbling blocks that derail your best intentions. First step is to track what has been holding you back.
I'm doing this today with my business goals in mind however I'm going to track my health hacks here for you too.
'Waking up Exhausted' is not the start that will see you easily choose your early am exercise session over extra sleep.  
=> Get to bed at least 7 hours before you need to get up. Have your breakie planned (even assembled ready to cook if you're an omelette person like me), your training clothes out and your alarm out of easy reach.
"Awake all night" is another common complaint I hear. Now, if that's up with your kids multiple times a night then for sure 'exhausted' may be your natural state for this season of your life.
However, if you're simply lying awake, perhaps some advice my mum gave me as a kid will help!  I guess I was an uptight little thing because I remember getting really upset when I couldn't sleep because I'd "be too tired tomorrow".
=> Mum shared with me that just lying there was almost as good as actually sleeping and whether that's valid or not, it sunk in. It relaxed me and that probably allowed me to actually fall asleep.  Now if I'm awake multiple times in the middle of the night I just feel grateful that Hey, at least I'm in a nice warm bed getting to chillax!
'Information Overwhelm' is hitting us from every angle constantly. As much as choices sound appealing… too many choices will freeze, confuse or overwhelm. 
I'll regularly walk out of a shop with nothing when I can't decide between equally appealing options. And we've all met the person stuck deciding between this diet and that training protocol – endlessly 'information gathering' and committing to exactly NOTHING!
Thankfully just how much weight loss (body gain!) information you pay attention to is within your control. Commit to AN approach and give it the focused time it deserves.
=> Delete the crap-o-la that is just cluttering your inbox. Unsubscribe from those email lists that you previously either just deleted on sight or left unopened. (how much time do you spend deleting stuff that has invaded your inbox anyway?)
This means the info that does get your attention is supportive of your chosen approach to achieve your goal… rather than that little silver bullet that might glitter at you and send you racing off course in another direction, only to be disappointed by the results you won't see with a stop : start inconsistent approach.
'Cupboard and Fridge Overhaul'. I'll be blunt, if it's in your home you will eat it. Your discipline is already tested enough every day.
Eating out, getting yourself to training, walking past the bakery… why would you choose to further test it every single day and night by having food that you know is not supportive of your goal in your house? The home is your sanctuary. It's an environment within your control. It's also a place where at times you'll be tired, anxious, stressed – or any number of other emotions that can drive you to consume for the sake of comfort, reward, procrastination or unconsciously to fill a gap in your life.
If you know that you only ever feel worse after indulging in such consumption, then put yourself out of future misery with a cupboard/fridge/freezer (!) overhaul today.
=> Fill your home and work with great fuel. Here are my top 5 food hacks:
1. Cauliflower in place of potato or rice (try it mashed with a little avocado/nutritional yeast, salt+pepper)
2. Greek yoghurt or coconut yoghurt in place of mayo (try it over prepackaged coleslaw/'Asian stir fry' mix)
3. 50gm of roasted cashews instead of biscuits, cereal or a muesli bar (also an easy option if you're at the pub, absolutely no need to go the hot chips option)
4. Crispy brussels in place of chips or crackers (seriously good, slice into rounds and bake with a spray of coconut oil and chili flakes until super crispy)
5. Julienne zucchini or steamed asparagus, green beans and snow peas in place of pasta.
'UNaccountability' occurs when your only commitment is to yourself. Now it should be enough to schedule a training session with yourself and keep it purely because your health is of vital importance right?
And then, there's the unexpected late night at work. Or torrential downpour. Or slight sniffle and achey knee. Or better offer of breakie with your partner/friend/anyone!
=> Make it hard to cancel on yourself and on your health. Schedule a regular time with a training buddy, join a group training (where you're a person not a number!) or hire a personal trainer. Anything where your absence will be noted, and missed and better yet where you would have to make an uncomfortable phone call to cancel on another person.
Generally its just easier to harden up and train than to let another person down.
For the most part you'll feel better once you make a start… and ALWAYS you'll feel better when you finish.
Ok, over to you.  What are your favourite friction free health hacks?