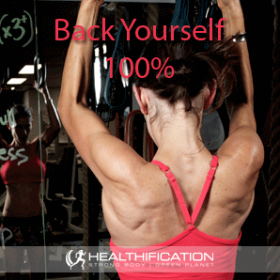 Podcast: Play in new window | Download
Subscribe: RSS
When I decided I wanted to weigh-in in on REGRET today the natural next step was to consider my regrets.
The thing is, when I look at the things that really haven't gone so well in my life – Regret – isn't the feeling that first springs to mind.
More than regret about bad decisions and wrong actions if I had to focus on regret then it'd apply more to my IN-actions than my actions.
I'm wondering: Is it the same for YOU too?
=>  The actions you didn't take.
=> The stands you didn't make.
=> The things, time, PEOPLE you didn't appreciate?
If you've followed Healthification for any period of time (well first THANK YOU!) and second, you'll know I'm a fan of focusing on what's right rather than dwelling on what's not. So I'm not going to get bogged down by regret however I do see the value in using it to your body gain advantage.
It's useful at both a MICRO and a MACRO level.
So for example: at a micro level if you're an emotional eater then I'm guessing there's many a time when you've spiralled into a food binge you later regretted?
I know I've been there. Before I set my house up as a temptation-free-zone (which basically means evicting any rubbish or even good food I can't portion control) I'd regularly demolish food I then regreted.
The thing that helped me conquer emotional eating was remembering how mach I hated feeling disappointed in myself after such an episode. I felt like I'd let myself down. Like I was weak. Like I had no self-control. I felt regret… and the thing is, I felt it for HOURS.
The binge would last minutes the regret would last hours.
Not good odds right?
If you still fall into the grips of emotional eating the action to take is to evict the tempting rubbish food you've binged on in the past from home and work and wherever else it does not need to live. This is the type of food you eat on cheat day, or planned and portion controlled with volition NOT mindlessly as a reactive response to try and deal with your feelings.
Please know there is zero judgement here – I'm absolutely speaking from experience.
As insignificant as the food binges that result from not creating a temptation free home or one skipped work-out or not getting to bed half an hour early seem… they add up.
Quickly they'll add up to zero results because in the body gain game little hinges swing big doors.
Let's now look at the more macro level.
We've all heard: Without Your Health You Have Nothing.
However has it sunk in? Does regret need to be the hammer that slams that home once the damage is done or could imagining the regret you would feel be enough?
It's natural human instinct to take the path of least resistance. I do it too. To choose inaction until there is a HUGE amount of pain looming to force us into action. It really does not need to be that way though.
The people I really respect – in any area – be it health, business, family or whereever seem to take the at times uncomfortable actions because they have absolutely unwavering clarity that those actions are supremely preferable to the regret they'd feel if they didn't take the actions and get to experience the results.
Actually even before the results come – even knowing they are a possibility – means you need to try rather than suffering the regret of not trying. Of not knowing.
Not trying is short-changing YOU.
It's basically saying: "I don't back myself to make this happen."
It's pretending: "Yeah, it's not really that important to me."
It's deluding yourself that: "I'm happy with the way it is right now."
If I'm being harsh it's because I care and I'm speaking from experience.
At the beginning of todays show I mentioned that more than regret about my bad decisions and wrong actions it's my IN-actions that spring to mind when I think of regret…
When I think of the money, time, energy, sweat and many Many MANY (!) tears I sunk into 'The Business From Hell' my main regret is that I didn't step up and BACK MYSELF earlier.
I genuinely appreciate the lessons that experience taught me. So I don't regret the business. I do regret that it took me so long to learn the lessons and act on them!!!
It's the same with my most unsuccessful personal relationship. Yep a whole lot of years and a whole lot of tears sunk there too however my main regret isn't jumping on in to that relationship. It's that I didn't take action and jump on out sooner!
To get actionable today: I'm guessing you've been thinking of something you'd really regret if you continue to not take the actions and as a consequence never get to experience the results?
That's your action step today. One positive step forward… even if it's a little uncomfortable, uncertain or UN-fun it's still supremely preferable to not trying and short-changing YOU.
If you feel up to sharing I'd love to hear the action you took in the comments below.
That's it for me today. I hope you can join me for Fridays show: What Happens When You Don't Focus On Mindset First?
If you liked this you'll also like: Debilitating shyness, big butt serenades, gym floor humiliation and the biz from hell… 4 weight loss lessons.
If you're yet to share the Healthification love – just click here to zip over to iTunes and leave an honest rating and review. It'd help me out big time. With gratitude, Kate