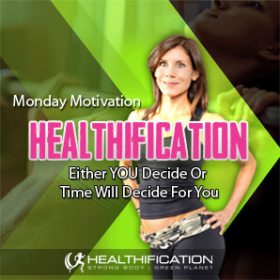 Podcast: Play in new window | Download
Subscribe: RSS
A dear client imparted some wisdom yesterday.
It got me thinking: Surely one of the most valuable skills to cultivate must be the ability to make a decision? Ideally we upgrade that to make a GOOD decision however just deciding is almost always going to beat wishy washy reactive indecision.
As my client recalled, "A few years ago my nephew who was then in his late 30's was just dating these random girls. Not committing. And I said to him: you'd better hurry up and decide or time will decide for you."
Of course it's the classic advice a well intentioned relative will often thrust unsolicited the way of an unsuspecting younger family member.
However it's also hugely applicable to health and in fact achieving any goal that is important to you. In todays show lets chat:
Either YOU Decide Or Time Will Decide For You.
There's a huge goal destroying misconception that I want to bust today. 
If you believe NOT deciding is even an option I put to you (with respect) you're deluding yourself.
Every single day you don't decide AND THEN start to make progress on something that is important to you is another day you entrench and strengthen the habits and beliefs and thought patterns that are not serving you.
As an example, let's take getting into a consistent exercise routine.
If you're not there yet I'm guessing you have some well worn excuses and perhaps also some addictive secondary gains helping to keep you stuck.
Excuses such as:
I don't have time. It's too expensive. I'm not a natural exercise. It hasn't worked in the past. It's hatefully hard and tediously boring AND just plain selfishly vain!
Maybe, secondary gains such as: 
I love that extra hours sleep each morning. Skipping exercise on the weekend means more time with my kids. Being overweight makes me tired and uncomfortable AND certainly shatters my self esteem – in fact it's a convenient justification for why I'm yet to achieve as much as I'd like in the rest of life.
The second you decide ALL the energy you've been wasting on nurturing your excuses and clinging to your secondaries gains can be funnelled directly into achieving your goal.
So far as bad decisions?
Most, not all, yet certainly most and very certainly the super-vast-majority that relate to your health or to get specific again, that relate to a consistent exercise routine can be taken back. You always get another chance with a proactive health decision you make however you might not get another chance with the decision you don't make that time decides for you.
In the interest of making todays show actionable here are, 3 Keys To Help You Decide:
One: Make Your Tougher Decisions First Thing When Your Daily Discipline Quota Is Full.
Both your discipline and your decision making capabilities are limited. As such neither should be squandered! You've been there right?
You skipped exercise this morning as you were due to finish work early tonight. However that didn't quite pan out. In fact you've worked back late and now the crew from work are going out for drinks and a quick bite and you powered through all your discipline hours ago. The decision to ditch the drinks and hit the gym is a super challenging one to make right now.
=> If exercise is not yet an ingrained habit then make the decision to do it before you get dragged into the rest of the days activities.  
Two: Avoid Wasting Your Decision Making Power On Unimportant Things.
Although I believe the fuel you give your body is in fact a HUGELY important decision, to make that decision every single day or even every single meal is un-necessary and invites a bad decision.
In contrast, if you've already decided breakfast is some version of a protein pimped green smoothie and lunch is a substantial salad and dinner alternates between a handful of easy, lean, clean go2meals you love, you're going to find you have a lot more decision making fuel left in the tank for other decisions.
=> What is your #1 go2breakfast, lunch and dinner? 
Three: Wherever Possible Decide Once.
For actions that you would like to become non-negotiable habits, commit to deciding one and putting them on auto pilot.
If I'm making this sound easier than it is then I guess it's just a matter of admitting how much you want the results for those habits you're looking to create? Also accepting that if you want to keep the results once you get them then you also need to keep the habits!
=> If you believe consistent exercise is one vital key to living a fit, happy and healthy live then load and load a training plan. Set days and times added to your calendar as non-negotiable appointments with you! Again, if you're after a little inspiration I'll link to a post I did on Your I.D.E.A.L. Training Plan in the show notes for today.
This decide once step also has the happy benefit of removing exercise from the list of tougher decisions to make first thing in the morning when your daily discipline quota is full. It'll let you bump another tough decision up into prime position!
To get actionable today, I'd love you to take ONE of the 3 Keys To Help You Decide for a spin this week and let me know how you go.
To recap,
One: Make Your Tougher Decisions First Thing When Your Daily Discipline Quota Is Full.
Two: Avoid Wasting Your Decision Making Power On Unimportant Things.
Three: Wherever Possible Decide Once.
If you liked, Either YOU Decide Or Time Will Decide For You you'll also like: The emotion that guides my weight loss…what's yours?
If you're yet to share the Healthification love – just click here to zip over to iTunes and leave an honest rating and review. It'd help me out big time. With gratitude, Kate.