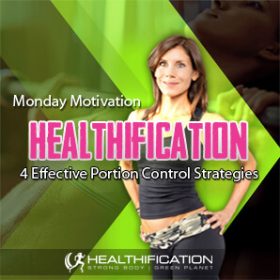 Podcast: Play in new window | Download
Subscribe: RSS
As an emotional eater I've had to get somewhat crafty with my Portion Control Strategies over the years.
In today's show I'll share just how extreme I need to be to stay in control of how much I demolish on a daily basis. It's not a discipline or restriction based approach. Rather it's an awareness of my lack of discipline and a commitment to out plan my food weakness's that allows me enjoy generous amounts of food without the guilt inducing, result destroying binges I used to succumb to.
Let's get rolling with:
4 Effective Portion Control Strategies.
One: Fill Up On Free.
Without exception anyone that spend a day with me is blown away by the amount I eat. The 3 part secret is that the super-vast-majority of the plant based deliciousness I enjoy has a relatively low caloric density. These foods also tend to have a high micronutrient bang for their low caloric buck (which helps prevent cravings) AND they also have a relatively high thermic effect.
The thermic effect is the amount of energy your body uses to metabolise a certain food. Proteins and unprocessed food illicit the highest thermic effect and fake processed, sugary foods illicit the lowest thermic effect.
So to benefit from Effective Portion Control Strategy #1: Build your meals around a generous, colourful variety of fibrous veg. The free stuff that you can eat literally till you feel full. I know that's somewhat controversial. Some people in the health space might even advocate eating til you're only half full. However I'm speaking to my fellow emotional eaters and sometimes you just want to demolish. To fill content and full.
There's also a huge psychological advantage to throwing away your measuring cups / devices and instead focusing on that huge mountain of great fuel you're giving your body… rather than what you're "not allowed."
Two: The Running Tally.
Ok so maybe I got a little excitable! There are a few foods you might need to drag those measuring devices back out of the bin for. Luckily it's a lot more manageable when you're first filling up on free to apply a little tracking via Effective Portion Control Strategy #2: The running tally.
The vast majority of people who succeed in creating and keeping a fit, healthy plant strong body they love, have a solid general idea of what they consume on a daily basis. 
I don't mean a stifling, tedious food diary approach to knowing what you consume each day. Although that certainly is a useful strategy when you're just getting started with a new eating approach. More so I mean knowing what amount of those high caloric density foods you enjoy each day. If you've been hanging with me for any period of time you're know I'm a fan of primarily one ingredient whole foods so when I refer to high caloric density foods I'm thinking good fats and plant based proteins: like nuts, seeds and oils. Perhaps quality dips and dressings. Maybe some dark chocolate. Certainly your alcohol. I'm not referring to zero value refined sugar which I'll cover (meaning dismiss!) in strategy #3.
The way the running tally works is that if you know what is normal for you to consume in a day and you go over in a meal or snack it's easy to adjust for that excess in the very next meal. Double the cashews for morning tea might mean less avocado at lunch. 4 glass's of vino tonight might mean zero till the weekend. Unplanned bread with dinner Friday night might mean no toast with your Saturday brunch. It's in accordance with what you've decided (ahead of time!) is normal and effective consumption for YOU and your goals.
Three: Stop Supermarket Sabotage.
Perhaps the most important step so far as effective portion control strategies is to not let tempting trigger foods sneak into your home. Or at least to ensure it's only the portion you're happy to demolish in ONE sitting. I devoted the entire 155 show to Stopping Supermarket Sabotage.
To win at the portion control game necessitates you acknowledge your lack of discipline.
Know that if it's at home you'll eat it. Maybe not now however at some point you'll be tired, stressed, sick, sad (or whatever it may be for you) enough that you'll hunt down that chocolate at the back of your pantry. Or the ice-cream you bought for the grandkids. Even if you're much stronger than me and you don't go on a rampage just knowing that food is living in your home – and trying to ignore it – is eating away at (wasting!) your daily discipline quota.
The time to do your supermarket shop is when you're not hungry, tired, stressed, sick or sad. To undertake your shop with a trusty list and zero tolerance for unplanned purchases. That is the time to exert your discipline. To strut straight on past the refined rubbish flaunting it's fancy marketing material at you with 2 for 1 or half price. For a short manageable window rather than putting yourself into the UN-winnable battleground that is a house full of tempting trigger foods.
Four: Next Meal Non-negotiables.
Possibly the hidden hindrance so far as effective portion control strategies is either the well intentioned inclination to over compensate at the next meal. Or the self deluding spiral on effect. This is where that solid general idea of what you consume on a daily basis again comes into play.
I'm a huge fan of getting back on track with what my mum used to call "a proper meal" at your very next meal after a food blow out. Non negotiable. Sure it may be a little lighter on the good fats or high value carbs as mentioned in the running tally strategy. However the skipped meal or super light weight low value salad is going to come back to bite you.
Equally one bad meal or three (!) is never cause to continue on down that outta-control food spiral.
Create a standard for yourself that giving your body the great fuel it deserves is equally worthwhile / valuable / NON-NEGOTIABLE on your 50th awesome in a row meal as it is on that very next meal after a slip up. Your commitment to great fuel and effective portion control can start at your very next meal.
You've been there I'm sure. The start tomorrow approach can easily become start next week… next Month and all of a sudden it's next YEAR and nothing has changed. 
In this regard your approach to eating is a lot like your approach to exercise.
Please know I'm speaking from experience… however how many days, months, years and energy have you wasted thinking about something. Giving yourself grief and guilt. Denying yourself results and self belief. When really the next meal (or next workout) non-negotiable approach could have saved a whole lot of heart ache?
To get actionable today if you struggle with ineffective portion control – if you can be a bit of a Leftover Labrador (as one of my dear clients wife calls him!) then i'd love you to take one of these effective portion control strategies for a spin and let me know how you go?
To recap:
One: Fill Up On Free.
Two: The Running Tally.
Three: Stop Supermarket Sabotage.
Four: Next Meal Non-negotiables.
That's it for this week in Healthification.
A super huge thanks to you for your support and for sharing this week with me.
If you've enjoyed this show and gotten value out of it I'd super appreciate it if you pop over to iTunes and leave me a review. It helps other people find Healthification and it really does inspire me to power on with the weekly episodes.
Till next week, happy training and effective portion controlling!
If you liked 4 Effective Portion Control Strategies you'll also like: 101 Ways To Cut Carbs When Eating Out.
If you're yet to share the Healthification love – just click here to zip over to iTunes and leave an honest rating and review. It'd help me out big time. With gratitude, Kate.