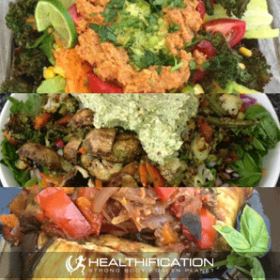 Podcast: Play in new window | Download
Subscribe: RSS
I'm sure you remember your most fav meals as a child. Although mine were all scrumptiously carbie the star of the show was invariably MEAT.
From mum's amazing roasts to mince based cannelloni and lasagna to meat laden pizza, pies and hot dogs… such carnivorous deliciousness was very much a part of my life.
I'd regularly declare: "I could never be a vegetarian!" and "Meat is just too delicious!"
While demolishing chicken toasties for breakie. Bacon rolls for lunch. Until it all changed.
I've covered my journey from carnivore to vego to vegan in previous shows so I won't re-hash today. Today I'll instead focus on some plant strong strategies to makeover your (or your families) past favourite meat based meals.
Let's get rolling with:
A Meat Makeover – 6 Plant Strong Strategies!  
Plant Strong Strategy One: Avoid The Grams For Grams Trap. 
One of the reasons plant based eating has a bad rap for being unsatisfying is that it's common to not eat enough when replacing meat. For example: 100 grams of kale has vastly less calories than 100 grams of chicken. In fact at 195 calories in 100 grams chicken you could instead eat:
=> 150 grams EACH of kale (75 calories), cauliflower (45 calories), broccoli (45 calories) and zucchini (34 calories).
Now I'm not about the calories. I'm always about the nutrients and equally the supreme food deliciousness so this meal still needs some significant making over!
The point is: Your effective meat makeovers are going to take a little more thought than switching a slab of beef steak for a slab of cauliflower steak.
Plant Strong Strategy Two: Eat The Rainbow.
Good riddance to the days of the boringly bland brown, white and green meal right? As we started to cover in strategy #one, when eating plant based you're going to need a much greater diversity.
Beyond just adequate calories, loading your plate with a diverse rainbow of colours is essential for micronutrients and taste.
It also makes your meal visually appealing to your stomachs eye. Which is more important than you might think. If you spend any amount of time on Instagram or flipping through cook books and magazines you'll recognise just how much of an impact a well presented, generous, colourful meal can have.
=> So to continue the makeover let's take our nutritious-not-yet-delicious (!) mix of kale, cauliflower, broccoli and zucchini and get colourful! Perhaps by adding some finely sliced: red capsicum, red onion and sun-dried tomato. 
It's starting to look and taste better however you're not yet there…
Plant Strong Strategy Three: Treat Veg Like Meat.
This might sound unexpected. I'm referring to the way you season and cook your veg. In the same way that we'll say good riddance to meat and 3 veg let's also farewell boiling the life out of our green goodness. Or making do with creatively-stifled-steamed. Whether you choose to marinate or rub in oil, season and cook in a very hot pan or even better BBQ, or dress your veg in gorgeous sauces and spices… the options are limitless.
In fact here's the article on markbittman.com I read that inspired this point. In short, it explains the browning and caramelisation process that will form a crust and make food (be it meat OR veg) taste amazing.
You wouldn't whack a steak in a lukewarm pan and giving your veg the same cooking respect you previously gave meat is essential for texture and taste. You'll find it responds at least as well.
=> Our makeover is on it's way to becoming my current fav Go2Salad to make on mass and take to a BBQ. The current veg are either blitzed in a food processor (that's the kale, cauliflower, broccoli and zucchini) or finely sliced (that's the ed capsicum, red onion and sun-dried tomato) to form a cauli-kale tabbouleh base. However it's currently all a similar texture which is why I like to slice some brussels and bake them in a cranking hot oven till they're all gorgeously golden and crispy. 
Plant Strong Strategy Four: Embrace Fat.
As a teenager I suffered several skinny fat, unsatisfied and somewhat miserable years being scared of fat. I thought fat made me fat. In truth only bad fat can make you fat – good fat is both necessary and also your lean body friend.
Once you ditch the saturated fats from animal products plus the trans fats and processed vegetable oils from refined crap-o-la you'll have a lot more room in your life to enjoy all the delicious, nutritious fats that also give you satisfaction and taste.
=> Back to our makeover and let's stir into that cauli-kale tabbouleh base a tablespoon of avocado or macadamia oil. Perhaps also slice 1/2 a fresh avocado and roast a few pecans to top the salad. 
Plant Strong Strategy Five: Finishers.
As much as exercise finishers are my clients' least fav part of the workout – rightly so as they're that little super high intensity ending to a session, a circuit, a set (a friendship – just joking!) that is there to get your heart rate up, to get your sweat on, to squeeze that little bit extra out of you that you didn't know you had… as much as that (!) meal finishers are often my fav part of a plant strong meal.
Plant strong finishers are there for protein pimping and taste. 
=> So to that cauli-kale tabbouleh base I'd add: a tablespoon or 2 each of protein rich: nutritional yeast, hemp and pumpkin seeds. Also a teaspoon each of spirulina and dulse flakes. Finally just for taste: some garlic, chill and onion powder. Celtic salt and some fresh herbs like basil and oregano.
Now we're talking about a pretty delicious plant strong meal that even the meat eaters will enjoy. However if not there's still…
Plant Strong Strategy Six: Never Settle.
When attempting a meat makeover don't expect to get it right on your first attempt. Likely your mums roast or grandma's special meatloaf took years to get perfect. You don't need that level of patience (I certainly don't have it!) however you might need to be willing to give a makeover another go after a kitchen fail!
I'm yet to find a meat based meal that can not be transformed into a delicious, nutritious plant based alternative. Now to be clear I'm not implying I have that skill level. The kitchen is not my area of expertise or patience however I've seen plenty of convincing evidence on Instagram (!) and I will stick with a meal long enough to get it to the point where I love it.
It's a process of continual small upgrades coupled with never settling for the boring or bland plant strong meal and that is the attitude necessary for sustainability and taste.
To get actionable today: Do you have a meat meal you've been missing that needs a makeover?
To recap you're aiming for:
Calories and taste, by Avoiding The Grams For Grams Trap. 
Micronutrients and taste, by Eating The Rainbow.
Texture and taste, by Treating Veg Like Meat.
Satisfaction and taste, by Embracing Fat.
Protein pimping and taste, with Finishers.
Sustainability and taste, by Never Settling.
I'd love to know what it is and how you go with the makeover? You can let me know via the comments below.
That's it for me and for this week in Healthification. Huge thanks to you for hanging with me today. I super appreciate it. Cheers!
If you liked A Meat Makeover – 6 Plant Strong Strategies! you'll also like: How To Develop A Simple Tasty Repertoire Of Dishes.
If you're yet to share the Healthification love – just click here to zip over to iTunes and leave an honest rating and review. It'd help me out big time. With gratitude, Kate.