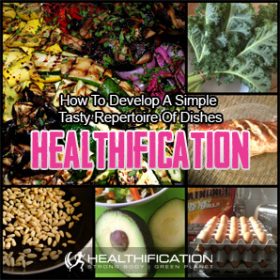 Podcast: Play in new window | Download
Subscribe: RSS
I'm not sure about you however when I get to the end of my day and especially the end of my week I've all but used up my deciding power.
I don't want to think about what to pull together for a tasty yet healthy meal.
When effort needs to first be expended on deciding then the effort for cooking just sounds way too daunting. It's these times that takeaway or a cup of tea and toast or even vino and crackers sound much more appealing.
In todays show:
How To Develop A Simple Tasty Repertoire Of Dishes.
If you're a little lacking in deciding power by the end of your day then today I've got you covered. I'm focusing on dinner and specifically 3-frameworks to apply so that you've got some easy, healthy options at your eating disposal.
The goal is to make the best for your body choice as simple and as on-auto-pilot as possible.
Now you know YOU. So perhaps to feel satisfied with the amount of variety in your meals you might be ok with a tasty repertoire of 3? That'd certainly do me!
Perhaps you'll need a mix of 6.
Or maybe you'll have to delve for 12.
Ok rhyming aside, it's just a matter of whether you develop 1, 2 or up to 4 meals under each of todays frameworks.
Framework one: Find your FAVS.
So the framework is your starting point. Because too much decision leads to indecision. The steps:
A) Decide on your fav Protein, Fibrous Veg, Good Fat.
B) Decide on your fav Cooking method for each.
C) Decide on your fav Flavouring, spices, herbs for each.

So here's how it might look – in my fish eating days (I'm off it again right now)…
My fav protein is fresh Salmon.
My fav fibrous veg is Kale.
My fav good fat (at dinner) is organic coconut oil.
(I know that might sound weird but it's the first oil I could literally eat by the spoonful it's so good)
I don't… just sayin!
So far as cooking, my fav way to cook fish is in a pan with crispy skin and my fav way to cook kale is shaken with oil and baked as crisps. Side-note: My fav if I'm not the one cooking or cleaning up is the BBQ however having to clean a BBQ steers the meal a smidge too far from simple for this lazy cook!
When it comes to flavourings my favs are sea salt, chill, lime, coriander and for those crisps some nutritional yeast.
Now that's a little light on so I'd add some cauli-rice and baked zucchini/asparagus/mushie – basically whatever happens to be on hand and is easy to cook on a similar timeline to the rest of the meal.
=> What is your fav protein? Fibrous Veg? Good Fat? Deciding now and making each of them a regular in your weekly shop so they're always on hand is going to save you precious decision making power when you're running low on good decision making discipline.
Framework two: The mature MAKEOVER.
What was your fav meal as a kid? Mine was pasta. From lasagna to cannelloni to ravioli to traditional old spag bol… I loved pasta! Here's your childhood to mature makeover framework:
A) Decide on your fav meal.
B) Give any refined carbs an upgrade.
C) Amp up the protein / fibrous veg if need be.

So here's how it might look…
Let start with vegetarian cannelloni.
Now to upgrade the cannelloni made from pasta you've got plenty of options however my current fav is to use grilled slices of eggplant as cannelloni tubes. If you were less lazy then me you could hollow out zucchini and use them (don't waste the insides they are great in the vego sauce base). You'll find my eggplant cannelloni recipe in my e-book: 15 Easy, Lean, Clean LOW CARB switches for your favourite carbie creations:
So far as amping up protein and fibrous veg my vego cannelloni is chocka with veg like mushies, capsicum and onions – I'd probably serve it with a salad for some more green love though. It is light on protein with only the cashew cheese topping and a tad of goats cheese mixed into the cannelloni filling. A good option here is to sprinkle a tablespoon of hemp seeds and/or pumpkin seeds over the green salad for a little more protein.
=> What was your fav meal as a child and how can you make it over it to support your body gain goals today? Often we assume something isn't an option without giving it thought. Pasta? Pizza, Burgers and Sushi may all sound a little refined or carbie however the key is to put the brain time into finding your workaround now before you're caught short on discipline at the end of a long day. In show 122 I transform 3 takeaway favs: pizza, burgers and sushi.
Framework three: The interchangeable IDEAL.
This is my most common Go2Dinner. It's one form of meal that changes slightly dependent on what I have on hand, what I feel like and often what needs using up.
Whether we're talking time or food I really hate waste.
Here are the steps:
A). Decide on the meal that best fits your own version of: it's delicious / it's nutrious / it's cheap and easy enough to always be viable.
B). Add the ingredients to your weekly shopping list. Even better, where possible have them on hand in the freezer / pantry where possible.
C). If necessary hunt down the short cuts that make this meal super-time-effective. I want time to never be your excuse to eat a great meal. It's just a mater of coming up with some hacks. Stuff like:
Pre-mixed & washed salad greens / frozen veg / meals made on mass and frozen in batches.
So here's how it might look…
My current interchangeable ideal for dinner is an omelet. I know that's a little unusual however as I covered in show 336 having breakfast twice a day is a great way to eat less meat and not sacrafice protein.
Yours might be a stir fry / a BBQ / a slow cooker meal.
My omelet ingredients are basically the same veg I have in my salads at lunch. Stuff like spinach, kale, zucchini, cauli, broccoli, mushies and many other veg. I also like to have some mixed frozen veg and frozen spinach/kale on hand and dried herbs as well as the stuff that lasts well like onions and of course free range organic eggs.
Now so far as time hacking here are some options:
Mix the veg for your dinner at lunch or breakie prep time / source the natural (not overly fake and processed) stocks, sauces, herb mixes to cut down your prep time / if they are too expensive or hard to find make your own once a week.
I do this with with zucchini hummus (no I don't put that in my omelet) however from time to time I also do it with pesto as pesto is currently the only way dairy sneaks into my regular eating routine and I'd really prefer to be 100% dairy free.
=> What could be your interchangeable ideal? So, it's delicious / it's nutrious / it's cheap and easy enough to always be viable.
To get actionable today I'd love you to develop a meal or two under the framework that most appeals to YOU.
To recap that's:
Framework one: Find your FAVS.
Framework two: The mature MAKEOVER.
Framework three: The interchangeable IDEAL.
Once you get into a routine I'm certain you'll find:
A) The better food decision 100% CAN be as quick, cost effective and delicious to prepare andeat AND of huge additional value it also means you get to ditch any pesky-post-dinner-guilt.
B) Effective eating decision making is actually a whole lot more about planning in advance rather relying on discipline.
That's it for this week in Healthification… Huge thanks to you for your support. I appreciate it.
If you liked this you'll also like: My Food Diary: Cheat Day + Ideal Fat Burning Day. (part two)
If you're yet to share the Healthification love – just click here to zip over to iTunes and leave an honest rating and review. It'd help me out big time. With gratitude, Kate.