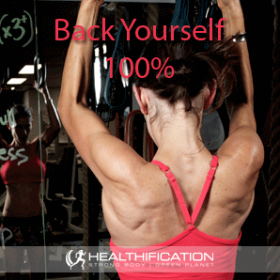 Podcast: Play in new window | Download
Subscribe: RSS
I have good and less good news for you today.
The good news is it is 100% possible for festive season fun, fitness and body gain to co-exist. No matter where you're travelling… what your schedule and who you're hanging with there is zero need for you to be returning with extra luggage. Well not unwanted extra luggage that is.
I should probably back track a tad. For a few overly-indulgent years when I first became a personal trainer I had an "Anything Goes!" festive season attitude.
I devoured bread 3 times a day. Because my mum bakes delicious bread. From sour dough olive to focaccia with baked potato and rosemary to sun-dried tomato… and then she'd make caramelized onion hummus and basil pesto and….
You get the picture right?
Now since I'm not much of a dessert girl she'd make my favs: tart tartin, creme brûlée and raspberry friands – to tempt me – and tempt me they did.
At Christmas I'd eat chips… and chocolate… and lollies. I'd even drink beer… and Baileys.
(I could-SHOULD have eaten these festive treats instead!)
I'd basically indulge in everything I steered clear of all year. For just a week or 2. And the funny thing was – perhaps you can relate… or maybe you're less delusional than me (!) but the funny thing was (and this is my less good news for you): then I'd actually get surprised at the disappointing impact it'd have on my body composition!
As I tried to maneuver my thighs back into my jeans for the trip back to Sydney I'd think: "Really? It happens this quickly? After a whole year of effort?"
I'm not sure what post holiday damage control looks like to you however to me it looked like:
=> a LOT of hateful tedious cardio.
=> NO delicious Shiraz… or delightful vodka… or meals without measuring.
=> and most annoyingly: MONTHS of not looking or feeling my best after just days of over-indulgence.

Eventually I got so sick of post holiday damage control that I decided not to put on the weight.
YES, it is that simple. You decide and then you take the best actions.

In my 6 step Holiday Season Survival Blueprint I cover what to do if you're sick of post holiday damage control.
If you're on my email list you would have received the blueprint last week. If not here's a link to it. To get back to the topic for today though (!) step 3 of the blueprint is to: PLAN.
And one component of plan is: Your Exercise Plan. That one that you make in advance. Before you get swept into an "Anything goes!" festive season attitude.
I recommend deciding on the Type and Frequency so that you know it'll compliment your holiday routine.
In the interests of helping ensure your exercise plan is excuse proof today I have a:
No Equipment, No Excuses Body Gaining Routine!
When I perform this routine at the gym I use these cool little sliders that cost $8 a pair. They are my number one investment for travel as they are cheap, portable and versatile. However your equipment free option is a hand towel.
It'll work just as well as long as you're on wooden (or slippery) floors.
Here's that workout:
1. Walkout. 8 repetitions each leg.
2. Slider reverse lunge. 12 repetitions each leg.
3. Sumo in out jump squat. 16 repetitions total.
4. Plank leg raise. 20 repetitions each leg.
5. Slider hamstring curl. 20 repetitions total.
6. Dip. 16 repetitions total.
7. Slider oblique mountain climber. 12 repetitions each leg.
8. Side plank elbow to knee, hip dip, toes tap. 8 repetitions each leg.

2-4 circuits of this predominately lower bod + core with some chest, shoulders & triceps workout rocks.
I realize many of this moves are a little unusual so leave me a comment and I'll add a video of the workout to this post.
You can do less or more reps of any movement – the plan is to get your sweat on! – however please appreciate that the numbers pyramid from 8 to 20 and then back to 8 again… so basically they look pretty on paper and Yes that is important to me!
To get actionable today, A) I'd of course super love you to try this routine and B) Do you have any workout requests that I can help you with?

It'd be fab to hear from you.
That's it for me today. I hope you can join me for the Friday FAQ show where I'm sharing: How To Develop A Simple Tasty Repertoire Of Dishes.
If you liked this you'll also like: Fav Work-out This Week… with a difference.
If you're yet to share the Healthification love – just click here to zip over to iTunes and leave an honest rating and review. It'd help me out big time. With gratitude, Kate.