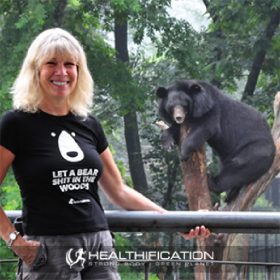 Podcast: Play in new window | Download
Subscribe: RSS
It's such a huge joy to share with you this conversation with the amazing founder and CEO of Animals Asia, Jill Robinson.
Animals Asia is devoted to ending bear bile farming and improving the welfare of animals across Asia. As you will soon hear, team Animals Asia have been incredibly successful in their work to bring about long-term change and promote compassion and respect for all animals.
In fact Kindness is something Jill and her team seem particularly adept at extending to human animals as well.
A holistic approach to campaigning in combination with diplomacy and patience is something that has certainly paid off. I believe those of us campaigning to end animal agriculture and other forms of animal exploitation could take some valuable lessons. I mean that with full love and respect vegan friends. I felt the warmth radiating off Jill in this chat and it stuck me as not only a more effective way to advocate, also a more sustainable and joyful way to advocate.
For a little official bio on Jill and background on Animals Asia: Founded in 1998, the Animals Asia team has been rescuing bears since 1994. Since then, Animals Asia has rescued over 650 bears in China and Vietnam. They operate award winning bear rescue sanctuaries in China and Vietnam, and are the only organisation with a bear sanctuary in China.
Jill Robinson MBE, Dr.med.vet. h.c., Hon LLD is widely recognised as the world's leading authority on the cruel bear bile industry, having campaigned against it since 1993.
Jill is a Council Member of the World Federation of Chinese Medicine Societies (WFCMS) Herbal Committee and her outstanding contribution to animal welfare has been recognised with a number of awards. In 1995, she won the "Reader's Digest" Hero for Today award. In 1998, she was made an MBE by Queen Elizabeth of England. In 2008, she was named "Outstanding Earth Champion" in Hong Kong and was appointed World Animal Day Ambassador for Asia. In 2010, she was one of 12 recognised foreigners given the "You Bring Charm to China" award.
Jill received an honorary doctorate in veterinary science from the University of Zurich, Switzerland in 2012, and an honorary law degree from the University of Nottingham Ningbo China in 2014.
That's a lot. However it's not the qualifications and awards that I respect most about Jill. It's the attitude of compassion and kindness she leads with and has maintained for decades despite the atrocities, the frustrations and the set-backs.
As Jill shares, her self-care is in the work. It's in the sanctuaries and absolutely in seeing these bears and other animals get to live the exploitations free lives they deserve.
In the interview we cover:
Jill's encounter with a caged bear on a farm in China that changed her life and led to her founding Animals Asia.
The 5 key areas of Animals Asia's work to end bear bile farming.
Reducing Demand. The Bile Trade. Public Awareness. Government and Policy. Rescuing and rehabilitation.
Bear bile does have medicinal uses but there are cruelty-free alternatives.
After years of cooperation, Animals Asia has signed a Memorandum of Understanding with the Vietnam Government to completely End Bear Bile Farming in Vietnam.
What condition, both physically and psychologically are the bears in when they come to one of the sanctuaries?
The changes to the bears personalities once they reach sanctuary?
The arrival of 101 moon bears to Animals Asia's sanctuary in Chengdu, China.
What Jill does to prioritise both her physical and mental health.
Animals Asia's Cat and Dog Welfare programme and the removal of dogs (and by default cats) from the official Livestock List of China.
I hope you loved that time with Jill as much as I did. My finals thoughts, when animal exploitation globally is so huge and urgent I hope the success's Jill has shared give you hope and heart.
I also know Animals Asia believes that empathy for one animal can evolve into empathy for an entire species and ultimately for all species. 
So although these wins in Vietnam and China are for bears, dogs, cats and other animals in Asia I do believe the momentum helps us towards the tipping point for the billions of animals globally breed, enslaved and slaughtered for animal agriculture.
Watching videos of joyful, individual bears in sanctuary and seeing their personalities have the chance to shine through makes me think of the personalities that shine through in rescue chickens.
Bear. Dog. Pig. Chicken. Fish.
The cruelty is just as deplorable no matter the species, no matter the reason and no matter whether it's carried out in China, in my home Australis, or wherever you live.
To connect with Jill and Animals Asia online I have you all linked up below.
That's it for this week in Healthification. If you're yet to rate, review and subscribe please do! It counts big time in letting this little show – and the amazing guests I get to chat with achieve some visibility among the millions of podcasts out there.
Big thanks to YOU for sharing this week with me.
The Healthification podcast is proudly bought to you by my FREE 'Easy Vegan' plan. It took me 25 years to transition from a meat eater to a happy, healthy Vegan! You can do it in just 3 days with my simplified 'easy vegan' plan!  Get the fit, strong, and healthy plant based body you deserve… while avoiding ALL the mistakes I made along the way!
To learn more check out: strongbodygreenplanet.com
Till next time, remember Creating a body and life you love is Freedom. (If this ex-refined-carb queen, non genetically gifted, naturally uncoordinated vegan chick can do it – so can YOU!!!)
If you liked "Jill Robinson and Animals Asia's Work To End Bear Bile Farming." you'll also like Animals Australia's Live Export Investigations with Shatha Hamade.
If you liked "Jill Robinson and Animals Asia's Work To End Bear Bile Farming." you'll also like PETA's Aleesha Naxakis and Stopping The Victorian Kangaroo Processing Facility.
If you liked "Jill Robinson and Animals Asia's Work To End Bear Bile Farming." you'll also like Pam Ahern from Edgars Mission Farm Sanctuary Is Creating A Kinder World For Farmed Animals.
If you liked "Jill Robinson and Animals Asia's Work To End Bear Bile Farming." you'll also like Exploding The Myth That Animal Abuse Doesn't Happen In Australia with Farm Transparency Project.