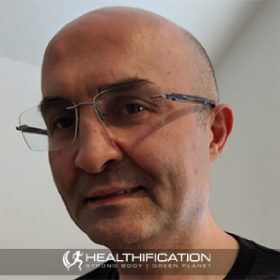 Podcast: Play in new window | Download
Subscribe: RSS
This conversation with ReFarm Fund's, Omaid Hiwaizi left me on such a high.
Filled with the possibilities and the potential to utterly transform our broken food system when we work with farmers to help them transition away from animal farming.
Vegan friends, Omaid and I know this is a nuanced issue.
So far as Omaid's, vegan credentials (!) it's been almost 30 years since he adopted the lifestyle – for the animals. He's an Animal Rebellion activist, and in his heart, as you will hear he is working towards a world where there is zero animal exploitation.
And yet, as I'm coming to understand – to get to that world – I'm not sure if compromise is the right word however we are not going to get there preaching to the converted and madly beating the perfect vegan drum!
As Omaid and I discuss, there are so many variables to be managed in effectively transitioning away from such a huge, entrenched industry as animal agriculture. For an individual farmer I can imagine it might seem utterly overwhelming and too risky to try.
However what if there was a proven business model? Case studies for numerous different land and farm types? If there was access to extensive data insights, expertise on regenerative farming and other sustainable innovation PLUS finance provided to enable all this change?
This is the vision Omaid and ReFarm Fund are creating. Importantly, the intention is to make this possible at HUGE scale.
Vegan almost 30 years, what prompted Omaid to adopt the lifestyle? 
Some of the huge challenges farmers currently face.
ReFarm Fund's vision is to end animal farming in a smart way.
Why is Carbon Farming Fund the solution?
The benefit in Consultancy & Data insights to drive optimal land usage, transition measurement, carbon yield and traceability.
The finance will come from ESG focused investment funds.
The nuances living in a world where animal agriculture and animal exploitation is still the dominant paradigm.
How the ReFarm Fund will grow, including adoption of sustainable innovation (eg vertical farms, hybrid solar/crop farming)
The opportunity for farmers to move up the food chain producing products(eg vegetable boxes, milks, meat substitutes) rather than just ingredients. 
A quick word on "regenerative farming." If like me you feel initial discomfort at the term due to its use in green washing and the insistence of many in the business of animal harming that livestock animals MUST be part of this process, Omaid is busy gathering case studies of farmers who have proven this is just not true.
Additionally, it's a term that is effective in getting farmers on side. In the same way that "Vegan" and "Vegan farms" might be less effective. However as Omaid shared with me after our chat it is really a bit of a Trojan horse to help get us to that end goal, to enable us to work WITH farmers as we transition away from animal farming and towards a compassionate, sustainable, animal exploitation free world.
To help support the Refarm Fund mission, if you are or know any farmers who would like to begin the transition away from animal agriculture or have already done so, please connect via refarm.fund.
Connect with Refarm Fund across the socials: LinkedIn.
Also via the website, refarm.fund
That's it for this week in Healthification. If you're yet to rate, review and subscribe please do! It counts big time in letting this little show – and the amazing guests I get to chat with achieve some visibility among the millions of podcasts out there.
Exciting news! My Plant Positive Journal is the proud NEW sponsor of The Healthification podcast.
Perhaps you are plant-based curious? Maybe you are already vegan but need a healthier approach to nutrition?
In this daily journal you will learn how to consistently prioritise food, exercise and other healthy habits that build on each other to have a compounding and lasting effect.
To help you create a BODY and LIFE you LOVE by successfully managing your TIME and your MIND.
It makes a great gift to YOU! Or, for the loved one who would benefit from some support managing their time and their MIND. Even better, the loved one who is vegan curious or who has been a valuable vegan ally to you.
To learn more check out: strongbodygreenplanet.com/journal
With love and gratitude plant friends.
If you liked "Omaid Hiwaizi and ReFarm Fund's Vision to End Animal Farming." you'll also like Elysabeth Alfano and Investing in a Healthy, Sustainable, Profitable Plant-Based Future.
If you liked "Omaid Hiwaizi and ReFarm Fund's Vision to End Animal Farming." you'll also like Meat The Future of Cultivated Meat and a Sustainable Way To Feed The World with Liz Marshall and Annie Osborn.
If you liked "Omaid Hiwaizi and ReFarm Fund's Vision to End Animal Farming." you'll also like E602: Alex Lockwood's Short Film 73 Cows.
If you liked "Omaid Hiwaizi and ReFarm Fund's Vision to End Animal Farming." you'll also like E561: The Last Pig Film with Allison Argo.
If you liked "Omaid Hiwaizi and ReFarm Fund's Vision to End Animal Farming." you'll also like Turning Dairy Farms Into Animal Sanctuaries with Geraldine Starke and Refarm'd