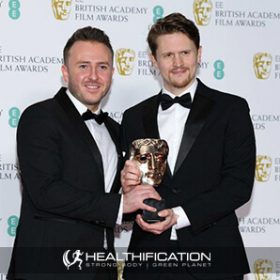 Podcast: Play in new window | Download
Subscribe: RSS
Alex Lockwood's BAFTA award winning short film 73 Cows shares the story of Jay Wilde, the first farmer in the UK to trade beef farming for sustainable organic vegan farming, giving up his entire herd of cattle to a sanctuary in the process.
73 Cows is a completely approachable film for non-vegans. It's not graphic at all. Yet it effectively illustrates just how harmful small local farming is to not only the enslaved animals but also the humans trapped farming them. 
Though the film is a "no budget" production it is stunning and it is optimistic. If a beef farmer continuing the family business can escape the indoctrination that leads us to see some animals as food and reject everything he's ever known by making the decision to transition to plant farming then there is hope for us all.
Hope that as consumers we can see the individuals behind our food choices and decide to direct our demand, our dollars and our support towards plant products and plant farmers. 
In this interview we cover:
The importance of personal story as a means by which to effectively spread the message that non-human beings are equally deserving of compassion.  
Was it a conscious decision to make the film entirely non-graphic and utterly non-judgemental? 
What would Alex say to the animal farmer who is concerned with the financial viability of transitioning out of animal farming and who also fear how they will be judged by their community?
A little more about film maker Alex Lockwood's personal experience making this film. What did he find surprising? Is it true that he were vegetarian prior to the film and transitioned to vegan during the process?
What opportunities has winning the BAFTA made available?
What is the best possible outcome as a result of this film?
What's next for Alex so far as short films that focus on issues of ethics and can have an impact on the world. (I'm excited to follow Alex's work as he has some awesome ventures planned!)
I LOVED what Alex mentioned about vegan not being anti-farming or anti-farmers.
In a recent half hour conversation with an Australian dairy farmer I came to understand the opportunity and I'd say responsibility each of us has as consumers to support the type of farming aligned with our personal values right now – today – before it is necessarily the easiest most convenient and mainstream option.
This dairy farmer who had initially approached me at a cube of truth outreach event full of hostility agreed that it's not necessary for humans to consume animal products to be healthy.
He also conceded if his farm could be as profitable and sustainable based on organic plant agriculture that'd be preferable.
And yet, he felt compelled by consumer demand for dairy and believed there would always be s consumer demand for dairy. 
So as consumers we have the power. At every single meal we have the power. To actively perpetuate the cycle of cruelty that is animal agriculture. Or to support crop farmers instead and by doing so to show all the farmers stuck in an out dated system of animal slavery that they will be rewarded when they transition to a more compassionate and sustainable form of feeding the planet. 
As a consumer you have nothing to lose and everything to gain. It's a much easier step to swap your food choices than to break away from your family's farming history and perhaps all you've ever known so far as a career. I'm not making excuses for farmers unwillingly to change however I'm recognising it's got to be an incredibly terrifying and uncertain decision to face.
Films such as 73 Cows give us valuable insights into the complexities behind the decision to continue making your living off the backs of animals.
I recommend you check out 73 Cows on Vimeo (it's just 15 minutes) and follow Alex's work at Lockwood Film.com
You can also connect with Alex on Instagram via Lockwoodfilm:
I know I'll be staying tuned for his upcoming work including:
Test Subjects (may not be it's final title): Will be a short documentary focusing on American Scientists who were all pressured to test on animals in order to obtain their diplomas.
Unbound: We've teamed up with We Animals to produce a range of short documentaries focusing on women on the front line of animal advocacy.
That's it for today in Healthification.
Huge thanks to YOU for sharing this week with me. I truely appreciate your support!
The Healthification podcast is proudly bought to you by my FREE 'Easy Vegan' plan. It took me 25 years to transition from a meat eater to a happy, healthy Vegan! You can do it in just 3 days with  my simplified 'easy vegan' plan!  Get the fit, strong, and healthy plant based body you deserve… while avoiding ALL the mistakes I made along the way!
Till next time, remember Creating a body and life you love is Freedom. (If this ex-carb queen, non genetically gifted, naturally uncoordinated vegan chick can do it – so can YOU!!!)
If you liked "Alex Lockwood's Short Film 73 Cows" you'll also like: The Last Pig Film with Allison Argo
If you're yet to share the Healthification love – just click here to zip over to iTunes and leave an honest rating and review. It'd help me out big time. With gratitude, Kate.