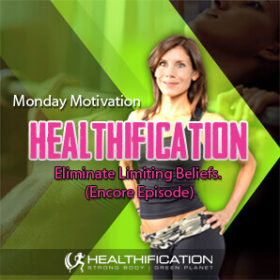 Podcast: Play in new window | Download
Subscribe: RSS
In today's Eliminate Limiting Beliefs encore episode I discuss perhaps your most powerful weapon so far as creating and keeping a fit, strong, healthy plant based body you love.
In fact recently I heard on another podcast (This American Life – I highly recommend it!) the statement that: "Facts are less powerful than beliefs." 
I 100% agree.
As a teenager believing fats made me fat. And worse chocolate gave me pimples was powerful enough for me to go fat (and chocolate!) free for 12 skinny-FAT and NON-pimple-Free months. Equally, and of much more impact my belief that animal agriculture is inhumane, unsustainable and absolutely unacceptable makes it easy to eliminate animal products from my diet and lifestyle.
Much easier I imagine than the facts that smokers are faced with.
Beliefs are loaded with emotion. For better or worse. In today's show I'll show you how to ensure your beliefs are compelling you to take the actions aligned with your ideal body and ideal health.
Before we get rolling, heads up this show is #3 in a 6-part series. However it absolutely has stand alone value. So please enjoy it alone or check out the others in the series too. They are podcast episodes: 245, 250, 260, 264 and 267.
Now lets power onwards with, Eliminate Limiting Beliefs:
Here are the show notes for the original 255 episode: Friday FAQ, Smart Simple Fat Loss: Eliminate Limiting Beliefs.
The Healthification podcast is proudly bought to you by my online community for Vego's and Vegans who want to create a strong, healthy body and also help eradicate inhumane and unsustainable animal agriculture.
Learn more here:
If you liked this you'll also like: Bullet-proof Your Motivation To Exercise.
If you're yet to share the Healthification love – just click here to zip over to iTunes and leave an honest rating and review. It'd help me out big time. With gratitude, Kate.