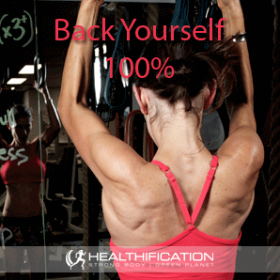 Podcast: Play in new window | Download
Subscribe: RSS
Have you ever continued with something long past its used by date?
You saw the signs – in fact in hindsight perhaps they were pretty glaring – however you kept on pushing anyway.
Perhaps pushing that same old approach that hasn't worked in the past? In the hope that this time… for some reason… it might work?
In todays show I'm sharing:
4 Diet Red Flags.
Although it's more like 5 because anything you describe as a Diet is likely a red flag!
Onwards with 4 Diet Red Flags and what to do instead.
Diet Red Flags #One: It's ALL Consuming.
There was certainly a time in my life when my food was all consuming.
Absolutely as a teenager when I became Vego and also banished all fat from my diet. Yes, I did threaten to walk out of a restaurant that served Fois Gras (which I still think is a supremely valid reason to walk out of a restaurant) and Yes, my poor friends, boyfriends and family did have to trespass from restaurant to restaurant because there was nothing I'd eat, except "A large vegetarian pizza no yellow cheese please." 
20+ years on, it's likely my parents will always judge me as a fussy eater regardless of how big a deal I now don't make about my food! In fact I'm traveling to my grandmothers 90th in a couple of weeks and when chatting to mum on the weekend she suggested: "Now Katie you'll have to have a think about what you're going to eat while you're there… you know how Grans kitchen is."
How Grans kitchen is… is Out Of Bounds!
It's absolutely NOT the place for me to be creating zucchini-hemp-hummus-havoc or kale-and-nutrional-yeast-crisp-deliciousness.
It's cool. The weekend is not about what Kate eats!!!
I'll travel with some cashews, hemp and chia seeds, Vital greens powder and Vegan protein powder and I'll be:
A) Sweet with whatever fresh veg and fruit happens to be available.
B) Super sweet with politely declining the fruit cake, the raspberry jam and cream sponge cake, the gingerbread cake and everything else that I don't need (or want) to be devouring.
My long winded point is, if your current approach to eating is all consuming it can't and won't last.
Your Alternative: As counterintuitive as this may initially sound getting into a routine of planning, shopping for and prepping meals will actually make the whole food process less all consuming. You find what works, for both your normal routine and what works for travel and then you can put it out of your mind and focus on everything more fun that deciding: "What am I going to eat?"
Diet Red Flags #Two: You Can't Workout Or Work Effectively.
This is an absolute guarantee to un-sustainability. Because you need to workout. And you need to work. I'm not the least bit wishy-washy on this one!
The diet that doesn't allow you to workout and work is RUBBISH. 
It actually makes my blood boil to hear of someone breaking their hard won good exercising habits to go on some extreme diet that won't leave them the energy-Discipline-LIFE (!) left to workout.
Do you know what else that diet will leave you without?
Sexy, lean, metabolically active muscle. Muscle is metabolism. It burns fat 24/7 just sitting there and looking hot and you cannot keep your lean muscle (let alone build it) if you're:
A) Eating at a severe caloric deficit or,
B) Not exercising consistency and at a decent intensity.
Your Alternative: There's more to it than simply consuming the food that gives you energy to workout and work efficiently. Equally as important is avoiding the post-workout-CARB-OVERFUEL. This is that crazy-carb-demolish-fest that eradicates all the good work your workout just achieved. It leads to the infamous: Fitter and Fatter.
I cover how to avoid Fitter and Fatter in show #008.
Diet Red Flags #Three: It's Detrimental To The Other Important Aspects Of Your Life.
So we've covered working out and work… what about the other aspects of your life that the wrong diet can impact?
A) Perhaps socially because: You Can't Eat Out.
=> I now know it's not realistic for me to expect the people I spend time with to embark on a mission to find that Primarily-One-Ingredient-Low-Carb-High-Protein-Vego-And-Dairy-Free delicious, substantial meal that I'd most love to eat.
It's also not sustainable to be the one that never eats out.
B) Maybe so far as your relationship / family because: You Have No Room For Compromise / Flexibility.
=> In the same way that every meal out can't revolve around your (or my!) current eating preferences, meals at home need to work for everyone involved too.
This doesn't have to mean multiple completely different meals for YOU, for your partner, for the kids… there is a middle ground – more on that soon.
C) Or simply so far as time because: WOW This Diet Eats Away Sooo Much Time!
=> Preparing raw vegan organic meals from scratch would be a full time job for me. The meals I see online look delicious however I'm 100% not willing to spend the time necessary to bring such creations to life. I struggle to prepare my green smoothies from scratch – in fact half the time I use frozen spinach, kale and berries to save me tedious washing and chopping time!
Your Alternative: Most eating approaches are going to survive a compromise. Better the imperfect approach you stick to right?
So perhaps, like me you don't eat fish at home however you do eat it out because sustainably caught fish does exist and it makes dining out a billion times easier. Maybe, you decide on the series of Go2Meals that go just fine with the addition of meat and quality carbs for those that want them AND are also a meal in themselves for those that want to keep to Vego or Vegan or Gluten free or whatever it may be. Or finally, are there some simple time savers that you can live with?
The frozen smoothie ingredients? A store bought salad here and there? A quality protein shake when you're own the go and don't have easy access to one ingredient food?
Diet Red Flags #Four: You're Thinking (dreaming!) Of The Finish Line Rather Than Long Term Sustainability.
I want to you to love every meal. To dream about your delicious dinner tonight… and look forward to your beautiful breakfast tomorrow… and your luscious lunch too.
And what about cheat meals, special dinners out and Shiraz??!!! 
Whatever food most excites YOU, needs to feature in your regular eating routine. There's such pleasure to be derived from eating I just don't believe it's possible to deprive yourself of that pleasure long term. Of course there's a fine line to negotiate and I'm not advocating filthy-craving-causing-planet-destroying-processed-rubbish!
Your Alternative: It's a combination of first, meal by meal refining the quality of the food you consume so that's it's stuff that both you love and your body loves. I used to love Red Rock potato chips… now I love crispy, salty kale chips. I also used to love 3 sour dough olive bread rolls with ricotta for breakfast 7 days a week… now I love 2 cape-seed rolls with avocado 2 days a week.
The second part of this combo approach is upgrading your focus so far as your food. Making it about more than just the taste. Taste counts for sure, however so do considerations such as: What results does eating this food give me? And How do I feel after eating this food? 
To get actionable today: Was there a diet red flag waving at you throughout the show?
If so, that's todays action step. If not, well then today is actionable free.
That's it for me today. I hope you can join me for the Friday FAQ show. I'm covering my: Weekly Wrap #2.
If you liked this you'll also like: Here's Why You Can't Out Train A Bad Diet.
If you're yet to share the Healthification love – just click here to zip over to iTunes and leave an honest rating and review. It'd help me out big time. With gratitude, Kate.