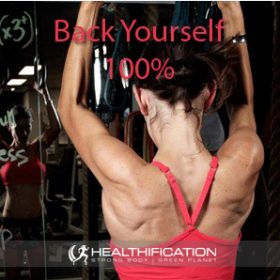 Podcast: Play in new window | Download
Subscribe: RSS
In todays show, Part 8 of my 6 Step System To Silence Self Sabotage I share my Fat Elimination Standards. 
14 non-negotiables – acronym style – that make it easier for me to keep my commitments to myself. That's right, it's all about making it easier on me. Working with my body rather than fighting it. My fav, that I regularly remind myself of is #14: Never Start Making Excuses Because Where Would I Stop?
In fact today as it poured down with rain as I was due to walk home from the gym I reminded myself of standard #14!
(Yes, I got my walk on!)
Aside from helping YOU keep your best eating and exercising commitments to yourself a set of non-negotiable standards which I'll ask you to design in todays show also has the benefit of cutting down on decision fatigue. Potentially, when you're walking home on a miserable wet day and pass multiple cafes promising a comforting almond flat white. Now there's nothing wrong with some delicious liquid gold and almond milk however when you've already demolished your coffee (or 3!) for the day and you know your quota (your standards) it's so much easier to power straight on past that cafe. Or Bakery. Or whatever it may be for you!
The less thinking in those times you're feeling tired, hungry, stressed or sad the better I say! 
Onwards with todays encore episode, 6 Step System To SILENCE SELF SABOTAGE Part 8.
Here are the show notes for the original 307 episode 6 Step System To SILENCE SELF SABOTAGE Part 7:
The Healthification podcast is proudly bought to you by the 30 Day Plant Strong Jumpstart. Over 30 Days create the MINDSET that will make your best #plantstrong choices simple and sustainable.
This 59 page PDF with daily supporting email series shows you how to create a fit, strong, healthy smokin' body while eating Delicious, Nutritious, Healthy Vego or Vegan food. For the 1st 100 people you also get UNLIMITED PERSONAL SUPPORT, motivation and accountability with 30 Days FREE access to the Strong Body Green Planet Community. Essentially you'll have your own vegan health coach for 30 days!
Learn more here:
If you liked this you'll also like: How To Start An Ideal Fat Burning Day.
and, How Do I Reignite My Ideal Fat Burning Day?
If you're yet to share the Healthification love – just click here to zip over to iTunes and leave an honest rating and review. It'd help me out big time. With gratitude, Kate.