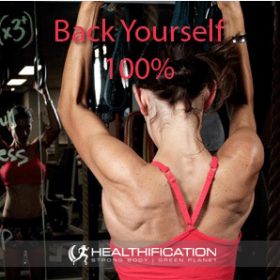 Podcast: Play in new window | Download
Subscribe: RSS
In todays encore episode Part 7 of my 6 Step System To Silence Self Sabotage we cover A LOT so I'll keep this intro short.
The semi-relevant thought top of mind is how success strategy #5 You Must Be Willing To Embrace The Unfamiliar is so hugely applicable to eating healthy, nutritious #plantstrong food.
I cover an effective eating strategy near the end of the show however it's more about the thought process rather than the actual food. So I want to get a little more specific so far as plant based eating before we get rolling…
What if you were to make the switch to plant based and insist on sticking with your same old fav meals or restaurants minus the animal products?
Or give up at your first cooking or new restaurant flop?
That's got to be a strategy doomed to fail right? Burgers without the meat patty. Pizza minus the cheese. Boring iceberg salads and perhaps a charred cob of corn (no butter!) at the family BBQ.
Since going 100% plant based I've embraced food I thought I didn't like such as: curry, coconut and spirulina. I've RE-embraced food I thought was too carbie for years like: potato, fruit and legumes. There's only so much you can not eat right?!! I've gotten slightly uncomfortable in the kitchen and learnt how to make nut cheese, dairy-free pesto, and high protein plant based burgers. I still haven't nailed an egg free omelette though! I've absolutely enjoyed unfamiliar cooking / preparation methods for certain foods such as roast broccoli, BBQ'd brussels and zucchini in my smoothies. I've heard that green love is a winner in oats too!
Here's to getting comfortable with the unfamiliar!
Onwards with todays encore episode,
6 Step System To SILENCE SELF SABOTAGE Part 7.
Here are the show notes for the original 306 episode 6 Step System To SILENCE SELF SABOTAGE Part 7:
The Healthification podcast is proudly bought to you by the 30 Day Plant Strong Jumpstart. Over 30 Days create the MINDSET that will make your best #plantstrong choices simple and sustainable.
This 59 page PDF with daily supporting email series shows you how to create a fit, strong, healthy smokin' body while eating Delicious, Nutritious, Healthy Vego or Vegan food. For the 1st 100 people you also get UNLIMITED PERSONAL SUPPORT, motivation and accountability with 30 Days FREE access to the Strong Body Green Planet Community. Essentially you'll have your own vegan health coach for 30 days!
Learn more here:
If you liked this you'll also like: How Certainty In Yourself Helps Beat Weight Loss Overwhelm.
If you're yet to share the Healthification love – just click here to zip over to iTunes and leave an honest rating and review. It'd help me out big time. With gratitude, Kate.