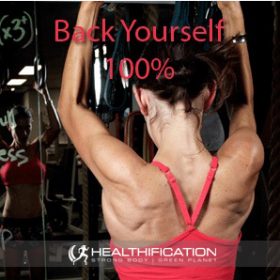 Podcast: Play in new window | Download
Subscribe: RSS
In todays encore episode, Part 6 of my 6 Step System To Silence Self Sabotage we dig in with a strategy that is super near and dear to the control freak in me. Had you guessed I'm a bit of a control freak? It has it's benefits and for sure, also it's drawbacks. 
At school, Uni and even in business I'm not so great at working on a project as a group effort. Letting someone else near my work is torturous. I can either outsource the job completely… or not at all. Now the negative interpretation might be that I'm not a team player. And maybe that's true as I've never enjoyed team sports. The upside is that wanting 100% responsibility gives me (and YOU) 100% control.  
If I'm 100% responsible for my results then I'm not at the mercy of anyone else's effort or lack there of. I win, lose or just learn by virtue of my hard work. To me that is freeing. Whether accepting 100% responsibility for your results sounds exhausting or freeing to you I guarantee that it'll save you a whole heap of wasted time, energy and money.
Here are just a couple of examples applicable to creating a fit, healthy, plant strong body:
Accepting 100% responsibility for the time you have in a day means you get to stop making the "no time" excuse and prioritise some non-negotiable, set, daily and weekly blocks of time for food preparation and exercise.
Accepting 100% responsibility for the fuel you feed your body means you get to stop eating the fastest, cheapest, most accessible proceeded crap that is offered to you at work functions or social events. It certainly means you get to stop buying that rubbish for yourself. It even means you get to politely decline the crap-o-la that isn't aligned with your goal when your mum, aunty or whoever bakes it "just for you!"
Onwards with today's encore episode,
6 Step System To SILENCE SELF SABOTAGE Part 6.
Here are the show notes for the original 305 episode 6 Step System To SILENCE SELF SABOTAGE Part 6:
The Healthification podcast is proudly bought to you by the 30 Day Plant Strong Jumpstart. Over 30 Days create the MINDSET that will make your best #plantstrong choices simple and sustainable.
This 59 page PDF with daily supporting email series shows you how to create a fit, strong, healthy smokin' body while eating Delicious, Nutritious, Healthy Vego or Vegan food. For the 1st 100 people you also get UNLIMITED PERSONAL SUPPORT, motivation and accountability with 30 Days FREE access to the Strong Body Green Planet Community. Essentially you'll have your own vegan health coach for 30 days!
Learn more here:
If you liked this you'll also like: 6 Core Needs:
If you're yet to share the Healthification love – just click here to zip over to iTunes and leave an honest rating and review. It'd help me out big time. With gratitude, Kate.