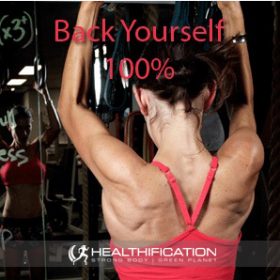 Podcast: Play in new window | Download
Subscribe: RSS
Near the end of todays show, Part 5 of my 6 Step System To Silence Self Sabotage I share a simple exercise: let's call it 'the puppy dog exercise' (!) to determine where you're currently focusing most of your energy.
The things that as such, at an unconscious level, you'll be filtering even more of into your life.It's a useful little reality check. To see if the things you're saying Yes too – by focusing on – are really worthy of your Yes's, your time, your energy.
One of the classic self sabotage techniques I see play out in lovely generous, caring people who are not yet at their goal level of health is a tendency to say Yes to others and in doing so say NO to themselves and their goals.
Now I'm not advocating an attitude of stubborn, steadfast selfishness. I do like this exercise though to draw your attention to the volition it is absolutely 100% necessary to apply to your focus. It's about choosing your focus. And sometimes your focus might be to lie on the couch chillaxing! That's totally cool – as long as that decision was made with volition rather than mindlessly meandered into.
If I make choosing your focus sound easier that it is I've done a whole show on 5 steps to find your focus!
Onwards with todays encore episode,
6 Step System To SILENCE SELF SABOTAGE Part 5.
Here are the show notes for the original 304 episode 6 Step System To SILENCE SELF SABOTAGE Part 5:
The Healthification podcast is proudly bought to you by the 30 Day Plant Strong Jumpstart. Over 30 Days create the MINDSET that will make your best #plantstrong choices simple and sustainable.
This 59 page PDF with daily supporting email series shows you how to create a fit, strong, healthy smokin' body while eating Delicious, Nutritious, Healthy Vego or Vegan food. For the 1st 100 people you also get UNLIMITED PERSONAL SUPPORT, motivation and accountability with 30 Days FREE access to the Strong Body Green Planet Community. Essentially you'll have your own vegan health coach for 30 days!
Learn more here:
If you liked this you'll also like: Setting yourself up to dominate the fat loss discipline game.
If you're yet to share the Healthification love – just click here to zip over to iTunes and leave an honest rating and review. It'd help me out big time. With gratitude, Kate.