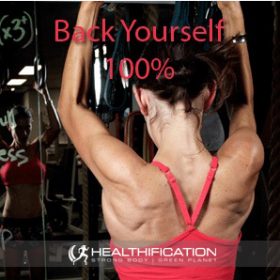 Podcast: Play in new window | Download
Subscribe: RSS
Regularly my clients ask me how I manage to stay so focused on taking the best actions to stay fit and healthy.
They'll declare, "You're lucky you have so much discipline" or "You're lucky you don't like food" or (you guessed it!) "You're lucky you love exercise so much!" 
The reality is that I have no more discipline than anyone else. I have at least as much supreme food love as any one I've met. And, I'm an absolute NON natural athlete who has grown to love exercise because I choose to.
In todays show, Part 4 of my 6 Step System To Silence Self Sabotage I'll share what makes it comparatively easy for me to stay so focused on taking those best eating and exercising actions whether I feel like it or not.
Todays show is about Alignment. Or put another way: living congruently. It's not a quick fix. Though nothing that ever works long term is right?
So bare with me as the work you've already done in the past 3 shows starts to pay off.
It's time to break free of your "Will I, or won't I?" self negotiation.
=> Will I make my scheduled walk – in the wind and rain – happen this morning?
=> Will I be the odd one out NOT gobbling those golden and crispy hot chips that race straight to my hips and thighs?
=> Will I get up 5 minutes earlier to prepare an awesome plant based breakfast?
The decision making process is eliminated. You simply do the do because that gets you the result.
Onwards with todays encore episode, 6 Step System To SILENCE SELF SABOTAGE Part 4.
Here are the show notes for the original 303 episode 6 Step System To SILENCE SELF SABOTAGE Part 4:
The Healthification podcast is proudly bought to you by the 30 Day Plant Strong Jumpstart. Over 30 Days create the MINDSET that will make your best #plantstrong choices simple and sustainable.
This 59 page PDF with daily supporting email series shows you how to create a fit, strong, healthy smokin' body while eating Delicious, Nutritious, Healthy Vego or Vegan food. For the 1st 100 people you also get UNLIMITED PERSONAL SUPPORT, motivation and accountability with 30 Days FREE access to the Strong Body Green Planet Community. Essentially you'll have your own vegan health coach for 30 days!
Learn more here:
If you liked 6 Step System To Silence Self Sabotage (part 4) you'll also like: How to use your Identity Beliefs to Fuel Your Fat Loss.
If you're yet to share the Healthification love – just click here to zip over to iTunes and leave an honest rating and review. It'd help me out big time. With gratitude, Kate.