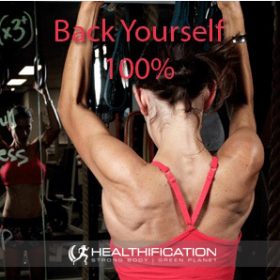 Podcast: Play in new window | Download
Subscribe: RSS
In todays encore show, Part 3 of my 6 Step System To SILENCE SELF SABOTAGE I discuss the power of language (especially your self talk) to shape your reality. 
Regularly I feel frustrated for my clients as they choose the language that makes it harder to achieve their goals. Focusing on the lack. The struggle. The UN-fun.
I'll get strategic on what to do instead as we power into the episode however I do want to emphasize that sometimes it's important to first acknowledge the emotions that come up for you with automatic negative thoughts and language rather than just block those feelings or try to mask them with disingenuous happy thoughts!
I know this from painful personal experience. Blocking feelings that need dealing with is not useful. Equally wallowing in negative thoughts is a guaranteed strategy to feel hopeless, helpless and overwhelmed.
A deceptively simple tactic I've been using recently is: The 5 Second Rule. (credit to Mel Robbins for this bit of Gold!)
Mel describes the rule along the lines of a rocket launch. A count-down. From that automatic negative thought or self talk to the 5-4-3-2-1
seconds you have to either reframe the thought or take the action.
For example:
The alarm goes off and you have 5-4-3-2-1 to Get Out Of Bed! No time for any reasoning yourself out of it.
Personally I find the 5 second rule most useful to help enforce better thoughts and better language rather than taking more beneficial actions. Here's how it plays out:
First step is being aware of the negative thought or language.
Next step is to craft the more beneficial thought or language. This is the bit where you acknowledge / even express gratitude if necessary for the emotion behind the thought and craft your response accordingly. So (to get a little personal!) when I would get that annoying jolt of envy at someone else's hard fought for success… I crafted this response: "Thank you. I'm grateful for the inspiration you provide and each day I'll take the steps that will allow me to achieve the same success I admire in you."
Finally, each time that old destructive thought tries to rear it's ugly head you guessed it… 5-4-3-2-1 TAKE OFF with the better thought!
I hope you find the second rule as useful as I have.
Onwards with todays encore episode,
6 Step System To SILENCE SELF SABOTAGE Part 3.
Here are the show notes for the original 302 episode 6 Step System To SILENCE SELF SABOTAGE Part 3:
The Healthification podcast is proudly bought to you by the 30 Day Plant Strong Jumpstart. Over 30 Days create the MINDSET that will make your best #plantstrong choices simple and sustainable.
This 59 page PDF with daily supporting email series shows you how to create a fit, strong, healthy smokin' body while eating Delicious, Nutritious, Healthy Vego or Vegan food. For the 1st 100 people you also get UNLIMITED PERSONAL SUPPORT, motivation and accountability with 30 Days FREE access to the Strong Body Green Planet Community. Essentially you'll have your own vegan health coach for 30 days!
Learn more here:
If you liked this you'll also like: 6 Steps To Drag Yourself Out Of A Rut.
If you're yet to share the Healthification love – just click here to zip over to iTunes and leave an honest rating and review. It'd help me out big time. With gratitude, Kate.