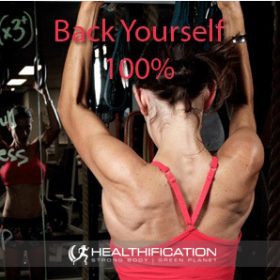 Podcast: Play in new window | Download
Subscribe: RSS
In last weeks encore show, Part 1 of my 6 Step System To SILENCE SELF SABOTAGE I shared that the steps I out-lined years ago still hold true. The only difference is my strategies around fuel have changed. I'm going to talk a lot about focus in todays encore show. I often call it the number law of fat loss or body gain OR creating a fit, healthy #plantstrong body you love! 
I'll also give a shout out to one of my most fav mind games to play with myself in order to see a situation in a more beneficial way. Or to encourage myself to take the more beneficial action. And that is… the reframe. 
Here are just a few fuel related ways to use focus and the reframe to your advantage every single day:
Focus first on what you're giving your body. The health and energy giving micronutrients that leave you satisfied yet without pesky cravings or insidious guilt.
When you see that old food you used to eat. The one you know is not good for your body, your health, the animals or the planet… reframe that first impulsive, taste and short term gratification based thought perhaps along the lines of: "Delicious, indulgent, hearty, burger and fries" to an equally emotive thought that compels you to walk right past the burger joint. Non-negotiable. Possibly: "Disgusting   dead flesh of a tortured animal" or if that's a little heavy maybe: "Artery clogging demolish fest that'll taste good for a minute or two and then leave you feeling guilty, lethargic, weak-willed and even further from squeezing into your fav jeans"
Focus on how every single delicious, nutritious meal makes the next delicious, nutritious meal the easier choice to make.
Reframe that slight slip up you just had from "It's game over – I obviously just don't want it enough – what's the point!" to "This is my chance to prove just how quickly I can get back on track with my eating – from this very next meal – and what strategies do I need to put in place to ensure this type of slip up does not happen again?"
Of course it's a matter of choosing the focus and the reframes that resonate best with you however there will be a winning focus and beneficial reframe for any situation. The potential is limitless.
Onwards with todays encore episode,
6 Step System To SILENCE SELF SABOTAGE Part 2.
Here are the show notes for the original 301 episode 6 Step System To SILENCE SELF SABOTAGE Part 2:
The Healthification podcast is proudly bought to you by the 30 Day Plant Strong Jumpstart. Over 30 Days create the MINDSET that will make your best #plantstrong choices simple and sustainable.
This 59 page PDF with daily supporting email series shows you how to create a fit, strong, healthy smokin' body while eating Delicious, Nutritious, Healthy Vego or Vegan food. For the 1st 100 people you also get UNLIMITED PERSONAL SUPPORT, motivation and accountability with 30 Days FREE access to the Strong Body Green Planet Community. Essentially you'll have your own vegan health coach for 30 days!
Learn more here:
If you liked this you'll also like: 5 Common Mistakes Vegetarians Make For Fat Loss.
If you're yet to share the Healthification love – just click here to zip over to iTunes and leave an honest rating and review. It'd help me out big time. With gratitude, Kate.