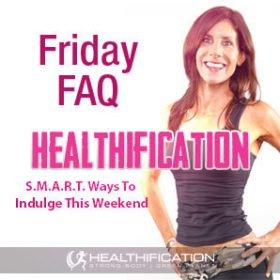 Podcast: Play in new window | Download
Subscribe: RSS
Every since my first job as the piano bar chick in a silver service Italian restaurant… through my years fund-raising for Not for Profits and now coming up to 10 years in personal training and online body gain I've never worked the standard Monday to Friday. Like not once.
It has it's advantages…
In my late teens and early 20's it was pretty convenient having the girls – on mass – come to meet me at the restaurant for some Saturday night pre drinks drinks…
Working Sunday – Thursdays in fund-rasing I always felt like I was getting a head start on my week… I was a day in while my friends were still anticipating the Monday-i-tis to come tomorrow…
I think I still chase that head start getting up at 4 or 4.30am whether I have an early client or not now.
The secret hidden advantage is that I never got into that totally-off-my-diet-and-exercise-because-It's-The-Weekend trap!
The number of times I hear "But it's the weekend!"
With love and respect, because I do from time to time hear it from my dear friends who also happen to be clients (!) "But it's the weekend!" is invalid.
In todays FAQ show I'm sharing: Smart Ways To Indulge This Weekend.
For fun and also because I love's acronym's I'm going to cover your best body weekend indulging in 5 steps that conveniently make up S.M.A.R.T.
1. S.chedule a Weekend Cheat Meal.
This is the meal to enjoy guilt free the things that absolutely do not fit into your best eating guidelines.
While maybe you can stick to a square or two of dark chocolate each night – devouring a whole bar of dairy (or my fav white chocolate) with a burger and fries is very much the type of meal to only enjoy once a week.
The cheat meal not only resets your metabolism by re-storing fat burning hormone leptin levels to base-line just as importantly it resets your emotional focus because you know you can count on it every single week. You're only ever a few days away from cheat meal day.
2. M.ost Favourite Treat.
Beyond the glorious cheat meal I am a fan of relaxing your eating guidelines a little on the weekend. One of the ways to make this work is stick to only the best of the best…. your most favourite food in any category.
If you decide you'll eat a little bread and dairy on the weekend, they are my guidelines, however insert whatever your choice is… then that does not mean a free-for-all-binge-fest of everything and anything.
If I was a cake girl, I'd go with only my fav – that's carrot. Or so far as bread, it's going to be something pretty gorgeous not some rubbish bland and boring white-mass-made-crap-o-la.
3. A.lcohol.
It had to factor on the weekend right? Actually it factors during the week for me as well. If you really enjoy a drink then choose your fav – best case scenario that's a couple of red wines or spirits with zero carb mixer – and consume it with a generous meal of quality protein, fibrous veg and some good fat.
The quality alcohol you consume in moderation with quality food is not going to hinder your body gain goal… danger time is when you combine excessive drinking with poor food choices.
4. R.eal Food.
The one ingredient approach is just as important on the weekend. It's likely even easier if you're less rushed. One ingredient is all about quality, natural – you might say indulgent – food.
Food that's satisfying and nourishing rather than craving causing, body bloating, cheap and crap-o-la.
5. T.ake Responsibility.
Let's cut to the chase. You know when your weekend behaviour is derailing the hard work and focus you've put into your week.
I've certainly been there.
=> I knew that skipping dinner and drinking my calories (via vodka+orange or Kamikaze or Horney Monkey shakers!) each Friday and Saturday night was not quality fuel for my body. It was fun at 20 and if I'm honest, way back then FUN was likely my number one priority and I was happy for it to take priority over pretty much every thing else.
=> I knew that a falafel kebab and hot chips was not the ideal fuel to finish off a massive 2-4-1-drinks night-out with the work crew every single Thursday night… however it was a choice I made repeatedly in my mid 20's.
=> Now I know that a (generous!) limit to the beverages I consume, a commitment to quality fuel regardless of whether I'm drinking or not AND the non-negotiable Glorious Cheat Meal each Sunday is what works for me in my 30's.
I guess it's a matter of deciding what is most important right now?
Indulge is subjective however I believe you can indulge each weekend with these S.M.A.R.T. steps without derailing the progress you made during the week.
To get actionable today let's roll with Step 5.
Thats, Take Responsibility. Is there a food or drinking habit that you've been waving through to derail your progress with the "But it's the weekend!" flag?
I'd love to hear it – and I'd love to hear what you're going to do instead – you can let me now via the comments below.
That's it for another week in Healthification.
If you know someone who'd benefit from these short actionable shows please share Healthification with them. I'd really appreciate it. HUGE thank you.
If you liked this you'll also like:  Why NOT Being Genetically Gifted Is A Weight Loss Advantage.
If you're yet to share the Healthification love – just click here to zip over to iTunes and leave an honest rating and review. It'd help me out big time. With gratitude, Kate.