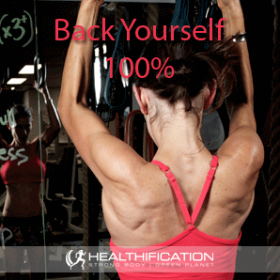 Podcast: Play in new window | Download
Subscribe: RSS
For around 12 months before I commited to becoming a personal trainer I dabbled in a few hours study here and there. I completed the course but didn't sit the practical. I loved the idea of spending my days helping people create the body they felt most confident and congruent in… I loved the idea of hanging out with other fit, passionate people rather than stuck clock-watching behind a desk in an overly air-conditioned office.
However I wasn't ready to give up the secure weekly pay check, the holiday pay, the bonuses.
I wasn't utterly and completely commited. I wasn't ready to Lean In… and as such I never made much progress. In today's show I'm sharing: Why you need to lean in and commit 100% to your goal.
Thankfully the point came, the burn your bridges – no going back point – where I decided I was 100% commited. For me this was when management wrongly accused my loyal team members of thief.
Management lost my respect and trust in an instant and I handed in my notice the next day.
Your burn the bridges point may be less extreme. Perhaps you don't need to quit your job of 5 years, leave your flat of 3 years and move states as I did… however you do need to DECIDE.
Here are 3 steps that reflect you've decided it's time to lean in and commit 100% to achieving your goal:
Step one: Get rid of the stuff that is part of your old life and old habits.
=> If you're not going back there's no need for it.
I'm astounded by how often someone will tell me they are commited to eating the quality food that will build their best fit, lean, energized body and yet they still keep the fake, processed crap-o-la food at home.
Or hold on to their fat clothes, just incase… you're NOT going back, you don't need them!
Or constantly test their will-power with old habits… like pizza night or cheap cocktails or buffets.
Or continue to use unhelpful language… there's no room for TRY, TEST IT OUT, or TRIAL.
When you're not going back, there's only room for Yoda DO!
Step two: Get accountable. (this one is underestimated!)
=> The only reason you're not going to share your goal with those closest to you is if you think you might not achieve it. 
That you might give up. That you'll look like a failure. There is no room for that type of thinking.
It's like when you break up and get back together with your ex so many times that you stop telling your friends you're back together! You're embarrassed, you know it'll just be a matter of time before you break up again, you're not 100% commited you're just falling back into what you know because break ups are tough.
If you're really, 100% committed to that fit, healthy body then you're breaking up with rubbish refined food and skipped exercise sessions for good. Yes it'll be tough to start however it's only going to get even tougher with time.
So share your goal today and get the people who care about you most on your fat blasting team!
Step three: Get ready (and get willing to find a way) to enjoy the journey.
Regardless of how committed you are, achieving your goal is likely going to take longer than you would love.
=> Focusing solely on the end result – that at times will seem impossibly distant – is going to be struggle-street. 
The alternative is to make yourself aware of everything that is awesome about the journey.
It's there if you look for it.
=> Perhaps thinking of 3 things each night that went well today.
=> Certainly choosing the language that makes the journey more enjoyable. It's amazing how something as simple as switching from the pressure filled:
"I have to do my interval training" or "I must eat salad for dinner" to the possibility filled:
"I can do…" or "I'm choosing to eat…" is so much more enjoyable.
=> Maybe regularly checking in and acknowledging the progress you've made from this time last year? Month? Week?
Final consideration, leaning in starts TODAY.
Like the sign at the pub "free beer tomorrow" …I've never seen it however I reckon there's a fair chance I'd fall for it… anyway, my point is that once you DECIDE, then it's time to take that next 100% committed action TODAY.
It's actually less scary and more enjoyable when you decide to lean in. That may seem counter-intuitive however:
A). You get to let go of all the dauntingly, overwhelming limitless options that sound great yet in reality are more likely to lead to zero action.
B). You attach a level of happiness and enjoyment to the attainment of the goal you're leaning in to. Progress becomes intoxicating.
To make today actionable let's return to step one.
That's the stuff that you may still be hanging on to when really you know: if you're not going back there's no need for it.
The food, the clothes, the will-power tempting habits, the language… if you're 100% ready to lean in and commit to achieving your goal it's time to evict this stuff from your life.
One eviction from that list is all I'm asking of you today.
I'll finish todays show with a quote from Jean-Paul Sarte, "Commitment is an act, not a word".
If you liked this you'll also like: Consistency for Fat Loss v. Lean & Cut to Swallowed a Sheep!
If you're yet to share the Healthification love – just click here to zip over to iTunes and leave an honest rating and review. It'd help me out big time. With gratitude, Kate.