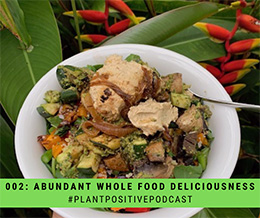 Podcast (plantpositivepodcast): Play in new window | Download
Subscribe: RSS
Welcome to Plant Positive!
I'm so happy to be here with you!
Today we'll chat training tips, self care, good news stories (this week they are especially exciting!) plus plenty of eating and exercising inspiration and motivation. My intention is to share with you how simple, sustainable and of course DELICIOUS a #plantstrong lifestyle can be.
First up let's touch briefly on the amazing power of your beliefs. In Plant Positive 001 I shared that, what you focus on expands. Further to that, you will filter in evidence to support your current beliefs and filter out evidence that does not support your beliefs.
For example: For a number of years I held tight to the belief that all cardio was either punishingly boring and time consuming or impossibly hard and exhausting. When I questioned that belief it really did seem to be a little extreme. Perhaps even an excuse to conveniently give myself an avoid hard cardio at all costs card.
Equally, I had a belief that plant based meals were boring, bland and restrictive. You can imagine that belief does not make it easy for anyone when first deciding to adopt a vegan lifestyle.
Thankfully you can absolutely take back control of the beliefs that are not working for you.
A couple of useful questions to ask yourself:
=> "When did I decide to believe that?" And,
=> "What evidence do I have to support that?"
Once you've questioned the validity of any current beliefs that do not make it easier to do the things you know you need to do to achieve any goal or lifestyle change, the next step is to: Search for proof to support more sustainable / effective beliefs. This of course is the perfect time for me to shout out some amazing vegan chefs! Check out:
The Happy Pear for deliciousness like, Sticky BBQ Mushroom Rib Burger:
AvanteGardeVegan for High Protein Vegan Meal Prep:
And, Pick Up Limes for Chocolate Chip Caramel Skillet Cookie:
I could of course go on and on however I'll have you linked up to these accounts and the specific recipes in the show notes via strongbodygreenplanet.com simply search Plant Positive 002.
Now to be fair, I look at deliciousness online A LOT more than I actually try new recipes. I'm pretty lazy in the kitchen. Generally I'll just drool over something and wish someone else could make it for me!! For my fellow non-chefs, or perhaps for you if you're super pressed for time I have 10 Tips To Make Adopting A Vegan Lifestyle Easy (we covered tip one in Plant Positive 001 and the complete 10 are available as a beautiful free PDF below!) Today let's dig in with tip two.
Two: Prioritise One Ingredient Whole Foods. 
Try some foods / meals you might not have loved as a kid as your tastebuds and cooking ability (thankfully!) changes. Meat / Dairy substitutes can be useful however don't make them the main event.
To get a little actionable: Think of your fav #plantstrong protein to build breakfast, lunch and dinner around.
Maybe tofu scramble at breakfast?
Chickpea hummus at lunch.
Lentil shepherds pie at dinner.
Tofu Scramble is one of my HUGE cooking wins of the past year. It even converted my dear mum (who is coming up on 2 years plant based yet thought she hated tofu) and (to my shock and glee!) my ultra animal product loving dad. I'll include my tofu scramble recipe in the show notes, though there are so many others online.
[RECIPE] Tofu Scramble with Crispy Baked Smashed Potatoes. 
This recipe is an adaption from https://minimalistbaker.com (serves 2)
Scramble:
225 grams extra-firm tofu
1 Tbsp olive oil
1/4 red onion (thinly sliced) + 1 cup Swiss brown mushrooms (thinly sliced) + 2 cups spinach
Sauce:
1/2 tsp sea salt + 1/2 tsp garlic powder + 1/2 tsp ground cumin + 1/4 tsp smoked paprika + 1/4 tsp turmeric + 1 heaped Tbsp nutritional yeast  + Water (to thin)
For serving: (optional)
2 medium – large potatoes (I like red skinned potatoes)
1 Tbsp olive oil + salt and pepper
1/2-1 bunch of asparagus
A handful of multi-coloured baby tomatoes
Fresh coriander
To make crispy baked smashed potatoes: Preheat oven to 200 degrees celsius. Boil potatoes in salted water till easily smash-able with a fork. Smash with fork, keeping skin side down. Drizzle generously with olive oiled season with salt and pepper. Bake till crispy around 20-30 minutes.
Pat tofu dry and roll in a clean, paper towel with something heavy on top, such as a cast-iron skil- let, for 15 minutes.
While tofu is draining, prepare sauce by adding dry spices to a small bowl and adding enough wa- ter to make a pourable sauce. Set aside.
Prep veggies and warm a large skillet over medium heat. Once hot, add olive oil and the onion and mushroom. Season with salt and pepper and stir. Cook until softened – about 5 minutes.
 Add spinach, season with a bit more salt and pepper, and cover to steam for 2 minutes.
In the mean<me, unwrap tofu and use a fork to crumble into bite-sized pieces.
Use a spatula to move the veggies to one side of the pan and add tofu. Sauté for 2 minutes, then add sauce, pouring it mostly over the tofu and a little over the veggies. Stir immediately, evenly distributing the sauce. Cook for another 5-7 minutes until tofu is slightly browned.
Serve immediately with the crispy potatoes, asparagus, tomato and fresh coriander.
Still on the notion of prioritising one ingredient whole foods is there a fruit or veggie you either didn't like as a child, have never tried or perhaps demonised because of it's carb content that you could re-introduce?
Maybe you serve that tofu scramble over crispy baked, smashed potatoes? I really, HUGELY recommend you do!
Or protein pimp your chickpea hummus with the ever versatile and omega 3 rich hemp seeds.
Perhaps you add some hearty and flavourful dried porcini or shiitake mushies to your lentil shepherds pie. There's so much variety becoming available both fresh and dried.
Of course one ingredient whole foods is not doable 100% of the time. However 80% of the time or 80% of your food is going to get you awesome results!
Regarding the one ingredient approach, here are 3 immediate benefits you'll enjoy: 
You get to eat more. Pretty much as much as you want. A big, colourful feast that's appealing to your stomachs eye!
You'll feel satisfied and if you want to, full. I've never been a fan of that whole don't eat until you're full approach. Yes, I want to have a tonne of energy however sometimes I also really do just want to devour a massive meal! The mix of filling fibrous veg and satisfying #plantstrong protein and good fat will leave you satisfied and happy.
Those annoying cravings that used to stalk your every thought when you were stuck on the addictive fake food cycle will disappear.  The reason for this is two-fold.
One: Those fake foods are manufactured to addict you. Millions of dollars are spent on finding the prefect mix of fatty, salty and sweet to make it near impossible to stop once you start eating them.
Two: Your body is craving the micro-nutrients you are missing when you consume fake foods at the expense of one ingredient foods. More fake food will only feed the cycle not fix your craving.
Let move on to a couple of Good News Stories I'm so excited to share:
=> First from Veg News: Brooklyn's Vegan President Eric Adams Is Officially Running For New York City Mayor.
After a major health scare in 2016, Eric Adams went vegan and has since used his platform to help fellow New Yorkers gain control of their health through several initiatives, including spearheading a plant-based medicine program within the city's largest medical system NYC Health + Hospitals/Bellevue. Eric also worked with current NYC mayor, Bill de Blasio, to implement Meatless Mondays at 15 schools in Brooklyn, a program the mayor expanded to all 1,700 NYC public schools last March.
During the COVID-19 pandemic, Eric has continued his commitment to public service by helping to hand out plant-based meals to those in need and creating a public service announcement—with the help of 40 medical professionals—to encourage New Yorkers of colour (who are disproportionately affected by the COVID-19 pandemic) to go vegan.
You can hear my recent conversation with Eric in E709 of The Healthification Podcast.
=> Next from Plant Based News: Beyond Meat Launches Vegan Pork Products In China.
I find this so exciting even though the beyond burger is not something I've ever tried or have any huge desire to try. I'm not the market for such meat alternatives. People currently still consuming animal products are the market and China is the world's largest consumer of pork per capita.
Beyond Meat's move into China comes as the country is reported to be focussing on improving food security following the outbreak of COVID-19.
Starbucks sites across the country launched the brand's vegan-meat products earlier this year and partnerships with fast-food giants KFC, McDonald's and Pizza Hut have shown high demand for Beyond Meat from Chinese consumers.
Beyond Meat's shares and sales have skyrocketed this year, causing the company to open its first manufacturing facility outside of the U.S, with a facility in the Netherlands due to open in 2021.
As much as I advocate a whole food plant based approach to getting plant positive, for the consumers currently eating meat, dairy, fish and egg based processed fast food, access to animal free alternatives that taste and cost the same or better is a huge leap forward.
Let's talk exercising action though actually the 7 Solutions When You Just Feel Like Quitting I want to share with you are absolutely applicable to ANYTHING.
A little context before we power on. The toughest, most frustrating approach to exercise is a Stop : Start inconsistent approach. It means you get to keep repeating the hardest "beginning" part and you never get to enjoy the motivating "results" part. With that in mind, here's what to do instead:
Focus on how far you've come rather than how far you have to go.
Make a habit of this. Of consciously stopping and acknowledging the process you've made at regular intervals rather than always madly pushing for the next goal. I'm not only referring to the visual or tangible progress. It's also about the attitude, knowledge and habits you're creating that you'll have for the rest of your life.
Ask for and graciously accept support.
When everything comes down to you it can feel a little overwhelming. However, in the same way that I imagine it gives you pleasure to be able to help someone close to you achieve an important goal, other people will be happy to support you. Often it's a greater strength being able to put up your hand and ask for help rather than muscling through on your own and potentially reaching your breaking point rather than your goal.
Recharge with a mini break.
Sometimes I get caught up in the push where I'm so head down tail up that,
It can seem like life is just flying by without me.
My actions are getting less efficient and less effective.
I'm no longer such a fan of the axe analogy… however maybe hours of tedious moderate intensity cardio and punishingly restrictive low fat processed food is your blunt axe? To sharpen the axe, swap to weights and short interval training and fuel your body with generous amounts of fibrous veg, #plantstrong protein and good fats.
Look at obstacles others have overcome and be inspired.
This is where it's time to choose your thoughts and beliefs with volition. There's no value in focusing how anyone may have had it easier in you. That type of poor me thinking will make you want to quit. Instead focus on reasons why you can achieve success by doing as they have.
Cultivate the belief: If someone can do it – anyone can do it.
The anti-mentor. 
This is that person you really don't want to be. The QUITER. The unfit, unmotivated, weak and sluggish person. I'm sure you have one in mind. They are just as valuable as that mentor who inspires you and who is the perfect role model. In this instance you are simply doing the opposite of what they do, motivated to not get their results and not lead their life.
Picture that thing you felt like giving up on in the past – and didn't – and remember just how awesome it felt to master that skill.
Perhaps learning a language, an instrument, a sport? If you've done it before you can do it again… and whether you choose to quit or choose to continue you're going to strengthen your ability to do either. So the compelling choice is to strengthen your ability to continue.
In support of all else remind yourself exactly WHY you are doing this?
Focus on the results and the experiences achieving your goal will allow you to enjoy in the future.
Ask yourself, For what purpose do I want this?
And, What will this mean to me and to those I love and to our ideal life?
Let's finish todays show with a little Self Care which is also this weeks time of the actionable!
It's worth considering, Who brings out your best qualities? You know that person who you feel rejuvenated after spending time with. Hopefully the feeling is mutual and you bring out the best in each other.
Can you take five minutes right now to schedule time with them? That might be a physical catch up or it might be virtual.
Conversely, it's also worth considering, Who brings out your worst qualities? The individual you feel exhausted spending time with. Perhaps the client that eats away at your daily discipline quote.
Can you take another five minutes to brainstorm how to spend less time with them? 
That's it for today in Plant Positive. I'd super appreciate hearing from you if you have any feedback. Is there anything you'd like more or less of? I'm here to support you and I'm super open to any constructive criticism as to how I can get better at doing that. You can reach me via kate@strongbodygreenplanet.com or @strongbodygreenplanet across the socials.
If you found even a little seed of value in this episode then please share the love with a friend or family member that needs to hear it. It's quick to share and it'll mean a lot to your loved one and so much to me.
Finally, please stay tuned for a quick snippet from a super inspiring episode of the Healthification podcast – that's my interview style show where I have conversations with amazing athletes, activists, authors and generally passionate and compassionate individuals! Today my chat with: with the Gut Health MD, Will Bulsiewicz who shows us How To Become Gut Healthy Through A Plant Based, Fiber Rich Diet.
Plant Positive was proudly bought to you by: Energybits.
I was merely a causal Spirulina consumer prior to chatting with Energybits Founder Catharine Arnston who has spent the last ten years educating consumers and wellness professionals about algae. Now I'm a huge fan of this cultivated one ingredient power algae known for aiding performance and energy. I'm an even bigger fan of the lessor known algae on the block, Chlorella.
US customers can purchase Energybits online and use the code "Healthification" for 20% off.
Check out: www.strongbodygreenplanet/deals/ to find all the sponsors of this show listed on one page. Again, that's www.strongbodygreenplanet/deals/.
With love and compassion plant friends.
If you liked "Abundant Whole Food Deliciousness and 7 Solutions If You Feel Like Quitting" you'll also like E667: What I Eat In A Day To Stay Plant Strong and Lean. (2020 Vegan Food Upgrades)