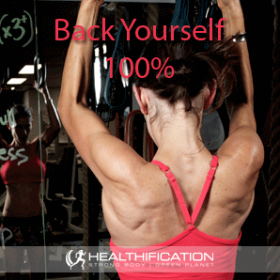 Podcast: Play in new window | Download
Subscribe: RSS
One of the weight loss myths that I subscribed to my first 6 or so years as a personal trainer was eating frequency – specifically the absolute necessity in eating 5-6 smaller meals a day.
In hight-sight, insisting someone ate 6 almonds for morning tea was ridiculous.
I now believe frequency is less important and in fact 5-6 meals a day can be fairly treacherous territory.
In todays show I'm covering the FAQ: Do I Need To Eat 5-6 Smaller Meals A Day?
Eating frequency is a topic where I believe there is no right or wrong.
It's more about recognising your personal response to each side of the 2-3 meal or 5-6 meal approach and then going with the one that leaves you in the best shape not just physically but also emotionally and so far as your energy.
I never thought I could survive on 3 meals a day and then I started eating bigger and more satisfying meals.
I cut the light-weight-processed-diet-crap-o-la and allowed fat back into my diet.
Yes, I banished most fat from my diet for many years however eventually I tentatively started introducing things like nuts, avocado AND OIL back into my meals. And, what do you know – fat didn't make me fat!
I know good fats in moderation won't make you fat either.
I also significantly increased the high quality protein like eggs…and then later fish (this little vego had an excessive reliance on protein shakes and bars for years) and fibrous veg in my meals.
The vast majority of people I meet who are not yet happy with their body shape could really benefit from eating more satisfying-muscle-fuelling protein and filling-nutritious-fibrous veg. 
Back to YOU and to go the 2-3 or the 5-6 meal approach?
Ideally you will eat when you're hungry – and Yes, you should absolutely get hungry – however if possible eat before you get to crazy-outta-control ravenous.
Obviously this isn't always possible… I'm often irrationally hungry by the time I get to eat lunch however I've set the house up to out-smart Hangry Kate and there is nothing too detrimental within reach.
Here a a couple of feeding styles that perhaps you can relate to…
The Grazer v. The Demolisher.
Have you met the person that just seems to be constantly nibbling away without ever eating much at all?
The bird-like nibble here, the little taste there, unfinished leftover food everywhere.
I'm not exaggerating… I can think of a client and a relative like this – who never finish anything.
Now don't get me wrong – I can nibble – however it's not my primary food feeding style.
I'm more the demolisher!
I like to feel full and I'll really struggle with self control if you put huge quantities of food I love in front of me. I actually find buffets a little stressful.
Are you the gentle-grazer or the devouring-demolisher?
Either can work – though not if you're a grazer sharing food with a demolisher!
Here are 4 key points to consider:
1. If you find planning, preparing and eating meals every few hours tedious then there's no need to put yourself through it. Eat bigger meals less frequently.
2. The more times you sit down to have a meal or snack the more opportunities you have to make poor choices. Is it worth the risk?
3. If you are a bottomless pit regular snacking on top of your big main meals probably isn't going to work so well for you. Demolishing AND grazing is a recipe for disaster.
4. However, if you have a small appetite and can't eat much at a time perhaps smaller frequent meals are going to work well for you. Give it a go gentle-grazer and share a meal with me at your own risk….
And 2 Final Considerations:
What is sustainable for you, not just for the next month… for the rest of your life?
Which is the approach that you can commit to via primarily one ingredient, natural foods?
Because it's really about WHAT you eat rather than when you eat it.
In all seriousness whatever feeding frequency you choose, it's about creating the eating routine that supports and enhances rather than restricts and limits everything else that you do.
That brings us to actionable time.
Is you current eating frequency working for you? 
Just because something is the solution for someone else does not mean it's the best approach for you.
It's really worth assessing if the current Enjoyment:Effort:Results ratio your eating gives you is acceptable.
That's it for this week in Healthification.
Super huge thanks to YOU choosing to spend this time with me.
If you liked this you'll also like: How To Use Cheat Meals (thrive regardless of The Temptation Zone!).
If you're yet to share the Healthification love – just click here to zip over to iTunes and leave an honest rating and review. It'd help me out big time. With gratitude, Kate.