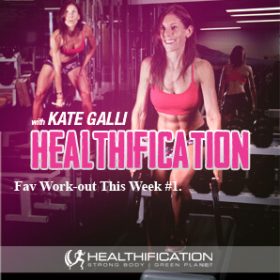 Podcast: Play in new window | Download
Subscribe: RSS
So today I'm going to try something a little different. Today's podcast covers my favourite work-out this week.
I'll share a little bit about the client that I wrote this work-out for and the benefits to the work-out… to give you an idea if you'd like to tackle it.
Here's the twist…
Today's show has an accompanying video of me putting myself through the work-out – each month I create 6 work-out videos for my Body Gain Lifestyle Community… so I figured I'd share a part of that with YOU.
That means today will be a little more off-the-cuff and a little less planned… let's see how we go, I'd love to know that you think?
Here's a slide of that workout: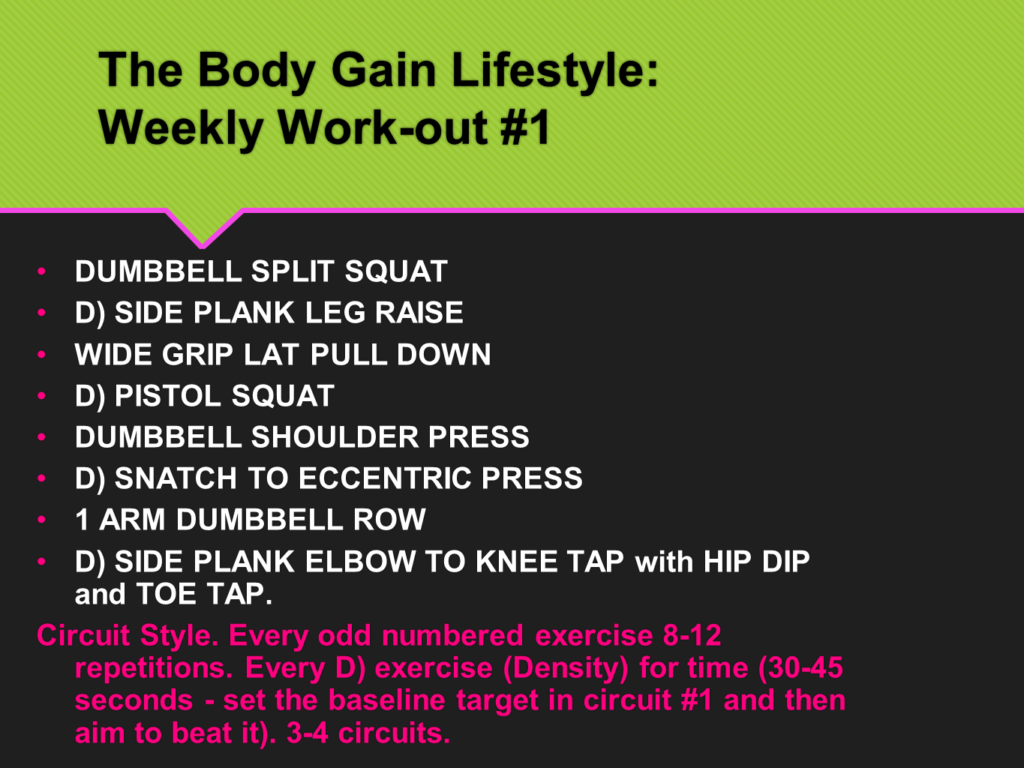 It alternates between a heavy exercise for repetitions (so that would be 8-12 repetitions – however many you can manage with the heaviest weight you can safely lift with perfect from) anda timed exercise for 40 seconds.
The idea with the timed component is to set a base line target in round one and aim to beat it in the next couple rounds.
This workout is for a super fit chick I train.
She's a stunt woman & so up for almost anything which is fun. However she does have a fair few old stunt injuries to work around.
She's training weights 4 days a week with me at the moment before her upcoming wedding & doing cardio in the form of short 20-30 minutes runs on her own around 4 days a week too. This is the 45 minute full body program we did one day this week (full body because she had a non-weights day scheduled the following day). If you want to do weights 2 days in a row that's absolutely fine you just need to split the muscle groups rather than do full body.
If you like to get a little competitive with yourself you'll respond well to the timed component – as my client does. If not that little timer may just annoy you (as it does me!) so swap it out for repetitions instead!
Ok, back to that work-out CLICK FOR THE VIDEO:
DB Split Squat
(great for your butt – also works your quadriceps, hammies and core)
D. Side Plank Leg Raise
(otherwise known as 'inner thigh love' and you'll feel it in your obliques too)
Wide Lat Pull Down
(for your lower back, your lats – flip the grip to reverse and shoulder width apart if you want to bring in your biceps more)
D. Pistol Squat
(another awesome move for your butt – yep, its a strong focus of mine (!) – and it'll work your quads and hammies too. I need something to hold on to to help me get right now low with this one)
Shoulder Press
(I chose seated supported as the support is nicer on my clients back and she's a heap stronger this way which she likes. Actually she can lift more than me here right now – got to work on that!)
D. Snatch to Eccentric Press
This is a combo of a snatch movement to get the dumbbell up above your head that then turns into a slow shoulder press for the lower (or eccentric component). Worth checking out the video. It'll work your shoulders, triceps and also a heap of core. You need to have a strong core – or more-so be great at recruiting your deeper abdominal muscles. I love it because it lets you lift heavier than you could normally shoulder press and will really get your heart rate up too.
DB Row
A fav for everything back and core. Most important is getting and keeping the starting position of a nice flat back – like a table – no back rounding with this one. I recommend a mirror.
D. Side Plank with Elbow to Knee, Hip Dip & Toe Tap.
A fav to get some funny looks and comments however it's good! This one never leaves my personal weekly routine so most of my ladies get it in their training frequently too… my gents don't seem to be so keen on it! It's great for your deeper abdominal muscles and also your obliques.
So again for this work-out you're looking to do it circuit style. 8-12 repetitions for the odd numbered exercises and 40 seconds timed for the even numbered exercises. That would be 40 seconds each side too for each of these exercises. Anywhere from 2-4 circuits.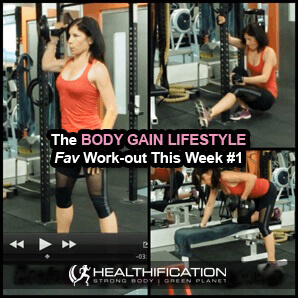 To get actionable today, you guessed it – it's got to be try this work-out right?
If there's anything you're not sure of once you check out the video then please leave me a comment in the show notes and I'll provide you with an explanation or alternative.
That's it for me today. Once again I'd really appreciate your feedback on whether to keep the work-out of the week? I hope you can join me tomorrow for the Friday FAQ show where I cover, What About When My Genetics Stand In The Way Of My Fat Loss?
If you liked this you'll also like: 209: Thursday Training, Fav Work-out This Week #2.
If you're yet to share the Healthification love – just click here to zip over to iTunes and leave an honest rating and review. It'd help me out big time. With gratitude, Kate.