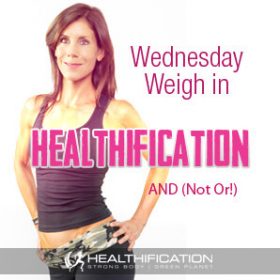 Podcast: Play in new window | Download
Subscribe: RSS
I recently caught up with a girlfriend for lunch and for not the first time this dear friend was able to point out the idiocy of a particular thought I was holding tight too… as only a caring, insightful, NO-rubbish-tolerating girlfriend can!
I was subscribing to OR.
Perhaps you may do it from time to time too?
After patiently listening to me rattle on about the boy I like and the fact that business is number one for me right now (there was a lot more inconsequential long-winded blabber than that – which I'll save you from!) my girlfriend simply responded…
Tell me: "Why can't it be AND?"
I couldn't. Of course it can be AND.
As I tell my clients:
=> Of course you can eat healthy AND delicious food.
=> Yes you can have wine AND still have the body you want.
=> Absolutely you can ditch the treadmill trudging AND achieve your goal.
(unless your goal is to be a champion treadmill trudger that is!)
My point is most of the time – like the super-vast-majority of the time – it can be AND.
In fact, if we're talking body gain, in order for that hot body to be sustainable it needs to be AND.
So, why did I have my OR blinkers on?
You know I love a good acronym right… let's call O.R.
O.ther
R.eservations.
Anytime you're claiming OR as I was, I'm willing to bet there's some anxiety, doubt or fear behind it.
So we won't go any deeper with my example (!) however to get actionable today how about in the privacy of your own mind you weigh-in, on if you have any Other Reservations – any anxiety, doubt or fear in relation to an OR decision you're currently choosing that really, honestly could be an AND decision if you wanted it to be?
'All OR Nothing' is the perfect example.
=> That's when it needs to be perfect-best-case-scenario-food every single meal OR you just eat whatever you want whenever you want.
=> It's also when you'll run for an hour 7-days a week OR take a complete break from any form of exercise for months on end.
All or nothing does not work in the body gain game.
That OR is there reflecting the anxiety, the doubt, the fear that's holding you (and Yes in other aspects of my life me!) back from taking a sustainable AND approach.
To finish today's show I hope you're thinking of that OR decision you're currently choosing… the one that would have the most positive impact on your body gain goal… and absolutely could be an AND decision if you wanted it to be… and in relation to that decision, I really can't say it any better than my girlfriend Victoria:
Tell me: "Why can't it be AND?"
That's it for today… in tomorrows Thursday Training show I'm taking a little experiment for a spin!
If you liked this you'll also like: Overwhelmed by your to do list and not losing weight?
If you're yet to share the Healthification love – just click here to zip over to iTunes and leave an honest rating and review. It'd help me out big time. With gratitude, Kate.