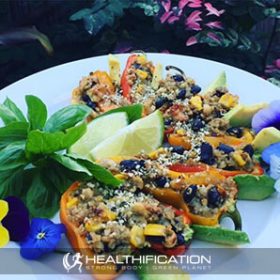 Podcast: Play in new window | Download
Subscribe: RSS
Attention fellow food lovers yet NON-chefs: How do some Easy Vegan Recipe Templates sound? 
That's just part of what I'm excited to share with your in this month in review show, timed to co-incide with this month's LIVE 3 Day Easy Vegan Plan. If you're new to this podcast I run my 3 Day Easy Vegan Plan LIVE with a different theme on the 1st, 2nd, 3rd of each month. Although you can of course opt-in and get all the recipes and workouts any day of any month. This month the theme is "If I had to start again…" as it's a question I love to ask other people and I have so much to share so far as "If I had to start again on my journey to create a fit, strong, healthy body following a vegan lifestyle." More on that at the end of the show.
We'll get to the recipe templates soon however today I'll also chat a little exercise and I'll share what's been rockin this past month and what's been a tad more struggle street. Above all, my intention is to make this content applicable to YOU and creating and keeping a fit, healthy plant strong body.
Alright, let's get rolling and on the matter of FOOD and Easy Vegan Recipe Templates I'm going to keep this super simple and then the idea is you fine tune it as you see fit. Or you just keep it as is if you're happy to let someone else take over the thinking for you for a change as many of my clients are understandably eager to do.
One: Easy Vegan Breakfast Recipe Template: Leafy Greens + Beans + Avo. 
For example:
Wilted spinach and / or kale with chilli bean mix made on mass + sliced avo. Optional: 1 tablespoon of nutritional yeast, fresh coriander to top.
Scrambled chickpeas with spinach + sliced avo. I flavour my chickpeas with: red onion, red capsicum, garlic powder, cumin, cayenne, smoked paprika, turmeric, coriander, salt and pepper and cook with coconut oil.
Scrambled tofu (soy beans!) with bok choy + sliced avo (or cashews for a change). I flavour my tofu similar to the chickpeas and use sesame oil for a change.
Two: Easy Vegan Lunch Recipe Template: Cruciferous Veg + Grains + Seeds. 
For example:
Broccoli steak or stir fry + brown rice and / or buckwheat + a tahini dressing. I'd include a heap of other veg + your fav herbs and spices.
Cauli-Kale tabouli + quinoa and / or pearl barley + hemp and pumpkin seeds. I flavour mine with nutritional yeast, sun-dried tomatoes, avocado or macadamia oil, garlic, salt and fresh herbs like basil and oregano.
Cauli-mash or cauli-steak + cracked freekah salad + hemp and pumpkin seeds. Here's an awesome recipe for the salad from gourmettraveller.com:
Three: Easy Vegan Dinner Recipe Template: Stuff-a-ble Veg + Beans + Nuts.
For example:
Portobello mushroom + black bean or chilli bean mix + cashew and sun-dried tomato cheese. (cheese recipe in 3 Day Easy Vegan Plan)
Half eggplant + edamame miso dip or red lentil dhal + roasted almonds.
Red Capsicum + 4 bean and corn mix + pecan-kale-basil dairy free pesto.
My usual caveats (!):
For the dinner template I'd add a side of green such as: asparagus, brussels or zucchini.
Fruit didn't make the templates as it's perfect to snack on.
So far as swaps? Really anything goes as long as you stick to a veg (or 10) + a bean / grain / plant based protein + a good fat.
Let's move onto EXERCISE and specifically the importance of discomfort. If this sounds rather hateful (!) I do have a reframe for you.
One of the things I LOVE about staying in great shape is you can't buy your way to the result. Sure you can hire a trainer and even a chef. You can get weekly massages and the best gym gear and all sorts of expensive treatments however if you're not ok with the concept of discomfort you likely won't get very good results.
Harsh perhaps? It's true though. Here's that reframe for my NON-exercise loving friends: What if years of seeing little to zero results for all your exercising and eating efforts was the real discomfort? 
The way I see it exercise and for that matter nutrition requires short term discomfort to enjoy long term results.
It's the discomfort of getting to bed in decent time and getting up early enough to exercise each morning.
Also the discomfort of learning a new skill such as lifting weights that may not come easily or naturally.
Absolutely the discomfort of muscle pain when pushing through those last couple of reps or an elevated heart rate and sweat (!) when you push yourself within the session.
Conversely staying stuck in comfortable with both exercise and nutrition means short term comfort to endure long term lack of results and discomfort. 
It's the discomfort of getting on the scale or looking in the mirror and hating what you see.
Also the discomfort of avoiding or dreading shopping and at a far less superficial level avoiding or dreading incidental exercise / activity with friends and loved ones.
Absolutely the discomfort of slowly eating away at your reputation with yourself each time you set a goal and give up on it or each time you try a new gimmick / quick fix that does not work.
My recommendation this month is a podcast I haven't listening to for a while, however I recently gave The School Of Greatness with Lewis Howes another go and loved show #695 with Marisa Peer on: Your Thoughts Will heal or Kill You. 
Marisa discusses 5 ways to handle criticisms:
"Thanks for sharing that."(Thanks for sharing your opinion that I'm not letting in!)
"I missed that. Could you repeat that for you slowly?"(They generally won't as they know you'll call them on it. It's giving them a chance to retract it.)
"Won't work I'm not letting it in."
"Are you trying to hurt my feelings?"(Even if they say "Yes I am!" you respond "Well that won't work as I'm not letting it in!")
"Since we're sharing here, you do know that people who are critical have so much criticism reserved for themselves they actively dislike themselves. You're showing me that you really don't like yourself."
Let's talk struggle-street and I'm reaching a little here however I'm going to say a conversation I had while doing vegan street out-reach where the gentleman informed me: "I'm too young to care about the animals!"
Although that statement contradicts my belief that humans are born naturally compassionate and are indoctrinated into believing eating some animals is Normal, Natural and Necessary (that's a shout out to Dr Melanie Joy – exciting news soon!) this was actually a really positive conversation. Whenever I'm faced with a response that stumps me, because my personal reaction is "How can you look at this slaughterhouse footage of animals dying horrifically and think it's ok?" I focus instead on remaining non-judgemental and just getting really curious as to what is important to the individual I'm talking to.
In every single case (thankfully!) I can see the person is not a psychopath. They are just viewing the world from a different lens based on their different life experiences, values and beliefs. The gent may have been "too young" to care about the individuals far removed from him dying behind closed doors to meat his demand for meat, dairy, fish and eggs. And "too young" to worry about his personal health. However absolutely he recognized the huge negative impact our broken food system and animal agriculture specifically has on the environment. He also had empathy for the 800,000 million starving people globally that could be fed today if we didn't cycle our abundant supple of food through the bodies of animals first in such a grossly inefficient and selfish practice. I know I planted a seed with this gent.
My takeaways?
In any difficult conversation to focus on being curious rather than combative. To patiently hunt down the thing that individual is moved by. There's always something. With veganism we have so much to work with be it: ethics and cruelty, the environment, hunger and a sustainable food system, your personal health, the health of those you love. Even athletic performance and recovery.
In the final part of todays show let's turn to who / what is inspiring me right now and it's multi-faceted. On his podcast Waking Up with Sam Harris, Sam recently published his conversation titled: The Edge of Humanity with Yuval Noah Harari. Now these two gents are mind-blowingly intelligent. Yuval is the author of the international bestsellers Sapiens: A Brief History of Humankind, Homo Deus: A Brief History of Tomorrow, and most recently 21 Lessons for the 21st Century. This trifecta covers our past, our future and now our present so as Sam shares "I can't be the only one left in your publishing world that notices that now you have nothing left to write about?!"
In all seriousness, I was HUGELY heartened to learn Yuval is vegan and excited to hear that in the Q & A time an audience member (lucky enough to be watching this live event later published to podcast) asked Yuval to comment on the matter of "clean meat".
The technology that is clean meat is something I'm passionately supportive of and inspired by. If you're yet to hear of it it's also (less appealingly) called "cultured meat" as it's meat grown from a sesame seed sized cell of an animal that has the taste, texture and nutritional profile of animal flesh because it is animal flesh. Flesh grown without the bone, skin, fur and importantly – cruelty.
I see clean meat as an exciting option for non-vegans. It's not something I'm personally the least bit interested in consuming as I'm super happy not eating animal flesh however I'm not the target market. I love that clean meat featured in this conversation of intellectual super-powers.
On the potential "ick" matter of lab meat I have to again quote from the ever articulate Sam Harris:
"The sense that people have intuitively that meat produced in a lab that doesn't entail the chaos and misery of a slaughterhouse is somehow creepy. You give me a meatball and you tell me it was grown in a perfectly sterile environment by good natured people in white lab coats most people think, ICK right? And then you say, Oh No that's not the meatball I was talking about I gave you the one that was the product of the most horrific mistreatment of cows that were covered in bacteria and viruses and staggering around in their own waste and then some brute slaughtered them callously… Oh that's exactly the meatball I want to eat!"
To listen to the full interview check out: Waking Up with Sam Harris episode #138.
To get actionable today I'd love to know your successes following the Easy Vegan Templates I've shared?
I'm sure you can get a lot more creative than me! Although here's a final creative attempt I have to share with you – it's a variant of the dinner template however stuffing a fruit rather than a veg. How about (poached) apple or pear stuffed with vegan ricotta made from soy beans (trust me recipe to follow!) topped with nut butter (my fav is a deadly delicious almond, cashew, brazil mix).
This vegan ricotta recipe is not mine, it's from Simon Hill of plant_proof on Instagram. 
300 grams firm organic ricotta.
3 tablespoons nutritional yeast.
2 tablespoons lemon juice.
1 teaspoon pink salt.
Simply blend in your food processor till fluffy.
Before we final todays show I have some exciting news to share. This week I'm interviewing social psychologist and vegan activist Dr Melanie Joy. I have a lovely line up of interviews ready to publish so it should go live in 2-3 weeks. If you're yet to hear of Dr Joy I strong recommend you check her out. Melanie coined the term Carnism which to quote iki:
"An important feature of carnism is the classification of only particular species of animal as food, and the acceptance of practices toward those animals that would be rejected as unacceptable cruelty if applied to other species. This classification is culturally relative, so that, for example, dogs are eaten by some people in Korea but may be pets in the West, while cows are eaten in the West but protected in much of India."
That's it for today in Healthification. Happily I'll be back mid week with Lani Muelrath and Finding Health, Balance, Peace and Happiness as a Mindful Vegan. A super huge thanks to you for your support and for sharing this week with me.
If you've enjoyed this show and gotten value out of it I'd super appreciate it if you pop over to iTunes and leave me a review. It helps other people find Healthification and it really does inspire me to power on with the weekly and sometimes twice weekly episodes.
The Healthification podcast is proudly bought to you by my FREE 'Easy Vegan' plan. This month the theme is: "If I had to start again on my journey to create a fit, strong, healthy body following a vegan lifestyle." It took me 25 years to transition from a meat eater to a happy, healthy Vegan! You can do it in just 3 days with  my simplified 'easy vegan' plan!  Get the fit, strong, and healthy plant based body you deserve… while avoiding ALL the mistakes I made along the way!
Till next time, remember Creating a body and life you love is Freedom. (If this ex-carb queen, non genetically gifted, naturally uncoordinated vegan chick can do it – so can YOU!!!)
If you liked "Easy Vegan Recipe Templates" you'll also like: 7 DAY EASY VEGAN PLAN
If you're yet to share the Healthification love – just click here to zip over to iTunes and leave an honest rating and review. It'd help me out big time. With gratitude, Kate.