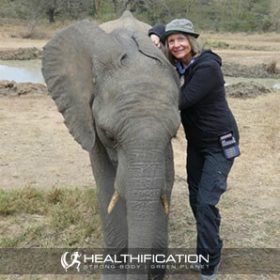 Podcast: Play in new window | Download
Subscribe: RSS
Lani Muelrath is an award-winning health educator, professor, best-selling author, inspirational speaker, and TV host who has been vego/vegan for 45 years and has shared her expertise in mindful, active, plant based living for over 4 decades.
Lani is the type of vegan I would have wanted to meet before I became vegan! I love her approach to mindful living and her commitment to the 3 pillars of healthy living: food, fitness and frame of mind.
In her latest book The Mindful Vegan: A 30 Day Plan for Finding Health, Balance Peace and Happiness Lani address's the intersections of mindfulness and veganism. It's one of those things so obvious in hindsight I struggle to comprehend why it even needs to be addressed!
With at least 95% of the world still perpetuating the cycle of cruelty that is animal agriculture the gross in-congruency of mindfully consuming the flesh and excretions that another living, feeling, being unwillingly gave it's life for very much does need to be addressed though.
Can you be non-vegan and be mindful? Yes, of course and equally you can be vegan and very UN-mindfully vacuum down your plant based deliciousness as I regularly did before I discovered Lani.
I really enjoyed this conversation. It's both entertaining and actionable. We cover a lot of ground including Lani's recent (and 5th!) trip to Africa where she visited the latest elephant orphan she and her husband Greg sponsor through the amazing David Sheldrick Wildlife Trust.
We even get our acronym on! (you know I love a good acronym) and I've been using this one to S.T.O.P. myself mindlessly demolishing!
Let's Find Health, Balance, Peace and Happiness as a Mindful Vegan with Lani Muelrath…
Listen to the full interview, Lani Muelrath and Finding Health, Balance, Peace and Happiness as a Mindful Vegan here:
In this interview we cover:
The particular catalyst or moment when Lani knew she needed to be Vegan.
What Lani would tell her newly vegan or newly vego self now.
Lani's morning routine / ritual.
Get Stressed. Eat. Repeat. How to break stress eating habits and cut through cravings by simply paying attention.
Mindfulness based stress management for advocates and activists.
Lani's recent trip to Africa and the elephant orphans.
Who inspires Lani from a distance… it took a while however we got there and I was happy to hear this extensive global traveller who calls the foothills of northern California home is inspired by an Aussie Legend!
Who is at the top of Lani's vegan wish list. (not yet vegan)
Gosh that chat made me want to visit Africa!
Lani has a couple of super cute and at the same time utterly heart-breaking videos of how two of the elephants came to be orphans up on her website lanimuelrath.com. I'll link to them and of course all the ways to connect with Lani and find her books online in the show notes for today. For those just cruise to strongbodygreenplanet.com and search 550.
As overwhelming as animal exploitation globally and the plight of these beautiful, intelligent, loyal creatures threatened by both ivory poachers and wild lands encroachment can be, it also demonstrates the impact of getting to see and know one animal as an individual.
Every elephant individual counts, every cow-pig-sheep-chicken-fish individual counts and that also means every single animal product free meal you consume counts. Your actions as one consume count! As Lani shared with us today it's important to start where you are and move at your own pace. As long as you start.
If I was starting again as a new vegan or as someone looking to eat more plant based meals while creating greater health and mindfulness I'd absolutely want Lani and her latest book, The Mindful Vegan: A 30 Day Plan for Finding Health, Balance Peace and Happiness on my team. 30 Days is a super manageable start and do you know what's even more manageable? The day 1 mindfulness practice Lani starts with is JUST ONE MINUTE!
Everything counts.
To connect with Lani online check out: http://lanimuelrath.com, and https://www.facebook.com/lanimuelrathpro. https://www.instagram.com/lani.muelrath/
Again you can listen to the interview, Lani Muelrath and Finding Health, Balance, Peace and Happiness as a Mindful Vegan here:
That's it for this week in Healthification. Huge thanks to YOU for sharing this week with me. You rock and I appreciate your support!
If you've enjoyed this show and gotten value out of it I'd love to invite you to go to iTunes and search for Healthification and leave me a review. I'd super appreciate it. It gives me great feedback to keep on powering through the weekly shows and helps other people to find Healthification as well.
Till next time, remember Creating a body and life you love is Freedom. (If this ex-carb queen, NON-genetically gifted, naturally uncoordinated VEGAN-chick can do it – so can YOU!!!)
If you liked "Finding Health, Balance, Peace and Happiness as a Mindful Vegan" you'll also like: Vegan Psychologist Clare Mann and Vystopia: the anguish of being vegan in a non-vegan world.
If you're yet to share the Healthification love – just click here to zip over to iTunes and leave an honest rating and review. It'd help me out big time. With gratitude, Kate.