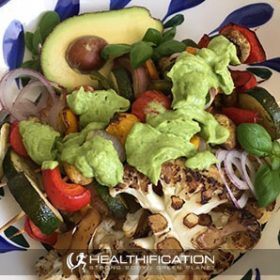 Podcast: Play in new window | Download
Subscribe: RSS
Todays show was inspired by an article titled "The high steaks of veganism" sent to me by a dear client.
Gosh what clever word play from Australian paper The Daily Telegraph… although maybe I should give them the benefit of the doubt and assume they were talking about cauliflower steaks and not making light of the flesh an 18 month old cow died for?
The article starts with a claim, "The rise of veganism and hyper-focus on clean eating is normalizing restrictive diets" that I'd like to address in todays show on: 
Veganism and Eating Disorders?
To be clear eating disorders are serious, destructive and not something I would wish on anyone or their family.
However, Veganism and Clean eating and Restrictive diets and 3 different things.
Veganism is not a diet or a way of eating. It's a way of living which seeks to exclude, as far as is possible and practicable, all forms of exploitation of, and cruelty to, animals for food, clothing or any other purpose. It stems from the belief that animals are not ours to exploit and a commitment to align your actions with that belief. 
Clean eating which prioritizes one ingredient whole foods and minimizes refined food can include animal products or not. Sure you can take it too far – as with everything – however I'll strongly advocate for a rise in clean eating for overall health and happiness as opposed to the S.A.D diet of processed high sugar, high fat, high salt crap-o-la. Obviously I'd advocate for clean eating vegan though I'd call it whole foods vegan / whole foods plant based.
Finally, the term Restrictive diets is so broad. Restrictive is never a sustainable approach long term. However let's take the latest eating craze "Keto" and compare it to veganism.
Keto is EXTREMELY low carb and high fat. Veganism places zeros restrictions on carbs.
Keto necessitates you measure your ketones to stay in ketosis. Ketosis is a state at which your body produces ketones in the liver, shifting the body's metabolism away from glucose and towards fat utilization. Veganism necessitates zero measuring.
Keto eliminates entire food groups like: All Grains. All Legumes. All Tropical Fruit. It also relogates to 'eat occasionally' vegetables, mushrooms and fruit. Also nuts, seeds and fermented soy products. 
Veganism avocates to eliminate as far as possible the exploitation of animals and while providing animal product free alternatives to all the products you used to enjoy as a meat, dairy, eggs and fish eater.
Back to that deceptive, agenda driven Daily Telegraph article here's another infuriating quote: "Their vegetable only philosophy is being blamed for normalizing eating disorders and making diagnosis of this disorders more difficult."
Although there are literally 100's of delicious vegetables available to me as a vegan I ALSO gleefully demolish: fruit, nuts, seeds, grains, legumes (including soy) and marine plants. Perhaps I'm sounding pedantic? Defensive even?
If I am it's because I make a choice to be vegan to reflect my core values. To reiterate it has NOTHING to do with food and yet literally multiple times a week people joke about the extreme, fussy or judgemental vegan. It reflects to me the utter lack of understanding about what is such a fundamental part of my life. When you joke about "I rather die than miss out on cheese or butter or bacon!" it screams at me loud and brutally clear that you don't understand me or what life looks like through my eyes.
I see the bodies of tortured, murdered babies NOT a convenient and trendy food trend to hide my eating disorder. 
I see a grossly inefficient food system.Millions of starving people in third world countries where grain is grown to feed to livestock whose flesh is eaten in first world countries.
I see species extinction, ocean dead zones, greenhouse gas emissions, vast land and water usage and under privileged communities exploited by large scale animal agriculture and it's toxic waste and greed decimating their backyards and lives. 
However if I expect the non-vegan to have even a basic understanding of what life looks like through my eyes then I must pay them the same respect. This has become so much more clear to me this week while deep diving in preparation for a podcast interview with the amazing Dr Melanie Joy.
Dr Joy is a Harvard educated social psychologist and vegan activist, perhaps best known for coining the term carnism. Carnism is the invisible belief system that conditions us to eat certain animals. Our chat will go live this week – it's show #552 – however if you're keen to learn more right now then I first discovered Dr Melanie Joy via her amazing TED talk (ranked in the top 1% of viewed TED talks) you'll find it if you google: Towards Rational Authentic Food Choices. 
In my chat with Dr Joy we discuss (among so much more):
How carnism is the dominant belief system and as such is invisible. That humans eat animals is the assumption right? Vegans who choose not to are considered weird.
How carnism seeks to both validate itself including the 3 N's of justification that eating meat (and other animal products) is Normal, Necessary and Natural and also seeks to invalidate both veganism and vegans. Ever noticed how someone assumes you're "preachy" or "judgemental" the second you say you're vegan without you even saying anything else?
Strategies for creating effective communication between vegans and non-vegans. Including ways to decrease carnistc defensiveness and the importance of vegan allies.
Dr Joy has such a wealth of insight to share. I could have spoken to her for hours. I strongly recommend you check her out as her powerful, thoughtful, unique and articulate insights have given me such a sense of relief, hope and understanding.
I do want to make today implementable. Rather than just a rant against the article and a rave in adoration of Dr Melanie Joy!
Dietitian Kate Lane was quoted in "The high steaks of veganism" article and after warning against the dangers of veganism she advises: "Forget the rules. Simply eat properly and well."
What on earth does that mean?
Here's my advice:
One: Prioritize plant based whole foods.
YES, Vegetables – both fibrous and starchy and also a glorious abundant variety of fruit, nuts, seeds, grains, legumes (including lentils, pulses, beans and soy) and marine plants.
As a start this might look like choosing a fav veg, a fav plant based protein and a fav fat to build each meal around. Perhaps at:
Breakfast: Kale, tofu and avocado that forms the base of a scramble.
Lunch: Broccoli, chickpeas and tahini that forms the base of a salad.
Dinner: Portobello mushroom, lentils and cashews that form the base of stuffed mushrooms with cashew cheese.
Two: Count nutrients, abundance and what you're giving your body. 
Rather than counting calories or enforcing restriction.
Once you have the foundation for your meal think of the colours, flavours and nutrients to add. Maybe at:
Breakfast: Pack that scramble with fresh herbs, red onion, olives and for B12 and extreme deliciousness, nutritional yeast.
Lunch: Pimp your salad with roasted pumpkin. sun-dried tomato, spinach and for extra iron and protein, pumpkin seeds.
Dinner: Enhance your stuffed mushrooms with marinated artichoke, shaved asparagus, capsicum and for Omega 3's and, protein hemp seeds.
Three: Focus on constant, gradual improvement. 
With a goal to make your eating JOYFUL, your energy bountifully reliable and the time, energy and money you spend on thinking about food utterly 100% sustainable.
Once you have delicious meals you love consider how you can make them even better. Possibly at:
Breakfast: Upgrade to organic kale and even a 1/2 teaspoon of spiruline in your scramble.
Lunch: Instead of easy canned chick peas try spicy roasted chickpeas and organic spinach in your salad.
Dinner: Save money and ingredients by making rather than buying your cashew cheese and when you're ready try home made pesto too.
In closing today I guess I'd like to again reiterate that I do not take eating disorders lightly. I just do not agree with the correlation made between veganism and eating disorders. At the heart of it the choice to be vegan is about compassionate for ALL living beings and absolutely 100% that compassion should extend to YOU. 
I think as vegans some of us could absolutely get better at that. At self compassion. In fact let's make that the time of the actionable today.
Is there a way that you could show greater comparison to yourself with your food choices?
Maybe that's as simple as swapping one processed food for one whole food. Or doing a little make-over to make one fairly bland and boring meal more abundant and delicious? Perhaps it's a matter of seeing one meal a day as precious, mindful time when you slow down and appreciate that meal rather than madly multi-tasking through every single meal.
That's it for today in Healthification. Huge thanks to YOU for sharing today with me. I appreciate it with all my heart.
If you've enjoyed this show and gotten value out of it I'd super appreciate it if you pop over to iTunes and leave me a review. It helps other people find Healthification and it really does inspire me to power on with the weekly and sometimes twice weekly episodes.
The Healthification podcast is proudly bought to you by my FREE 'Easy Vegan' plan. It took me 25 years to transition from a meat eater to a happy, healthy Vegan! You can do it in just 3 days with  my simplified 'easy vegan' plan!  Get the fit, strong, and healthy plant based body you deserve… while avoiding ALL the mistakes I made along the way!
To learn more check out: strongbodygreenplanet.com or search strongbodygreenplanet on Facebook and Insta.
Till next time, remember Creating a body and life you love is Freedom. (If this ex-carb queen, NON-genetically gifted, naturally uncoordinated VEGAN-chick can do it – so can YOU!!!)
If you liked "Veganism and Eating Disorders?" you'll also like: How Does Your Gut Really Shape Up?
If you're yet to share the Healthification love – just click here to zip over to iTunes and leave an honest rating and review. It'd help me out big time. With gratitude, Kate.