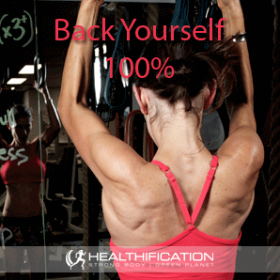 Podcast: Play in new window | Download
Subscribe: RSS
One of the happy side-effects I've experienced over the past couple of years as I've moved closer to eating primarily one ingredient foods is, less bloating.
How frustratingly annoying is it to work your butt off to get to a shape you're comfortable with only to have that shape painfully distorted by The Bloat!
The Bloat will ruin even your leanness day.
A quick google search tells me that 2/3's of women will experience bloating periodically and one in five will suffer from it so severely that it impacts their work and lives. The sad thing is a lot of us just accept that it's a part of life. Something to be tolerated and worked around… dressed around!
That was my perception too. Until I made enough upgrades to actually banish bloating.
In todays tucker show I'm chatting: Banishing Bloating. Not because I'm an export on bloating or banishing it (!) more-so because I want to share the lessons behind the upgrades I made.
They are applicable to any change you want to make to your nutrition.
The first learning…
One: Do it at THE RIGHT TIME for you.
To cut to the chase I believe the most important upgrade I made was drastically reduce my dairy consumption.
I didn't believe I had any sort of dairy intolerance.
In fact I drank a large glass of milk 3 times a days as a kid… and loved it. One of my most fav indulgences of more recent times was low-fat-high-sugar-deil-style-yoghurt (I could easily demolish a large carton with a small spoon (!) in a sitting and then feel very guilty but never sick) and I added ricotta or cottage cheese to all my salads for that 'healthy' fix of protein.
What is it with the whole scraping only from the edges or with a fork or tiny spoon that makes us think it'll stop us demolishing the lot?!!
Whether we're talking dairy or sugar or whatever the takeaway here is that at every upgrade point I was making a change to my eating because I wanted to. I truly believe for something to stick it needs to feel like a WANT rather than a HAVE to. 
Here's the cool thing: You can manufacture your wants to be more advantageous.
All I mean by this, is you can add some emotional intensity to help you want to take that beneficial action. To throw pain or pleasure into the mix.
I did this when I became vegetarian by consciously focusing on all the inhumane things we do to animals. In the same way that I'm guessing if you eat meat you consciously DON'T think of all those things.
I'm not judging you because I still do it too. I'm a potential hypocrite that still buys some leather shoes and does not check that every make-up or cleaning product I ever buy is cruelty free. I believe you do what you can, when you can and everything counts. Just because you can't be perfect it's still worth being something.
So back to the: Do it at THE RIGHT TIME for you point!
Initially I wasn't ready to give up cheese. I swapped milk for almond milk or water and traded yoghurt for nuts. I even upgraded my Whey Protein Powder for Raw Vegan Brown Rice Protein powder… which given I have 3 serves a day was likely a significant bloating banisher.
Then eventually cheese just started to feel wrong. It got a gross out factor. I started to think about hormones and antibiotics and factory farm conditions. At that point I or you can choose to feed the thinking that makes it easier to take the action you want to take. I wanted for dairy to NOT be a part of my regular eating routine so I fed the thinking that encouraged me to happily, easily and sustainably go dairy free.
Two: When you remove something always UPGRADE it with a better alternative.
I never want you to deprive or restrict or simply leave a void that will sooner or later be filled with a potentially more detrimental alternative.
Most of us have been their with FAT.
I banished all fat from my diet for several lethargic-skinny-fat years. In hindsight, I banished good fats like olive oil, avocado and egg yolks… and because a void will always be filled useless fake and processed food crept in to fill fats spot. I was obsessed with this cheesy-corn-thin-chip-things… with a half packet sized list of unrecognisable ingredients. And diet hot chocolate drinks. And sugar-free energy drinks.
The list could go on however the main thing is to find the alternative that's going to fill the place of something you want to upgrade.
Here are a few more of my dairy alternatives:
=> I now have pesto (you can buy dairy free or when I'm being super organised I make my own) stirred through my cooked veg and zucchini hummus to top my salads.
=> I add nutritional yeast to my cauliflower mash instead of ricotta. It goes great mixed in with kale chips too.
=> I make cashew cheese to have on my zucchini pasta or over my kale chip nacho's.
Three: You CRAVE what you eat.
In the same way that I describe myself as and ex-carb-Queen I really no-longer crave dairy as I used too.
To be clear I still get at least as much enjoyment from food. And I still emotionally eat.
It's just that you:
A) Genuinely do crave what you eat and,
B) Often suffer cravings when you're lacking in the vital micr-nutrients your body needs.So as un-appealing as this sounds it's likely really not that you needa chocolate biscuit or milk shake or muffin at 3.30-i-tis more likely you need a huge substantial bowl of veg.
I have no idea how I'll be eating in 5 years time.
My mum now know's not to stock the house with all my favs when I come home as usually those favs have changed… sorry mum! I've changed so much over the years and always taken it super (too!) seriously. I guess it's matter of what makes you happy and also gives you the results you are happy with.
If I were to choose a main takeaway for todays show, please know that you can have both. You can love every single meal you eat AND love the results those meals allow you to experience.
To get actionable today let's go with one simple upgrade. I'm not going to claim that all dairy is bad. However I know there's a fairly good chance that you have at least one lower quality dairy lurking in your week – as I had many – that you'd feel happy to upgrade to a higher quality food alternative.
That is the action step for today. I'd love to know what your upgrading too. Or if you know what you'd like to ditch and are struggling to think of an alternative perhaps I can help you with a suggestion there too. Just let me know via the comments below.
That's it for today… in tomorrows Wednesday Weigh-in show I'm covering: Breaking A Good Habit.
If you liked this you'll also like:  7 Sneaky UNHealthy 'Health Foods' (and what I now eat instead)
If you're yet to share the Healthification love – just click here to zip over to iTunes and leave an honest rating and review. It'd help me out big time. With gratitude, Kate.