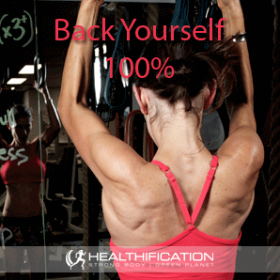 Podcast: Play in new window | Download
Subscribe: RSS
You may be shocked to hear that Personal Trainers are among the most insecure / body conscious / even prone to body dysmorphia people you'll ever encounter.
Potentially second only to body-builders.
Now, I have no solid facts to support this claim – you know I'm not the stats or science'y chick… in this podcast I just like to share what I've observed, what works and what doesn't AND hopefully to also make it somewhat amusing.
So in today's show I'm taking a potentially heavy subject: Body Dysmorphia and sharing my learnings gleamed from years focusing (even obsessing) on the body and how easy it is create a warped perception of how your body does or should look.
Just a few years ago I used to sit with a colleague and while we were chatting we'd unconsciously grab at bits of our own fat to see how much there was. Like we did in skin fold tests with our clients. Except this was a just a pointless, obsessive little habit we'd fallen into.
Even though we were both always at a fit, lean, healthy weight that the vast majority of peoplesay they would be super happy with… we were never satisfied.
And that's the thing, when it comes to the way your body looks it's the same as what I'm recently hearing in relation to success and to money: No matter how well you're doing, how much money you're making, how fit and lean and in awesome shape you are – YOU ALWAYS WANT MORE.
So when does this start to happen?
And what causes the other side of the body dysmorphia fence – you know the ultra over-confident super-outta-shape gal or guy?
I was at the beach yesterday with a girlfriend and was fascinated as always to see the kids racing around in their togs or naked without a care in the world. I love that stage. I remember being at that stage.
In fact I was an absolute Tom-boy. I used to love racing round in my little scoop shorts, bare foot and topless. My nanny (as mum and dad both worked) used to tell me that: "Katie you really need to start wearing a top." And it just seemed so stupid to me.
All of a sudden fast-forward however many years to teenager Kate who took to wearing 2 bulky cardigans tied round my waist to cover my big butt. I'd gone from carefree to obsessed. And I stayed there for years.
Actually if you know me you'll probably say I'm still obsessed however hopefully you'll say it with love (!) and I believe I now do obsessed a little less obsessively and with a lot more self acceptance.
Let's get a little more actionable with some thoughts on what does work in relation to being less obsessive and more accepting of YOUR body.
Two initial considerations:
One: Please know it's normal and natural to have those bits of your body that you're not happy with.
It can even be fuel to help you take the actions that are healthy, sustainable and will help you create the body you think you will be satisfied with. I say think, because I believe it still takes regular work to appreciate what you have at any point since as I just mentioned it's natural, normal and human to always want more!
Two: The thing to be aware of is when your natural, normal awareness of what you're like to change becomes an obsession that affects other aspects of your life. Regardless of where you are right now, the way your body looks should never stop you from doing something that is important to you.
Easier said than done right?
Here are 3 things I consciously focus on daily to keep Body Dysmorphia in check:
Focus on the BEST ACTIONS.
It is super rare that I jump on the scales. I could count on one hand the times each year I do it.
I recommend you focus on the actions that get you the result. You can control those actions.You can't control what that little number chooses to say today… and if it's choosing to say aheavy number after a day of perfect eating and exercising (or even after a week of perfect eating and exercising) well that can get A LOT disheartening right?
=> Are you planning, preparing and eating your primarily one ingredients meals, chocka with fibrous veg, lean protein and some good fat?
=> Are you moving daily, sticking to consistent weights training and making up any exercise session you miss?
=> Are you getting at least 7 hours of sleep a night?
Focus on what you LOVE.
There is a part of your body that you love or could love if you choose to. I'm certain of that.
This is where I want you to focus your energy and your self-talk, because what you focus on expands.
I absolutely do not want my flabby thighs to expand (!) so I'm not going to focus on them. I haven't for years. And con-incidentally I haven't had flabby thighs for years!
Obviously this focus point works in conjunction with 'taking the right actions' as just covered. Some of the right actions I took in relation to my thighs….
=> In every repetition of every lower body exercise I'm focusing on the muscles I'm working. My mind isn't drifting to my to-do-list or the next meal or that cute guy that just walked in – I'm thinking of my lean, toned thighs and firm butt!
=> As mush as I love it I ditched soy as soon as I learned that it can mimic the effects of estrogen in your body and send your estrogen levels outta whack leading to extra fat storage in estrogen sensitive areas such as the hips and thighs.
=> In combination with eradicating soy I now eat CRUCIFEROUS super-veg in every meal.Your cruciferous friends are Kale, Cauli, Broccoli, Cabbage and Brussels and they can even out your estrogen levels again. It's as easy as broccoli in your omelette, kale in your salad or smoothie and brussel crisps with dinner.
Focus on what you are GRATEFUL for. 
As many things as it might be awesome to change there are more things that you can be grateful for – again if you choose to.
I devoted the #011 show to gratitude, it's such a powerful tool for happiness.  For a start you can:
=> Be grateful for the way your body works rather than solely focusing on how it looks.
=> Be grateful that your body always gives you another go. It's generally the case.
No matter how often you stop and start with the meal planning and exercising your body is there for you willing to respond. It really is amazing… you can force it to live on processed rubbish, deprive it of sleep, lead a stress-and-toxin-filled-hugely-sedentary-existance and still it is going to respond positively for you once you decide to clean up your act. There's no judgement intended in that either – I've punished my body too – I'm just super grateful that when I choose to treat it well, it responds.
=> Be grateful for where you are right now, today, this second. Because right now, today, this second there are millions of people that would eagerly and gratefully swap place with you or me.
That must bring us to the time of the actionable.
Today Iets go with the body part that you give the most grief. It's time to show that body bit some love!
Instead of the self-talk that degrades or rights off that body part how instead could you choose to think of it?
Ideally what is one best action you could take to benefit this body part?
(to be clear I don't mean lipo-suction or a nose job!)… I mean commit to meal planning or perhaps reframe the negative self-talk to positive.
Also, what is something you could love about that same one body part?
Finally, what is something you have to be grateful about in relation to that same one body part?
So many potential quotes to close todays show, however I'm going to keep it short and sweet and hand over to Cindy Crawford: "Even I don't wake up looking like Cindy Crawford."
That's it for today. I'll be back tomorrow for the Tuesday Tucker show and, Banishing Bloating.
I hope you can join me.
If you liked this you'll also like: Why Scales Are Bad For Weight Loss
If you're yet to share the Healthification love – just click here to zip over to iTunes and leave an honest rating and review. It'd help me out big time. With gratitude, Kate.